Do you have creative kids on your gift list? Have little ones who always want to do crafts?
These ideas are sure to delight your artists, bakers and crafters in your home — take a look and find the gift that's perfect under your tree!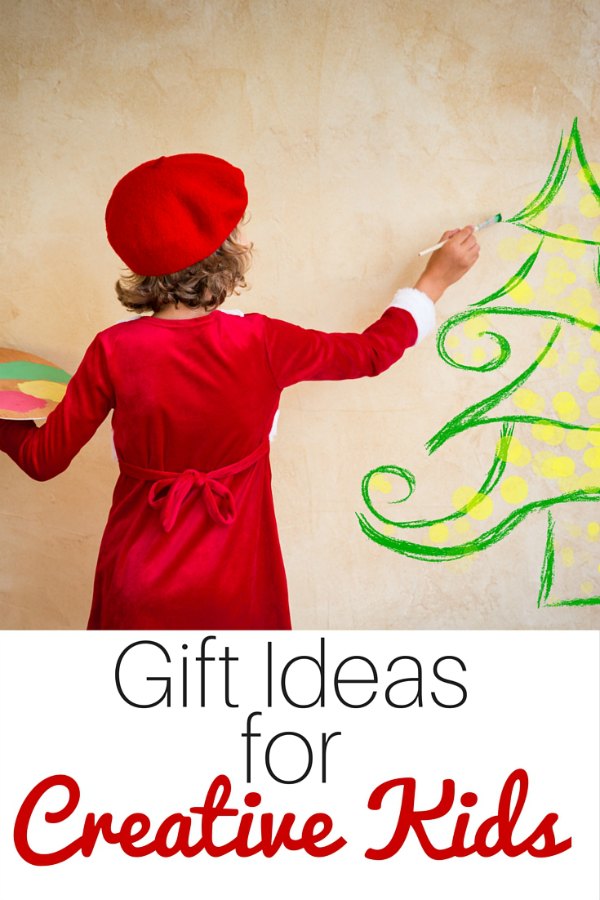 Gifts for Creative Kids
---
Magnetic Tile Art
Personalized gifts make my day — I know I'd enjoy seeing my kids' creations on my fridge with these magnets.
Craft-a-Day: 365 Simple Handmade Projects
Art 101 142-Piece Wood Art Set
Plushcraft Purr-Fect Pillow
You've heard of color by number? This fabric by number pillow looks like fun for tween girls!
Shrinky Dinks Jewelry
We received this kit the other day, and can't wait to jump in. Smaller children can color the Shrinky Dinks, but the jewelry making looks a little more complicated.
Make A Wind Chime Kit
I'm already longing for spring, so this wind chime kit caught my eye.
ALEX Toys Craft Knot A Quilt Kit Want to start with fabric crafts, but don't know how to sew? You can make this quilt simply with knots. No cutting or sewing required!
Melissa & Doug Deluxe Combo Scratch Art Set
---
American Girl Crafts Daisy Design Bracelets Kit

Fashion Headbands Kit
We've given these as gifts to nieces before, and they're a big hit!
Orb Factory Sticky Mosaics: Jewelry Box
Every little girl needs a place to store her treasures — these mosaic jewelry boxes are wonderful!
Candy Craft Chocolate Pen
Making decorations with chocolate? This pen makes it easy to craft the perfect fun desserts!
ALEX Jr. Tots Art Start
Easy preschool and toddler arts and crafts in one box – gifts like these make my life easier.
---
Spirograph Deluxe Design Set
I LOVED my Spirograph when I was a kid! I think it's time to pick one up for our family!
Melissa & Doug Friendship Stamp Set
We own many Melissa and Doug stamp sets, including this one. They're a family favorite.
ALEX Toys Craft Giant Knot and Stitch Pillow Kit
Does your child have stories to tell? This kit is perfect to help get your little author's story on paper. (Makes a great gift for grandparents!)
ALEX Toys Craft Rock Pets Turtle
My boys are asking for these in their stockings this year! There's also a frog!
This kit would be perfect for family movie nights, sleepovers, or birthday parties!
---
ALEX Toys Craft My First Sewing Kit
Darice 80-Piece Deluxe Art Set
This is a wonderful gift for any child who wants to create art – I purchased a kit like this years ago for my oldest daughter.
Melissa & Doug Multi-Craft Weaving Loom
With an extra large loom, you can make crafts or tapestries with this kit!
Elmer's 3D Washable Glitter Pens
On the extremely rare occasions that I allow glitter in my house, these are the pens we use.
ALEX Toys Craft Giant Art Jar
All the craft supplies you'd ever need, all in a big jar! I love it!
Creativitiy for Kids-Color Changing Flower Lights Kit
American Girl Crafts Owls Sew and Stuff Kit
My Party Treats Craft Kit, Cupcakes
My kids love crafts from air dry clay – this cupcake set is going under my tree for sure!
Klutz Pom-Pom Puppies Craft Kit
Have some dog lovers in your crafty kid bunch? How cute are these?
ALEX Toys Craft Simply Needlepoint Butterfly Kit
It's been many years since I did any needlepointing — this kit looks like something I'd enjoy for myself!
---
Official Duck Tape Craft Book
Did you know there were so many things you could do with Duck Tape?
Creativitiy for Kids-Quick Knit Loom Kit
Raise your hand if you remember these projects from when we were kids!
Project Kid: 100 Ingenious Crafts for Family Fun
The Orb Factory Plushcraft Personalized Pillow
Very Merry Ornaments
My kids know I love handmade ornaments from them as gifts. I know we'll be making these one day soon!
46. Creativitiy for Kids-Origami Paper Craft Kit
Klutz Mini Pom-Pom Pets
You can't deny the extreme cuteness of this craft!
American Girl Crafts Paper Posies Pad
Inspiration Art Case
Sure to delight any artist, this kit is a wonderful gift for Christmas or birthdays.
ALEX Toys POPS Craft 3 Happy Birds
My preschooler spied these and said, "Are those for me?" Super cute idea!
---
Dimensions Pencil by Number Friendly Animals Variety Pack
Have a budding artist at home? I love the idea of pencil by number paintings!
Butterfly Necklaces Jewelry Kit
Perfect for a mother/daughter crafting day, or fun for a sleepover! We've always been pleased with the quality of these kits.
American Girl Ultimate Crafting Kit
My First Sticky Mosaics Fairies
I've got these sticky mosaics on the list for my preschooler – they're a fun art project, as well as a way to sneak in fine motor skills.
ALEX Toys Artist Studio Fantastic Spinner
American Girl Crafts Paper Chain Friendship Bracelet Kit
4M Crochet Art Kit
Want your child to learn to crochet? This kit is perfect!
Craft-tastic Yarn Tree Kit
I love these yarn trees to hold jewelry or hair accessories, or even for making tiny holiday trees to decorate kids' rooms.
Art Lab for Kids: 52 Creative Adventures
American Girl Crafts Funky Felt Box Kit
These little felt boxes are perfect for storing tiny treasures!
What's your favorite creative gift idea? I'd love to hear your ideas in the comments!
&