It's the time of year to grab your supplies and get busy creating Catholic Advent crafts for your family!
My kids have been busy going through my Pinterest boards and deciding on their favorites. We have enough ideas to celebrate all the way through the 12 days of Christmas, and then on to the Epiphany.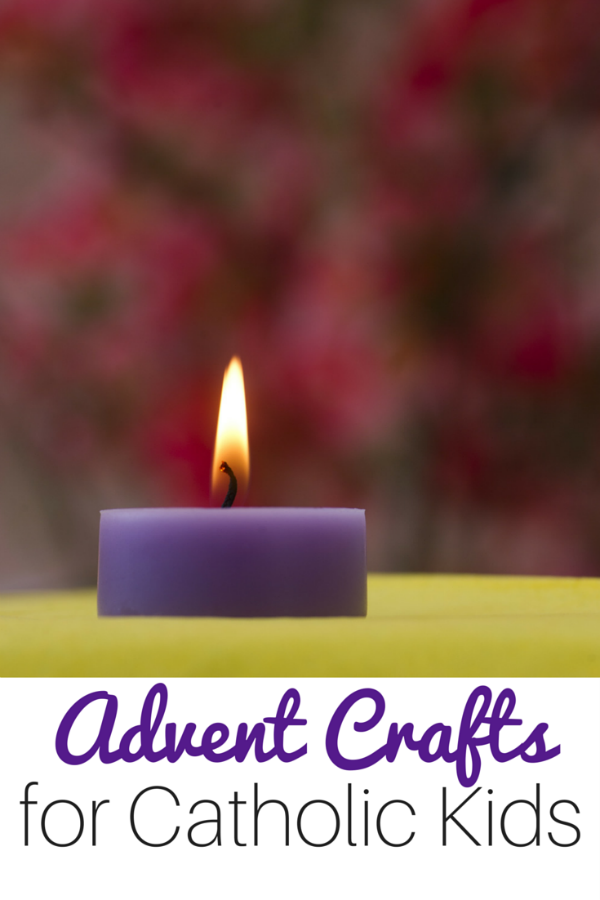 You'll want to bookmark these ideas and have fun with your little ones!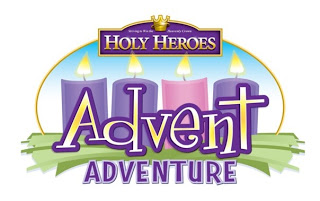 During Advent, we're going to be utilizing the free Advent Adventure program from Holy Heroes. My kids are anxious to get started!
Catholic Advent Crafts for Kids – Advent Wreaths
We keep Advent wreath ideas simple around here, but if you're the crafty type, I found loads of Advent wreath crafts and activities for you to peruse.
First things first, you'll need an Advent wreath for your family. (no worries — I've got you covered with a few choices here)
Advent Candle Kit
'Make Your Own' Beeswax Advent Taper Candle Kit – Makes 3 Complete Advent Taper Sets – DIY – Do It Yourself!
Beeswax Advent Taper Candle Making Kit – Makes One Advent Candle Set
Purple and Pink Wax Pillar Christmas Season Advent Candle Set of 4, 6 Inch
<nopin="nopin" alt="Christmas Advent Candle Set (Set of 4)" width="150″ height="500″ />Christmas Advent Candle Set (Set of 4)
Don't forget your candles, either. For the record, you'll need some taper candles (skinny tall ones), as well as a pillar candle. In the taper size, you'll need 3 purple, 1 pink, and 4 white. Once Advent is over, you'll switch out your purple and pink candles, changing them to white to denote Christmastide.
You can also roll your own beeswax candles. This idea looks like a lot of fun, but requires that I plan ahead, which can sometimes be a stumbling block.
Resources:
---
If you want to craft your own Advent wreath, take a look at some of these ideas:
---
Catholic Advent Printables
Check your ink and paper supply. I found a myriad of advent printables for your family — ideas for lapbooks, activity cards, coloring pages and more.
Resources:
---
Catholic Advent Crafts for Kids – Saint Nicholas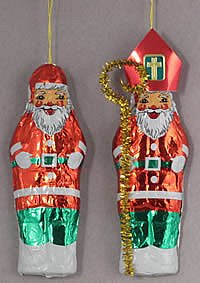 Celebrating St Nicholas is one of my children's favorite Advent activities! They love this fun craft of turning chocolate
Santas into Saint Nicholas
.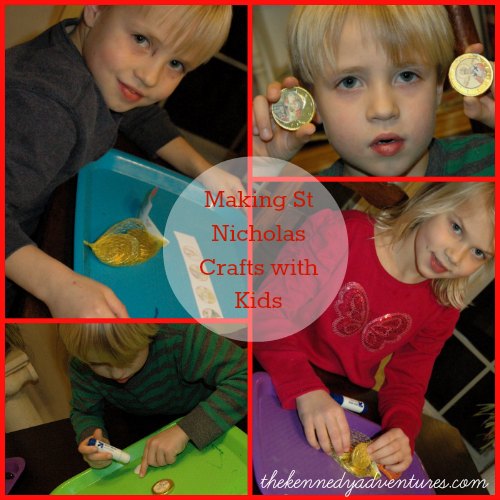 Part of the legend of St Nicholas includes finding coins in a shoe. You can create your own
St Nicholas Chocolate Coins
to hide in your house using a template. While you're busy eating chocolate, learn more with these
St Nicholas printables
.
Resources:
St Nicholas Printables
St Nicholas Paper Shoe Craft from InCulture Parent
Everything You Need for a St Nicholas Day Party from Catholic Inspired
Wooden Spoon St Nicholas from Sycamore Stirrings
St Nicholas Miter Craftivity from Kindercraze
St Nicholas Sight Word Reader from Kindercraze
St Nicholas Printables from Making Learning Fun
St Nicholas Figure tutorial from Catholic Teacher Resources
St Nicholas printable calendar craft from First School
---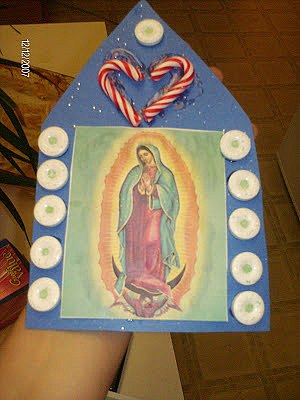 December brings us so many Catholic holidays! You can celebrate the feast day of Our Lady of Guadalupe with these easy shrine crafts.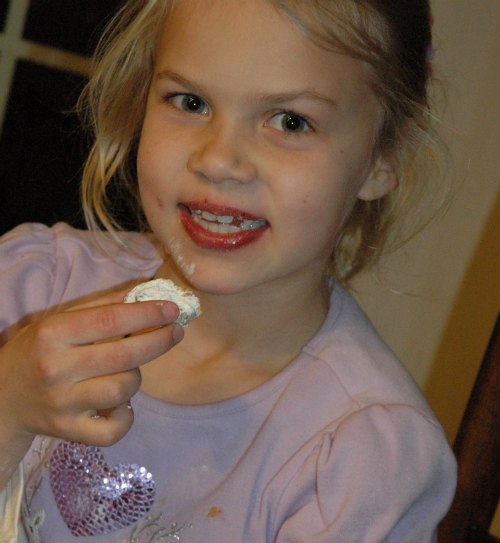 We paid homage to
Our Lady of Guadalupe
with our favorite Advent activities: a special dinner, making tilmas, and
Mexican Wedding Cake cookies!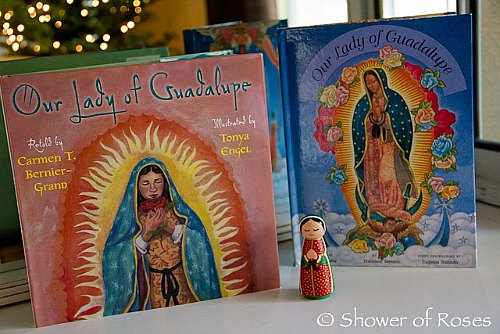 You'll find even more Advent foods and ideas to celebrate
St. Juan Diego and Our Lady of Guadalupe
at Shower of Roses.
Books to share:
Catholic Advent Crafts for Kids – Saint Lucia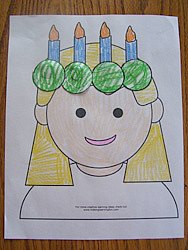 Need resources to help you celebrate St Lucia Day? We've collected books, crafts, activities and recipes for your family to enjoy this season. Honor St Lucy with some of these ideas.
Books to peruse:
Catholic Advent Crafts for Kids – Advent Calendars and More
How do you help children count down the days of Advent, while making sure to focus on preparing our hearts for Christ's birth? This interactive children's Advent calendar from Loyola Press gives kids a visual reminder and offers small challenges for children to grow in grace.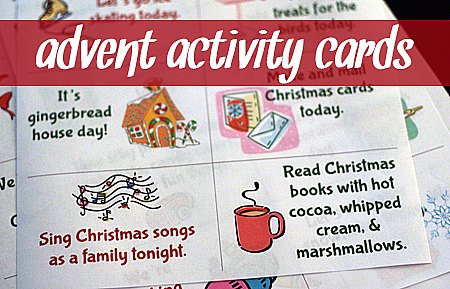 I plan to be more intentional during Advent this year, focusing on time with my family. I'll be able to enjoy time with my children and create family memories with these Advent activity cards.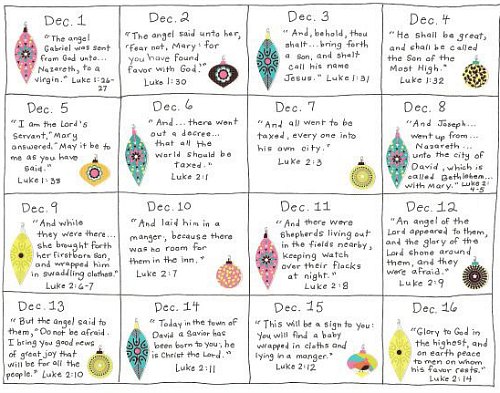 You'll want to share the beautiful Bible story of Jesus' birth with your children. I love these
Bible verse Advent cards
, breaking the story down in daily verses to review with your littles.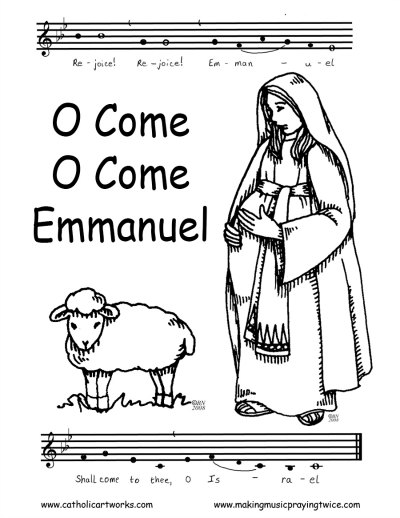 Don't forget the Advent music – including one of my very favorite Advent hymns, "O Come, O Come Emmanuel".
Making Music Praying Twice (our Catholic homeschooling music curriculum) has Advent coloring pages to accompany the hymns you'll be teaching your children. Don't forget to listen to music samples there, too.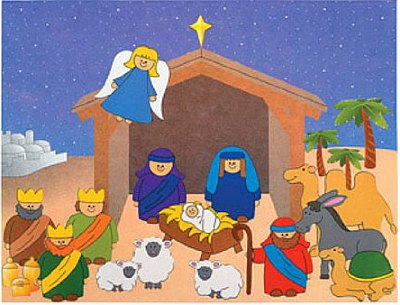 Searching for ideas to teach your preschoolers about Advent? You'll find
lesson plans for Advent
over at Catholic Toolbox.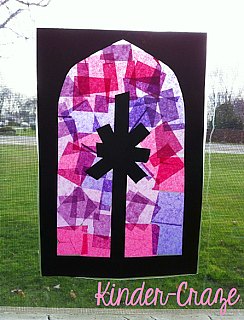 Your kids can work on fine motor skills while creating a beautiful decoration for your home with these
Advent window decoration crafts
.
Pressed for time or energy? You can check out these Advent craft kits and calendars to make your days a little less hectic.

What are your favorite ways to celebrate Advent with your family? I'd love to hear your ideas for Advent activities!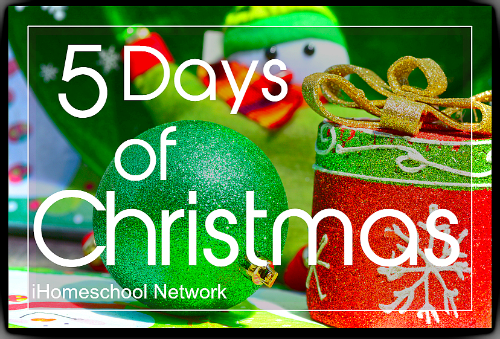 &