Around our house, Saint Nicholas ranks high on our list of Catholic saints.
My kids love to learn about this kind bishop and explore the traditions and legends surrounding this man. We enjoy reading books and watching movies about sweet Saint Nick.
We're working on some of our very favorite Saint Nicholas crafts this week, and I surprised my homeschooled little ones with our new Saint Nicholas printables.
Maeve is always wanting to 'do school' with all of us, so I made sure to make some pages just for her. She worked on recognizing the letter N and playing with her glass gems,as well as practicing writing and learning new shapes.
(If you're not comfortable with your children playing with small objects, don't worry. You can use a do-a-dot marker, your favorite coloring pencils or crayons or even small stickers to fill in the circles.)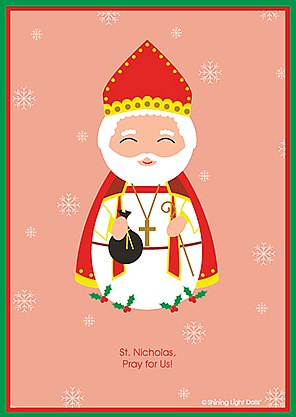 Baby Daniel got to hang out with us, and enjoy our present from Shining Light Dolls – an adorable Saint Nicholas doll.
The boys worked on mazes and a rousing game of roll and cover, while Rachel curled up and enjoyed a word find. Later, all of the kids made St Nicholas' miter and marched around the house, singing "Santa Claus is Coming to Town."
Take a look at all the fun you'll find! These printables are great for homeschooled students or children who attend a traditional school – they're all about inspiring your family to learn more about Saint Nicholas and the virtues he passes on to us today.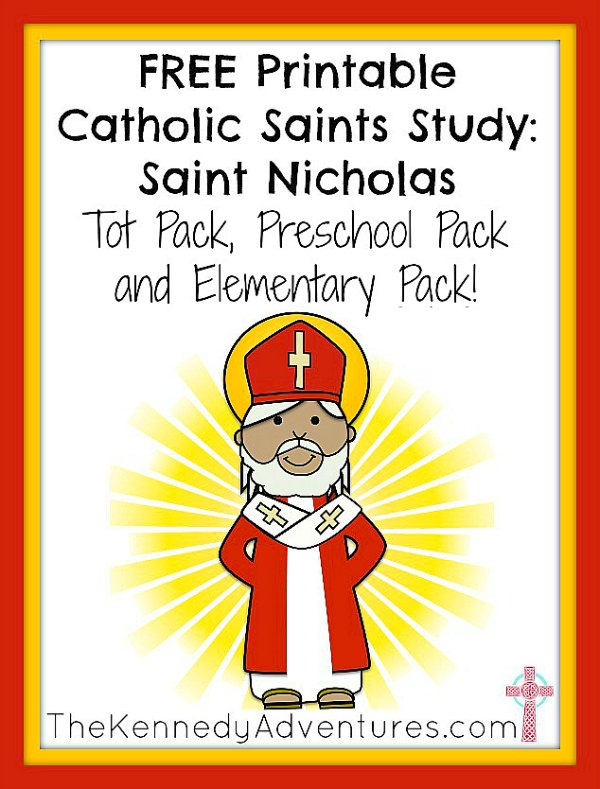 This is part of the 5 Days of Christmas series where we're covering Catholic Advent Crafts for Kids. You can start with a roundup of Catholic Advent crafts, and stay tuned for more ideas, covering Saint Nicholas, Our Lady of Guadalupe and St Juan Diego, as well as St Lucia.