Sifting through all of the amazing resources for Catholic families can be overwhelming. I poured through Pinterest boards, websites and books to find my very favorites to share with you.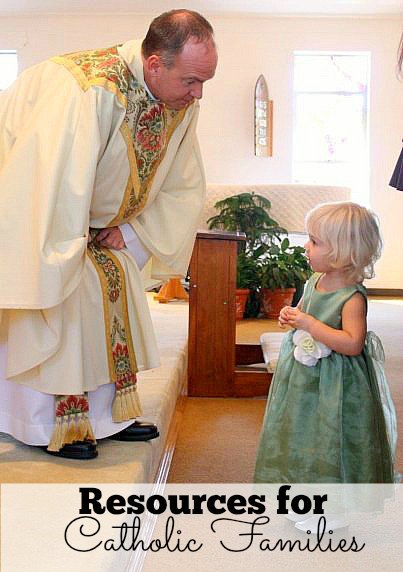 Resources for Catholic Families: Living Your Faith
Taking Your Kids to Church

Holy moley. Seriously, I KNOW how challenging this can be, as a momma of six. There will be days that you won't have any clue what the readings were, or hear one word of the homily.
Other days, you'll cry happy tears when your toddler says to you during the homily, "Momma, you face is so pwetty."
Take them to Mass.
It's hard and there are days I want to drink all the wine in the house when I get home, but it's so very worth it.
Eucharistic Adoration
Think taking your children to Mass is challenging? Step up your game and take them to Adoration. My children go with me (not as often as we should), and I always smile when they all wave and yell, "Bye, Jesus!"
I start out small, with 10 minute visits, working our way up slowly for an hour. My sweet friend Stephanie has ideas, including an Adoration bag.
Teaching Your Children the Faith
Raising your children in the Catholic faith in today's world can be a challenge. These posts offer practical tips and solid support for Catholic families
Raising Your Children in the Catholic Faith
5 Ways to Nurture Your Child's Faith
Six Ways to Teach Your Children Faith
Celebrating Sacred Time as a Family
Sadly, even the most devout Catholic families have children who leave the faith. Prepare for that possibility with these tips from Stephanie.
Get Involved
I know. Some of you may be introverts. Some of us are busy, working outside the home, raising children, going to school, with a host of demands on your time.
Bottom line — if you want to see your Church thrive and grow, you've got to take part.
Don't wait for an invitation. Take a look at some of the ministries you may have overlooked and see what works for your personality, talents, and your season in life.
Ministries to Explore in Your Parish
Find YOUR Church Ministry
Get Involved in Your Parish
Get your kids involved, too. My children accompany me to food drives, set-ups for parish picnics and more. By instilling a love for service in my children while they are young, they're much more likely to serve when they are older.
Outside of Mass and service projects, how do you blend your faith and work? The Integrated Catholic is a wonderful resource full of practical tips to encourage you to let your Catholic light shine.
Spend Time in Prayer with Your Kids
Family prayer time is a little like herding cats around my house, but we make it a point to pray together as a family each and every day.
Some days, we begin with prayer, or pray at meal times. Every night, no matter how busy or chaotic, we pray together – even with Maeve and Baby Daniel.


Tips for getting started:
Teaching Your Children to Pray
Making Mealtime Prayer More Meaningful
Beginning Family Prayer
In our home, these are the prayers that we teach first. When our family finishes these, we'll look for more prayers for special intentions or from our favorite saints. If you're working on memorizing prayers and trying to improve your children's handwriting, these Sign of the Cross printables may be helpful.
Prayer Resources for Moms
Before you start praying with your children, you'll need a prayer habit of your own.
For moms and older teens, consider the Liturgy of the Hours. I'm downloading these free prayer planner printables to help me map out my plans for praying on my own. Don't forget to build in time for praying for the souls in purgatory.
Want to make your yard beautiful and create a place for prayer? You'll need a Mary garden. Stephanie says it's easy, so I may give it a try.
Resources for Catholic Families: Spending Time with the Saints
We talk quite a bit about our favorite saints here. In our Catholic home, we pay homage and celebrate feast days of some of the Church's greatest heroes.
Loyola Press has one of our best go-to resources with this Daily Saints Calendar.
There's also printable versions so moms can keep track of upcoming feast days and plan accordingly.

In the new year, I want to start implementing special dinners to commemorate some of our favorite saints. I love these ideas from Sarah about creating liturgical tea time. Making these days special is fun, and will help create sweet memories for my little ones.
When you're planning your special feast dinners or teas, stop by Catholic Cuisine. It's my favorite resource for saint inspired foods.
I'm looking forward deepening my relationship with my patron saint as I teach my children.
Resources for Catholic Families: Teaching Children About the Saints
In learning more about the Saints, I think my children learn better when writing things down. I love these Saint notebooking pages.
We use Happy Saints for printing out prayer cards and learning more about the saints of our Church. The kid friendly illustrations are wonderful.
Mother Teresa
Mother Teresa is one of our most admired saints. My children have enjoyed learning about her life and how she helped the poorest of the poor. One of her most beautiful quotes is available as copywork for your children.
St Brigid
St Brigid is another favorite Irish saint in the Kennedy home. This year, we're hosting a St Brigid Playdate!
St Elizabeth of Hungary
St Elizabeth of Hungary is one of our most treasured saints, known for her love of caring for the poor. Rachel studies her St Elizabeth prayer as she works through this St Elizabeth of Hungary printable packet.
St Kateri Tekawitha
I don't cross stitch, but after seeing this sweet St Kateri Tekawitha cross stitch pattern, I'm tempted to take it up as a hobby.
Guardian Angels
My kids have known the Guardian Angel prayer since they were small. We celebrate each year with angel crafts and activities.
Ideas:
Holy Guardian Angels Feast
Universal Guardian Angel Appreciation Day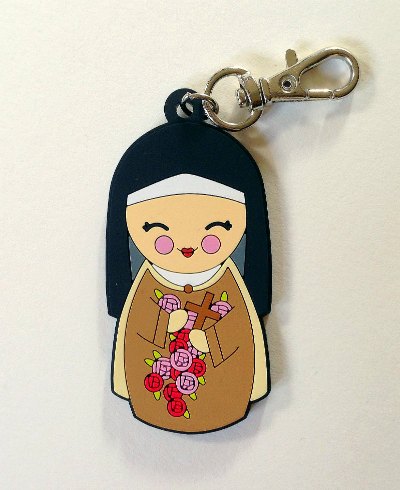 St Therese
You'll find many ways to celebrate and learn about St Therese.
Happy Feast Day, St Therese
Making Sacrifice Beads
If you're crafty, you can work on this St Therese cross stitch art.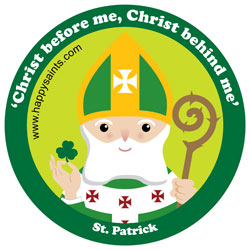 Saint Patrick
As an Irish Catholic family, dear Saint Patrick is the saint we know best. We created a Saint Patrick Unit Study and will be celebrating his feast day on March 17th every year, since our youngest baby was born on Saint Patrick's Day!
Resources for Catholic Families: The Saints of Advent
Saint Nicholas
Find our Saint Nicholas crafts, Saint Nicholas printables and even ideas for Saint Nicholas cookies!
My kids also love this St Nicholas shoe craft.
I enjoy teaching the children about Marian apparitions and Our Lady of Guadalupe is number one in my book.
We've had a blast learning all about her and St Juan Diego, making crafts, reading stories and enjoying a Mexican Feast!
Saint Lucy (Lucia)
We studied St Lucy for the first time this Advent season. My children are looking forward to creating star hats and crowns, getting up early and eating breakfast with candles to celebrate.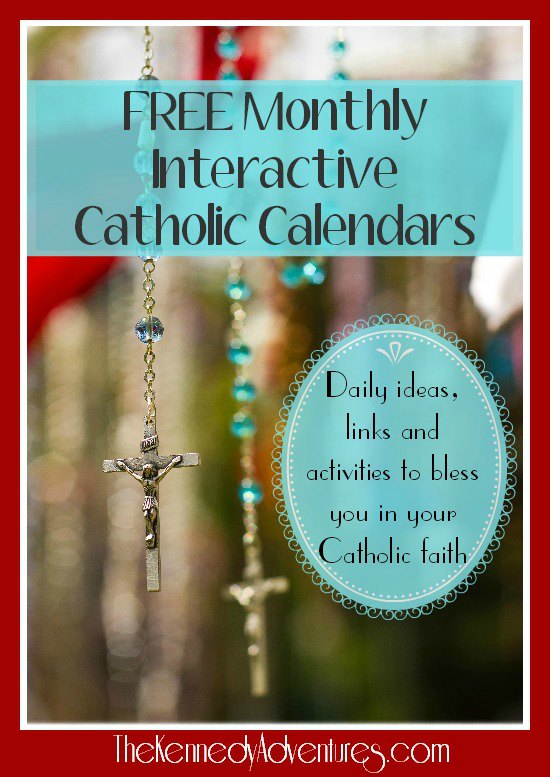 Resources for Catholic Families: Catholic Family Calendars
Each month, you'll find a Catholic Family Calendar here. It's filled with feast days and Holy Days, ideas for crafts and recipes, along with ways to help you live your faith outside of Mass. Angie has monthly Catholic activity printables as well.
I'm planning on printing out these Catholic calendar cards for our house, too.
Resources for Catholic Families: Lent and Easter


I usually start off Lent with a giant list of things I plan to sacrifice, goals of daily Mass and weekly Adoration, as well as service project ideas to implement. These posts remind me to take things slow and steady, not biting off more than I can chew.
Lent:Did You Bring It or Blow It?
15 Ways to Experience a More Meaningful Lent
A 7 Step Lenten Plan
40 Days of Celebrating an Awesome Lent
Eucharistic Adoration is such an important part of a Catholic faith life, but it can easily get pushed aside in our busy lives. This Lent, strive to make a Lenten Holy Hour.
Get your kids involved in the Lenten season with these ideas:



Walking the Lenten Path
40 Lenten Activities for Kids
Lenten Activities for Children


Lent and Easter Activity Packet
Good Deeds for Lent
Lenten Lapbooking Ideas
The Easter Story Printables


Interactive Sight Word Reader for Holy Week
Easter Printable Activities
Easter Coloring Book and Flannel Board Pieces
Lenten Sight Word Reader
Stations of the Cross Booklet for Children
Lenten Promise Cards for Families
Catholic Easter Activities

If you're looking for a unique craft to work on with your children during the Lenten season, I LOVE this idea of Lenten puppets. (aren't they gorgeous?)
As we approach Easter morning, I'm printing out this Easter resurrection set. My kids will spend Good Friday and Holy Saturday coloring the figures, preparing for Easter Sunday.
I'm also going to set up Rachel and Abby with these religious themed Easter Eggs – we'll spend some time talking about the symbols and what they mean.
Resources for Catholic Families: The Rosary
Integrating this beautiful prayer into your family's life is such a blessing. Check out these ideas to help you get started.


Praying the Rosary with Children
Our Lady of the Rosary
Rosary Activities



Rosary Resources
Rosary Crafts for Kids
Mary and the Rosary Printables
Children's Rosary Prayer Guide
Resources for Catholic Families: Advent and Christmas
Advent is a challenge for me, to fight against the culture of busyness that surrounds us at this time of year. I love reading through these posts:


Finding God During Advent
Celebrate Advent Like a Catholic
Advent Activities for Families
One of these years, we might do a Jesse Tree.
This idea for turning your hanging pocket calendar into an Advent calendar looks like fun, and I love the ideas of having calendar cards for saints feast days.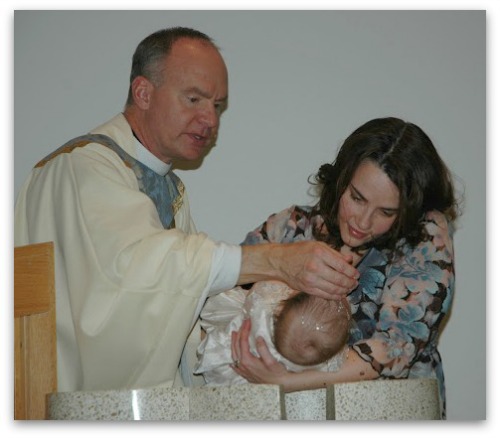 Resources for Catholic Families: Baptism
Your baby's Baptism is a sacred time, but it can be stressful.
Choosing godparents can be a challenge, especially if your extended family isn't Catholic. My friend Kathryn walks you through some of the steps you should consider when choosing godparents for your Catholic children.

Many people have parties following a Baptism, but the majority of the planning needs to be focused on preparing your heart for this amazing Sacrament.
We use this sweet printable packet and ideas for teaching the older siblings about the Sacrament of Baptism.
Resources for Catholic Families: First Communion
If you have a child who is preparing for their First Communion or First Eucharist, you'll want to take a look at these Holy Communion activities and printables from Angie. We've printed these out and we're working through them slowly, preparing for Rachel's FHC in the spring.
Resources for Catholic Families: Reconciliation (Confession)
Think back to your first Confession. (the new term is Reconciliation, but I have a hard time changing my mindset) Were you nervous? (I was a wreck)
I'll be working with Rachel as she prepares for her First Reconciliation in a few weeks.
You can teach your children about forgiveness with this simple chain craft and if you need a brief synopsis of Catholic teachings for review or to help explain Catholicism to others, Catholic Culture has you covered.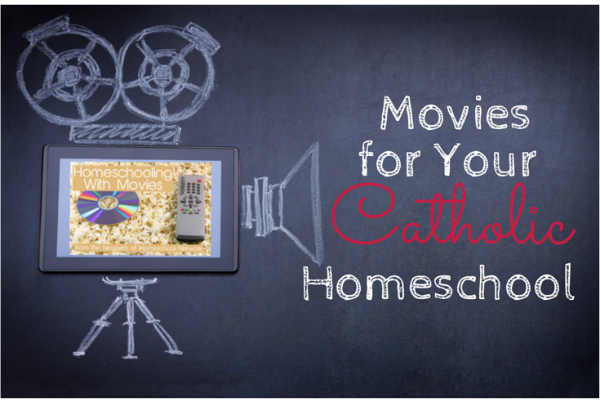 Resources for Catholic Families: Movies and You Tube Channels
We love to use movies in our Catholic homeschool, and I have a few Catholic playlists created in YouTube as well.
Here are my favorite Catholic YouTube resources:
Brother Francis Online
Apostleship of Prayer
Father Robert Barron
Catholic News Service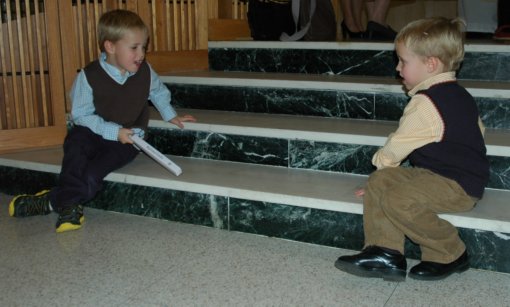 Resources for Catholic Families: Church and Mass
Find a daily dose of inspiration from my friends at Loyola Press.
We love to use printables to help us study our Catholic faith. You'll find all sorts of Catholic word searches and free Catholic coloring pages you can print out for free. For my younger children, I help them work the puzzles, while Rachel uses these for independent vocabulary work.
During Sunday Masses, it's hard for younger children to make sense of the readings. I peruse Sermons 4 Kids for their homilies for children.
We also use these printable Sunday bulletins for kids, and the great Gospel resources over at Catholic Mom. I found some preschool crafts and activities here that would help you teach the faith to your kids.
The Catholic Toolbox hasLesson Plans and Free Online Catholic Games
Want to help your children learn the prayers of our Church in Latin? I use these printable Latin Prayer folders in our homeschool.
You'll often see me whispering to Rachel during Mass these days. I'm not being rude, but teaching her the parts of the Mass. We've also talked about why we use incense at Mass.
WHEW! I'm certain that I may have left off some of your favorite resources! I'd LOVE to hear from you – tell me your ideas and I'll add them into this list.