Over the summer, Brett and I chatted about what we could get our kids for Christmas. Our toddler loves games and puzzles, our boys love playing electronics almost as much as playing outside, while Rachel loves to read and listen to audio stories.
We thought it over and decided to splurge a bit, for a kids' tablet. After a month of research and talking with friends, we chose the Amazon Fire HD Kids Edition. I knew that we'd also use it for homeschooling as well as just plain fun.
Once I had a chance to sit down with the Fire, I was hooked and couldn't wait until Christmas! As a Catholic family, we celebrate Saint Nicholas Day in early December, which was the perfect opportunity to bless my kids with this huge surprise.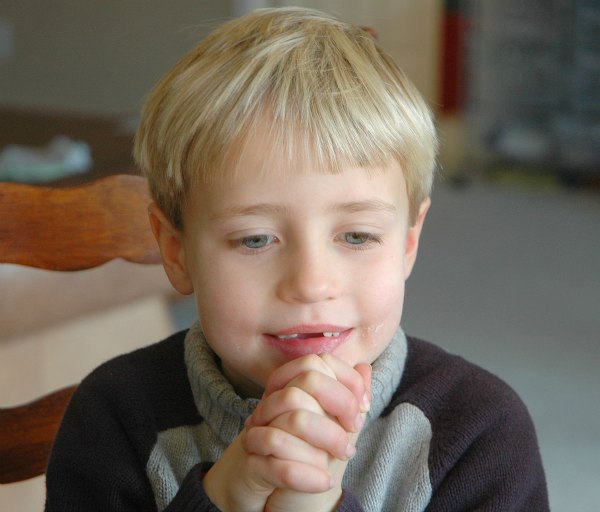 My kids were THRILLED, and couldn't believe that we'd given them a device JUST for kids. We spent the day learning all about the ins and outs of the Fire.
Rock Solid Specs
Think this Amazon Fire HD Kids Edition is a toy?
Think again.
I checked out the specs and was pleasantly surprised. The Amazon Fire HD Kids Edition has a quad-core processor, an HD display (perfect for watching movies), front and rear facing cameras for snapping pictures, plus Dolby Digital audio.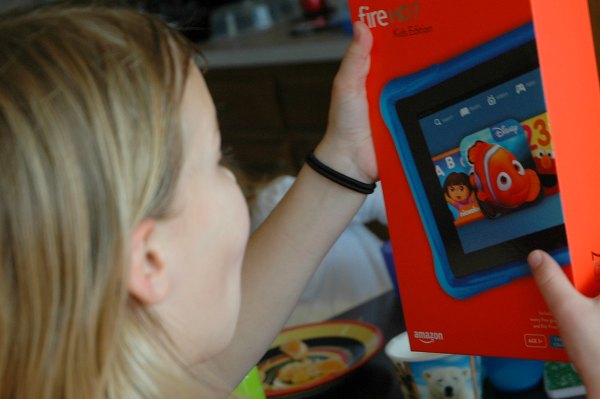 FreeTime – the Perfect Way to Explore Books, Movies, Shows and Apps
What about apps, movies, games and books?
I'm in LOVE with FreeTime.
My children get unlimited access to over 5,000 books, movies, TV shows, educational apps and games. This is FREE for a year with the purchase of the
Even after our free year expires, I'll be signing back up again. As my kids grow, it's a great option to have their books and apps evolve with them. We'll leave the preschool shows and apps behind, and move on to higher level learning.
What's my favorite benefit of the Fire HD Kids Edition Tablet?
Amazing parental controls.
Before we decided on the Fire, my friend Pam was talking about the awesome parental controls that Amazon had established. When I got the chance to look at them myself, I was blown away.
I can set up individual profiles for each of the kids – one for Rachel, Adam, Thomas and Maeve. I can set separate timers for each child, and even pick and choose personal content.
You'll find Daniel Tiger on Maeve's profile, while Adam prefers Wild Kratts.
Also, I can set it up to keep fun games like Plants vs Zombies locked until the kids log time on educational games. (We're working on learning phonics right now)
Once the timer is up, there's no way to unlock it.
I can head to the kitchen to fix dinner, without worrying about keeping an eye on the kids' screen time. The Fire takes care of it for me.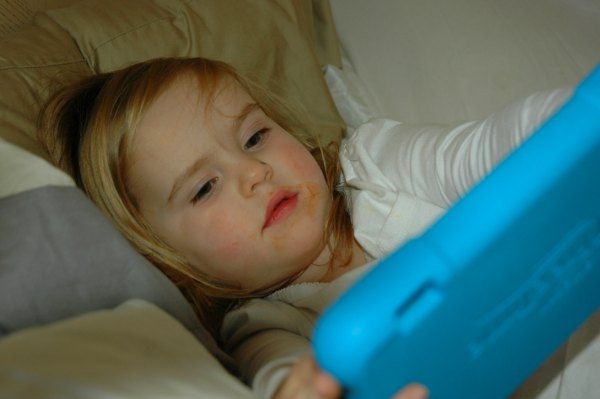 Worry Free Guarantee
Why would I hand an expensive electronic device to a toddler to handle?
Simple.
The Amazon Fire HD Kids Edition tablet comes with a durable, lightweight kid-proof case available in green, blue or pink to protect against drops and bumps.
If my children manage to hurt it in spite of the kid proof case, I can rest easy. The Amazon Fire HD Kids Edition has a 2 year worry free guarantee. If ANYTHING happens, I can send it back and they will replace it for free – no questions asked.
That's a hefty dose of reassurance to me.
Affordable Price
The price is reasonable — currently at $84.99. (be sure and keep your eyes peeled for sales) Rachel is already planning on doing extra chores and saving up Christmas money to buy her own Amazon Fire HD Kids Edition to open at her next birthday party.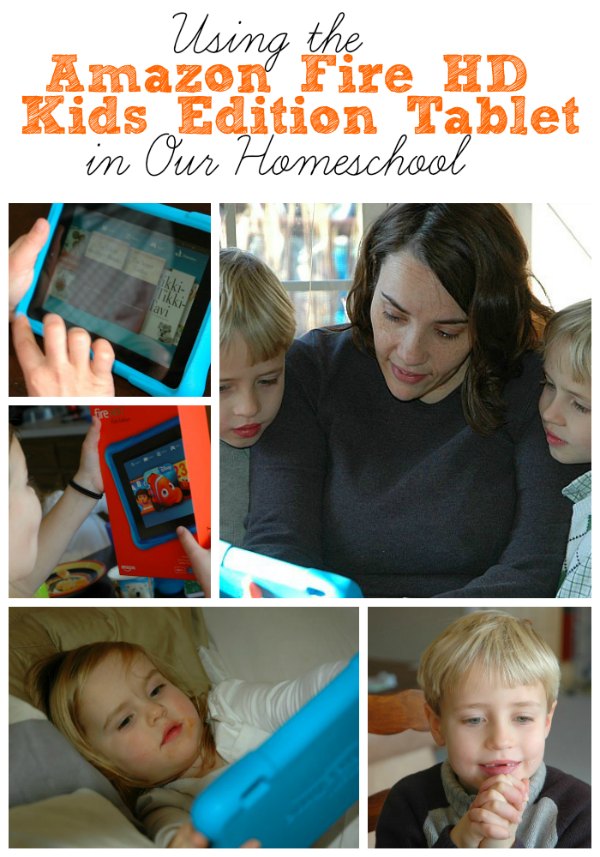 But what about homeschooling? That was a big reason for this gift, right?
Here's how the Amazon Fire HD Kids Edition will be put to work in our busy homeschooling lives.
Kids' Music
I was poking around in Amazon the other day and found another benefit of Amazon Prime …. Amazon playlists.
As part of our relaxed classical homeschool curriculum, we have a focus on music. We enjoy many of the kindergarten kids' songs as well as classical selections for Rachel using Amazon.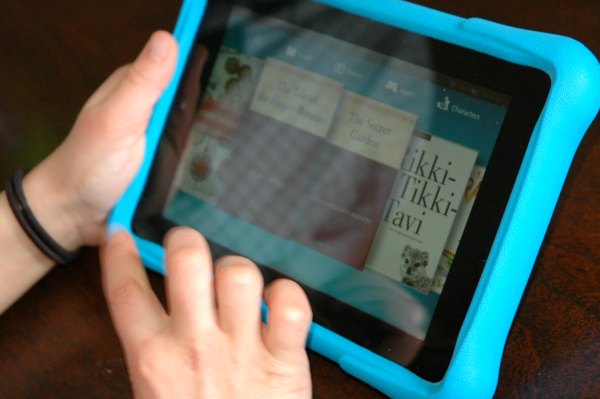 Saving Money on Books
We're huge book lovers in this house, but if you've checked the prices lately, you'll know books can be expensive. Using the Fire for ebooks will save us time, money and space. We can find books in the public domain for free, download ebooks from our library, or purchase books we love cheaper than the hard copy.
This also makes it a snap to make sure we have plenty of reading material available for road trips.
Audible books
We have a serious addiction to Audible around here. You'll often find us listening to stories during breakfast, bathtimes, bedtime or in the car.
We use the Fire to listen to our Audible selections and found an added bonus. If you have the same book in Audible and ebook form, you can Whispersync, switching back and forth between the audio and ebook version seamlessly, even reading the book as you listen.
Videos
Using videos is a big part of our homeschool, particularly for science and history.
I add educational videos to our playlist, so my children can explore a topic that we've covered in our lessons.
Homeschooling on the Go
This spring, we're planning some nature studies
The Fire HD Kids Edition will make it a piece of cake. We'll take the Fire, loaded with ebooks, grab some sketch pads and hop in the van.
Educational Apps
Using educational apps is a big part of our homeschool. We use educational apps and games to help us review concepts. Maeve loves Super Why for learning letters. Adam's favorite is Math Bingo, while Thomas enjoys Hooked on Phonics. Rachel uses Quizlet to help her review her Latin lessons and Greek Myths facts too.
Hop on over to Amazon and take a look. Your kids will love it if they find the new Amazon Fire HD Kids Edition under the tree!
I was selected for this opportunity as a member of Clever Girls and the content and opinions expressed here are all my own.