Part of the beauty of homeschooling is to have the flexibility to choose a curriculum and materials that suit your family's needs and desires. One family may place a high value on music and art, while another family chooses technology as a cornerstone in their homeschool.
In our family, following a classical curriculum is a priority.
What does that mean, especially in these early years of homeschooling? Focusing on Latin, and reading loads of amazing literature.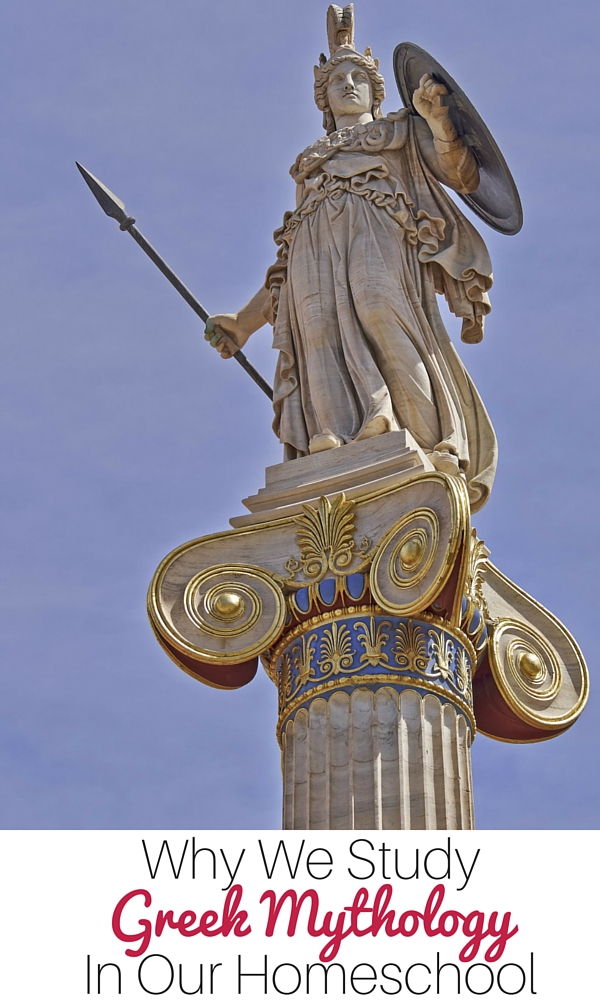 Last year, Rachel dove headfirst into a study of Greek Mythology. As a former Greek myths geek, I couldn't have been happier. These were some of my very favorite stories as a child.
After the class ended, Rachel and her brothers continued to ask me, "When are we going to get MORE Greek Myths books?" I obliged them, with a little help from our friends at Candlewick Press, and filled our shelves with these stunning selections.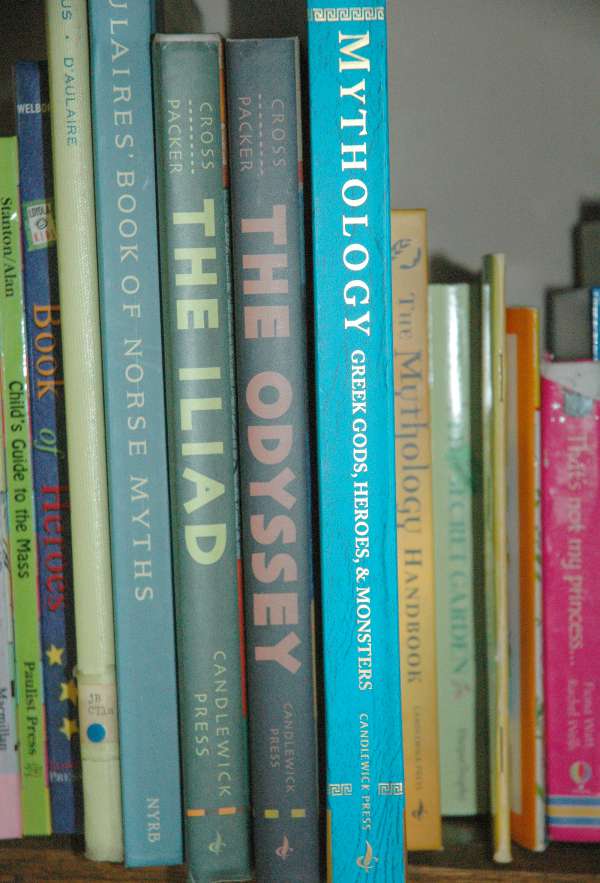 I received a beautiful collection of books from Candlewick Press for free to help facilitate this article and was compensated for my time. All opinions are my very own.

Teaching Virtue Through Greek Myths
One of the hidden benefits of studying Greek myths is to explore virtues. With these classic stories, the lines between righteous and immoral behavior are clear cut, so that even young children can recognize examples of the 4 cardinal virtues: prudence, justice, fortitude and temperance.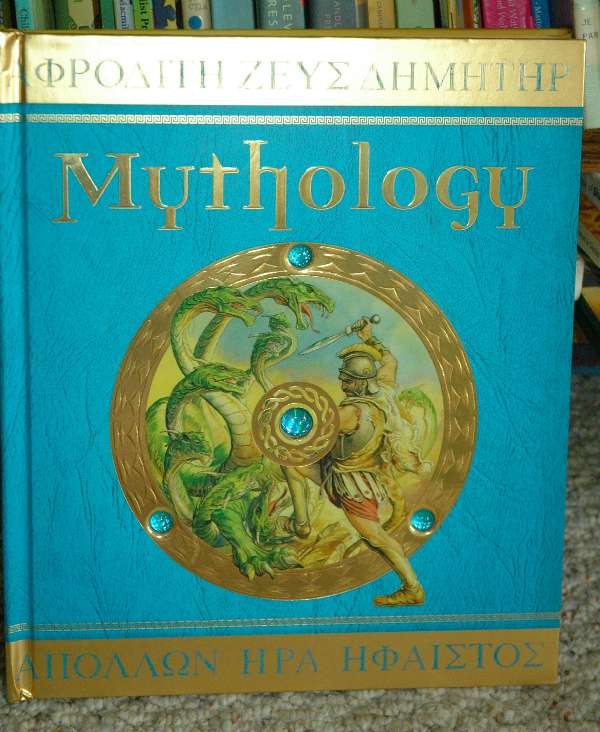 Using Greek Myths to Find Heroes and Villans
In Greek mythology, the lines between good and evil are very clear cut. Monsters are monsters, while heroes are heroes. When you take a look at Heracles (Hercules is his Roman name), there's no doubt in children's mind that he's a good guy, performing noble deeds.
Medusa, on the other hand, is definitely a monster, poised to wreck havoc on anyone who crosses her path.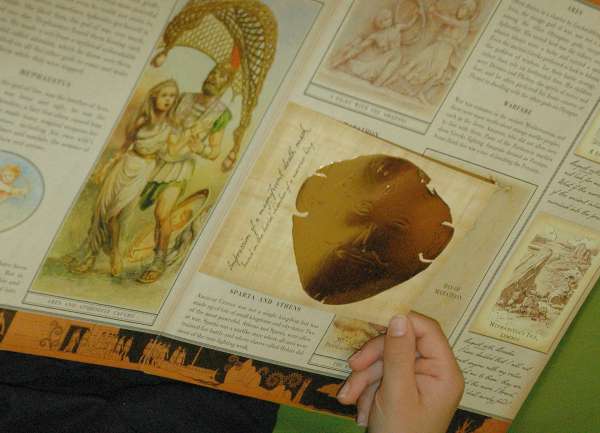 Understanding Human Nature Through Greek Myths
Ever deal with character issues in your home? Dealing with jealousy, back talking or other trouble with your children?
The best way I've found to tackle these tough topics? Reading stories about them, especially ones found in the Greek myths.
Children can recognize an element of negativity in a story much better than they can emulate it to you. It's a great way to role play and discuss reasons behind bad behavior.
An example? Rachel struggles with jealousy and fighting with her younger sister. One of our resources for helping her talk this through? The story of Arachne and Athena.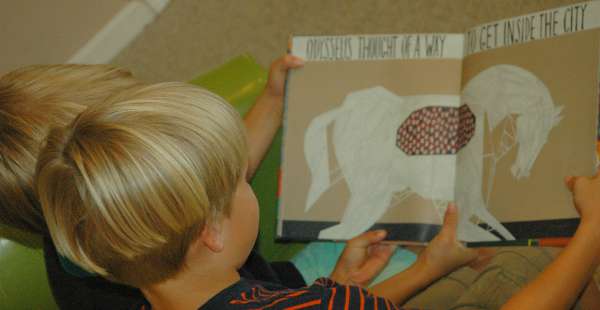 Understanding Allusions in Literature with Greek Myths
Do you expect your children to study Shakespeare or other English literature as they grow older? They will need at least a basic understanding of Greek mythology to assist them in studying these great works.
Allusions to Greek myths (and their Roman counterparts) are everywhere, both in modern literature and the classics. Think about these examples:
Mary Shelley incorporated the myth of Prometheus into her book Frankenstein. (also known as The Modern Day Prometheus) C.S. Lewis' Till We Have Faces is a retelling of the story of Cupid and Psyche.
Are you a fan of Harry Potter? My kids giggle when they run upon nods to Greek mythology in these tales, like Fluffy the Three Headed Dog (could this be Cerebus, guard dog for the underworld?) and the centaurs in the forest.
Even Hermione owes her name to Greek mythology. Her namesake is the daughter of King Menelaus of Sparta and Helen of Troy.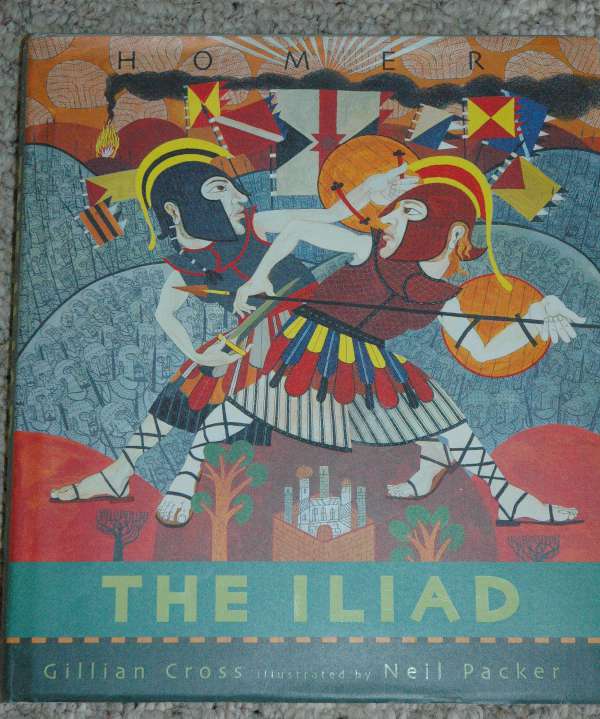 Connecting the Dots in the World Around Us with Greek Mythology
If the understanding the allusions in literature and art doesn't sell you on exploring Greek mythology in your family, think about other areas where a knowledge of these stories might come in handy.
Embarking on a study of astronomy? Many constellations and celestial bodies have their basis in Greek myths, while the US space program is namd for Apollo. In chemistry, the element niobium is named after Niobe, daughter of King Tantalus.
Examining the ocean? Famous researcher Jacques Cousteau named his vessel Calypso, a nymph, thought to be the daughter of the Titan Atlas. Visiting Yellowstone National Park? Iris Falls is named for Iris, the mythological Greek goddess of the rainbow.
Without a knowledge of Greek myths, terms like Pandora's box, Achilles' heel, Herculean feat, the Midas touch, and nemesis don't make much sense.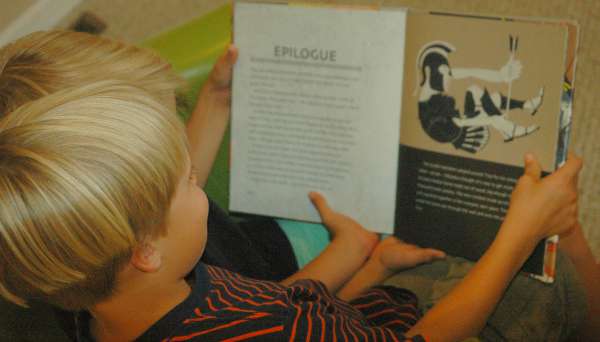 More Resources for Studying Greek Myths with Candlewick Press
We added all of these selections from Candlewick Press to our homeschooling collection. You can take a look and see which ones would work best for your family.
Greek Myths for Young Children (ages 5-9)
Greek Myths (ages 10 and up)
History News: The Greek News (ages 9-12)
The Mythology Handbook (ages 9-12)
Mythology (ages 8-12)
Gods and Heroes (ages 5-9)
The Iliad (ages 8-12)
The Odyssey (ages 8-12)
You can check out all of the gorgeous books in the Candlewick Press library, and be inspired by ideas like activity packets, lesson plans, craft ideas and more.
Take a peep at all the places you can find Candlewick Press online.
Facebook
Pinterest
Twitter – follow @Candlewick or @CandlewickClass
YouTube
Google +
Scribd
Zazzle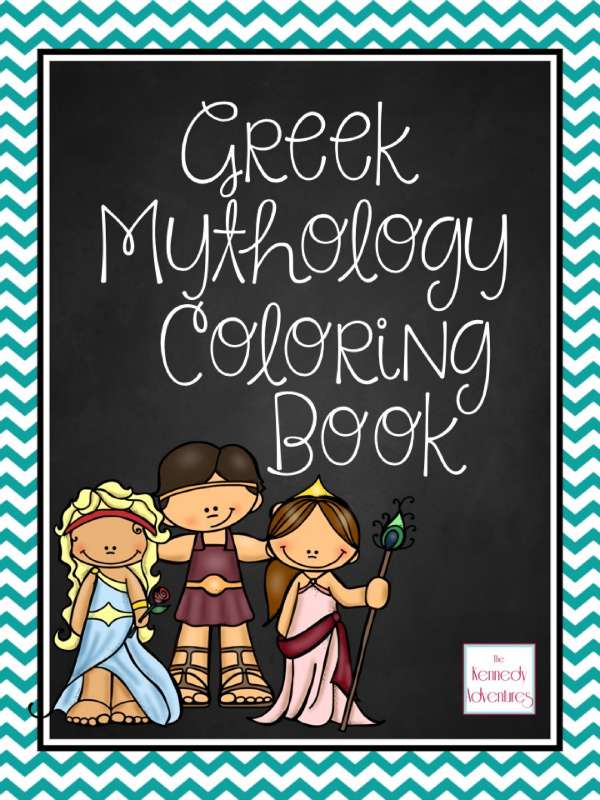 Greek Mythology Coloring Pages
Want to keep your children's hands busy while you're reading these wonderful books aloud? I created this Greek Mythology Coloring Book for my preschooler, but my older children (1st and 4th grade) love the coloring pages too! They enjoy pulling out a coloring page that goes along with the Greek myth that we're reading that day. They have so much fun!
Do you study Greek mythology in your homeschool? I'd love to hear your best tips in the comment box!