During my busy days, I don't have time to put my feet up, much less spend a lot of time devoted to studying my faith. I want to learn more about Catholicism, but reading books isn't always practical in the day to day.
How do I learn and stay informed? By taking advantage of the beauty of technology.
Podcasts are an easy way to learn while you fix dinner, fold laundry, or run carpool.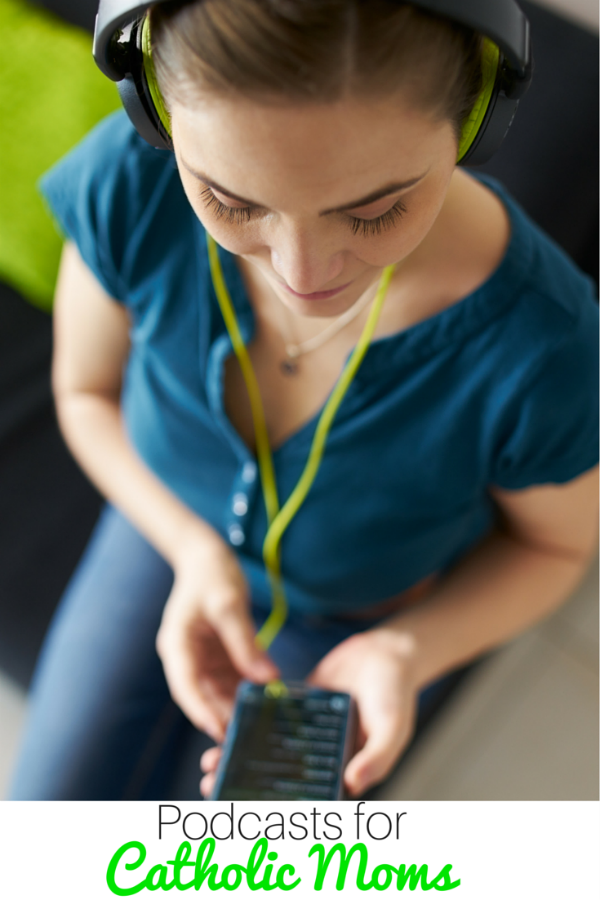 Podcasts for Catholic Moms
My husband first discovered Father John Riccardo, and over the years, I've listened to hours of his talks. You'll find weekly homilies from his parish, but the real gems are his longer talks. Explore Catechism for Cradle Catholics — straightforward talks on what we should know, and pass on to our children about our Catholic faith.
His parish also hosts parenting talks from time to time. One of my favorites is from Dr. Meg Meeker, pediatrician and author. Her talk How to Raise Strong Catholic Families in a Difficult Culture is a must listen.
---
The One True Faith Michael Voris' style may not suit everyone, but these podcasts were developed as a way to combat the errors spread in modern culture about the Catholic Church.
---
Audio Sancto
You'll find hundreds of talks here, but I suggest you start with Why Homeschool.
---
Sunday, Sunday, Sunday
Stop here each week to listen to Mark Hart's reflections on the Sunday Gospel readings. Bonus? The episodes are released early, so you could read the Gospel, listen to the reflections and be prepared for Mass.
---
Catholic Vitamins
I've been listening to Deacon Tom and his wife Dee for years. They cover a topic per week, interviewing guests and offering insight into Catholic topics.
---
Saint of the Day
Short but informative, this podcast would be a perfect part of your saints studies.
---
Good Things Radio
My pal Brooke Taylor brings us Good Things Radio — a lively and heartfelt podcast focusing on the good that life has to offer while going through the joys and challenges of motherhood, married life, cooking, pop culture, special needs children, friendship and love for the Catholic faith.
---
Read Aloud Revival
As a Catholic family, one of my most challenging tasks is to establish a solid family culture, rooted in faith and love. One of the ways we do this is by reading aloud. We dive into classic literature together, exploring characters and themes together as a family.
Establishing a read aloud culture in your home doesn't take a long time — hop over and listen to the Read Aloud Revival for easy tips for implementing this productive habit in your house.
---
Catholic Answers Live is a daily, two-hour radio program dedicated to Catholic apologetics and evangelization. It's a perfect show to put on while you're washing dishes or folding the laundry.
---
American Catholic Radio
American Catholic Radio is designed to help you know your faith, so you can grow in your faith.
It's a weekly half-hour of information and inspiration, in the popular style of the Franciscans. Each week's ACR draws its inspiration from the liturgical season, current events, and enduring Catholic topics.
---
Daily Readings: USCCB
Brought to you by the USCCB, this podcast is perfect for making sure you're reading/listening to the Daily Mass readings.
---
The World Over: EWTN
This Catholic news magazine program is fast paced, and features current events in the Church, as well as human rights issues around the world.
---
Homeschool Snapshots and Your Morning Basket
In Homeschool Snapshots, you'll get a glimpse into the lives of homeschoolers all over the country – single moms, moms with only children, moms of big families and more. (You'll even find me there on Episode 8)
Your Morning Basket is Pam's newest podcast, filled with practical advice about Morning Time, the beautiful cornerstone of your homeschool day.

Do you listen to podcasts? I'd love to hear your favorites!