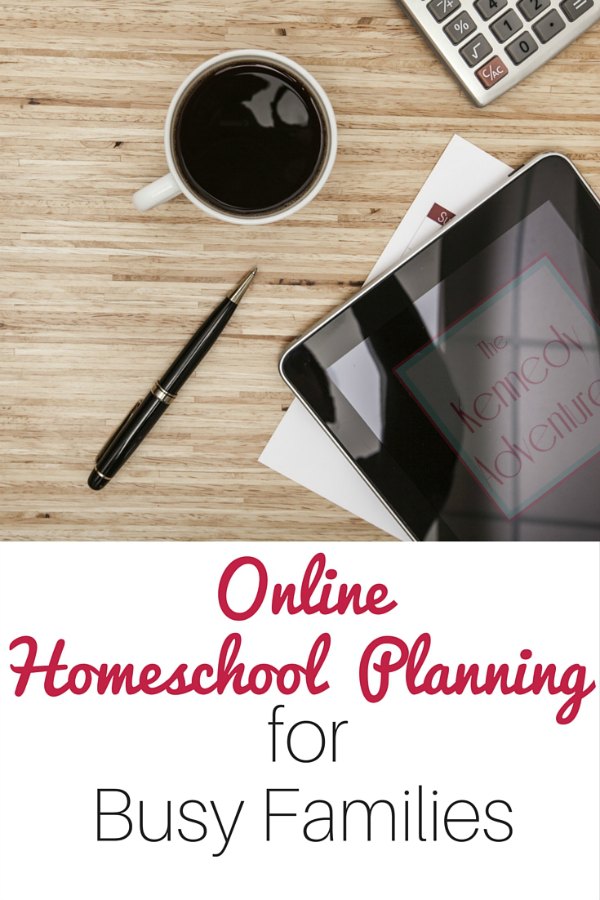 In January, everyone's thoughts turn to planning, cleaning, and organizing all of the aspects of your life. Homeschooling moms aren't immune to this desire to have everything all neat and tidy. It's just a challenge at times, with so many irons in the fire.
This year, I wanted to be a bit more organized with my homeschool. If you took a look at our homeschool classroom and our homeschool curriculum, you'll find things in a bit a of hodge podge.
I decided on an online homeschooling planner (Homeschool Planet), because it met most of our needs as a busy homeschooling family. I'll show you how we use it and why I think it's a potential solution to your planning problems, too.
I received a free subscription to Homeschool Planet, and was compensated for my time. All opinions you see here are my very own.
Homeschool Planet is an easy to use, complete online homeschool planner that won't take you hours to learn or set up.
How Does This Online Homeschool Planner Work?
I found a variety of options within Homeschool Planet for online homeschool planning. Take a look at what's included:
Calendar
Planner
To Do List
Separate Logins for adults and kids
Daily Digest emails
Email/text reminders
Attendance Tracking
Grade Tracking
Shopping List
Transcript Creation
Customizable Widgets
Mobile Version
Calendar Sharing
Since my students are still young, I only use a few of the options. Here's how it works for our family.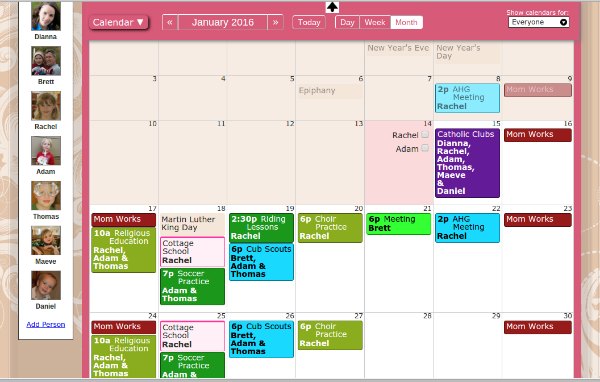 Calendar
I LOVE being able to have everything here in a format that the kids can access and get an idea of what's on tap for them. Activities are color coded (you have some options to customize), and they can tell at a glance what's going on that day.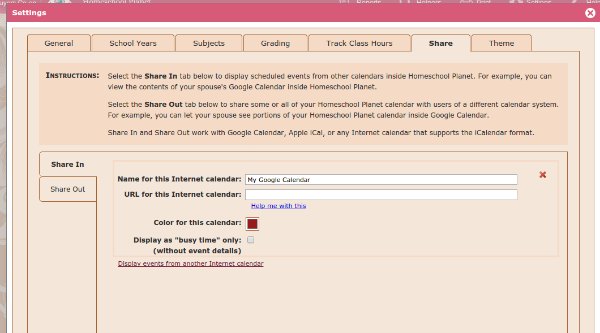 There's also the option to import information from Google or other online calendars that you're already using, so you don't have to enter events twice.
Planner
Prefer to have your week in a list view? I can understand.
The Planner lists all of your upcoming events in a list, eliminating the clutter of the calendar view.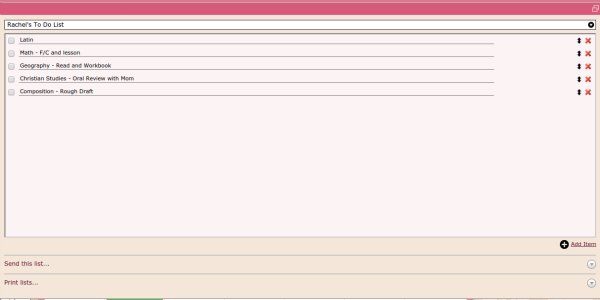 To Do List
This is the feature I use most often, creating daily assignment lists for my children. It works like a charm for us.
You can also send a To Do list via text. We've used this option when I'm at work, and my husband is at home with the children managing assignments.
Separate Logins for Adults and Kids
This option allows me to rest easy, knowing that my children can't delete the information I've entered into Homeschool Planet.
Daily and Weekly Digest
This is a great reminder for me — I have mine set for weekly, so that I can take a look at the week ahead and see what's on tap.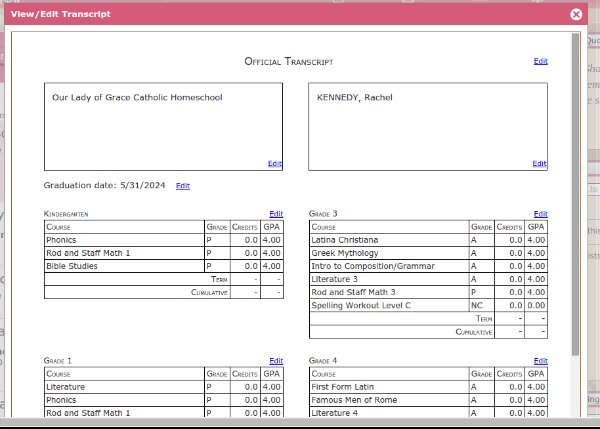 Transcript Creation
Rachel isn't close to graduation, but I went ahead and took a look at this to see how it worked. It was super simple — just insert classes, grades, and activities, and you're well on your way to a professional, complete transcript.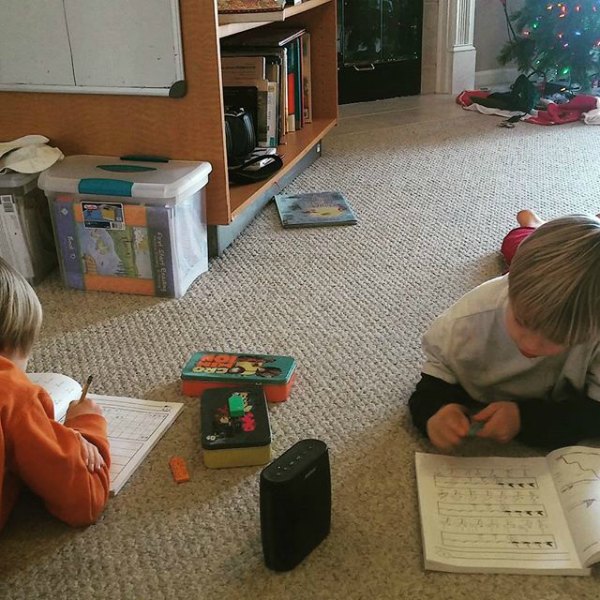 How Many Students Can You Have in Homeschool Planet?
As far as I can tell, there's not a limit on the number of students. This would make it perfect for a big family (like ours) or even for use in a co-op setting.
Setting up student and family profiles is quick and easy. Take a look at the tutorial here.
Using Homeschool Planet Online Homeschool Planner to Create Student To-Do Lists
Even though we've been homeschooling for a few years, my children still struggle with daily routines and expectations. (To be honest, so do I.)
One thing I've done is written out their assignments, but there are times when they can't read my handwriting.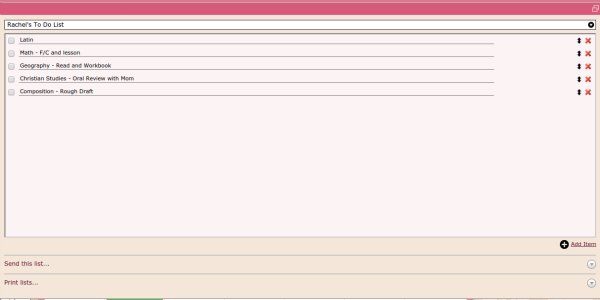 The Homeschool Planet online homeschool planner makes this task simple. I create a to do list, which is easy to print out. I leave the subjects the same and just change the assignments daily.
If you feel comfortable with your children having access, they can log in with their own account and print out their daily assignments while you're cooking breakfast
What's the Price Point of This Online Homeschool Planner?
Homeschool Planet is easy on a homeschool family budget.
They offer a free trial for thirty days – the perfect length of time to try it out and see if it works for you. For a full year's membership, you'll pay $65 — around the cost of a latte a month. If you break it down per child, it's even more reasonable.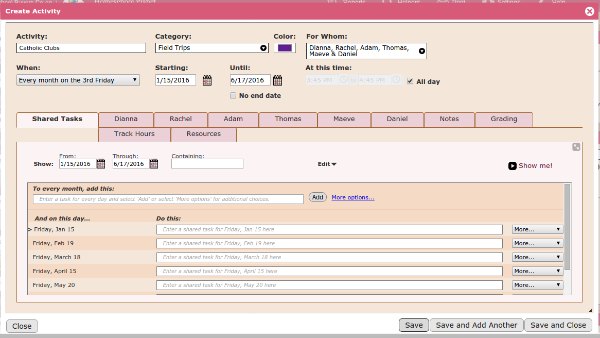 Will Homeschool Planet's Online Homeschool Planner Work for Me?
With so many features, I think that Homeschool Planet would work for most homeschooling moms who are comfortable using a computer.
Pros:

Everything in one place — I can stick all of the kids' clubs, activities, sports and social activities in one spot. (Did you catch how crazy busy they are?)
I can get an email digest at the beginning of the week. This way, I can take a quick peep on Sunday to see what we've got on tap. This saves me from double booking myself, or causing conflicts with Brett's schedule.
I love being able to quickly print a to do list for each of my students – our daily assignment battles are becoming fewer and farther between as a result!
Cons:

Since I have so many people in my planner, my calendar looks a bit cluttered.
What I'd like to have:

A tab for a Classes Calendar — I'd love to be able to toggle back and forth between the overall view of what we've got going on and our actual class work
An option to send an event to someone's email — My husband doesn't log in that often, so I'd like to be able to send him an invitation to an event when I create it inside Homeschool Planet .
How Can I Find Out More?
You can check out Homeschool Planet for yourself as part of their free trial offering.
Stay connected with Homeschool Planet on Facebook, Twitter, YouTube and Google+ for more features, tutorials and to see how other homeschooling families are using this practical product.
What kind of planner do you use in your homeschool? Would you consider taking it online?