Since I'm a working mother, many people ask me, 'How do you work AND homeschool?' This week, I'll be sharing some of my tips and tricks.
On Thursday, as part of the weekly iHomeschool Network's iHomeschool Hangout series, we're going to be discussing How Do You Work AND Homeschool?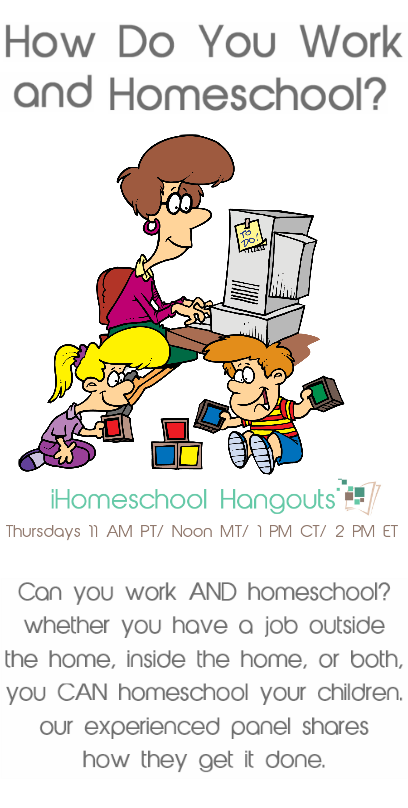 I'll be leading the panel, along with my production managers Marlene Griffith and Jimmie Lanley, working to help keep things running smoothly behind the scenes. (don't forget to follow me on G+!)
I'll be joined by iHomeschool Network bloggers Sam Kelly, Jolanthe Erb, Sallie Borrink, and Ashley Pichea.
Can't see the video? Click here for You Tube.
The discussion will be live Thursday, at 2pm ET, 1pm CT, 12noon MT and 11am PT. You can watch later via the Google Plus Event Page or on You Tube.
Want to listen on the go? You can download the podcast version in iTunes or Stitcher for Android users.
Come join in the fun! If you've got a homeschooling or family management topic you'd like to have us cover, leave me a note in the comment box! Hope to see you on Thursday!
P.S. Don't miss the I Can't Homeschool Because …. I Work Outside the Home for more of my personal tips about how we make it work in our family.