When you're a homeschooling family, you'll often hear comments and questions from others.
The age old question about socialization almost always comes up, as well as inquires about what sort of curriculum we use. I've even fielded queries about how I managed to keep my house relatively clean while homeschooling.
People often assume that I'm a stay at home mom. Most are surprised when I tell them that I work outside the home, as a registered nurse.
'But you can't work and homeschool, too?!'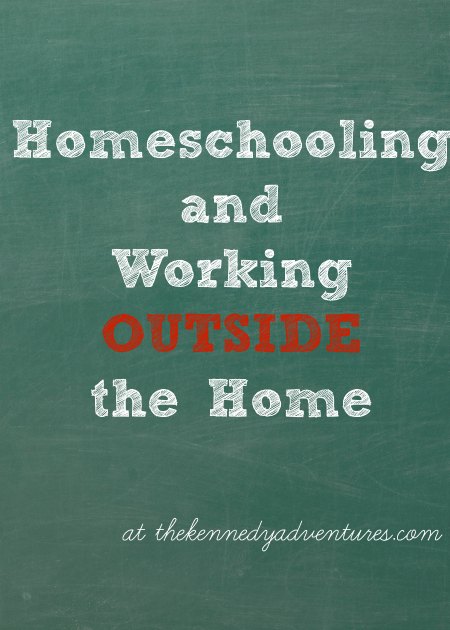 I
DO
work outside the home along with homeschooling three of my small children. It's not a piece of cake, but I'll show you how I manage.
1. Give Thanks
Attitude is everything.
I've learned to look at my career as a blessing. I'm fortunate to have a career that pays well, provides health care benefits for my family, and allows me flexibility with scheduling.
As a nurse, I work two 12 hour shifts per week. This leaves 5 days free for homeschooling and managing my home.
We're moving slowly toward me staying at home, but for now, this schedule works for us.
2. Talk it Over

If you're considering homeschooling and you work outside the home, take a deep breath.
Sit down and have a talk with your husband. Brainstorm potential ideas for creative scheduling. Chat with other homeschooling families to see how their days work.
If you have extended family or friends who are supportive of homeschooling, pick their brains for ideas. They may be able to offer insight on how to make this work for you.
You'll need to sort through the household tasks and assign them to yourself or your husband. Knowing that my husband is pitching in with meals, child care and housekeeping makes my load a little lighter.
When I shared this post with him, Brett had this to say:
If a father wants his children to be homeschooled, he'd better be ready to help. To think that you'd work AND homeschool the kids, as well as managing things at home — that's ridiculous. We're in this together.
Wise words from a homeschooling dad.
3. Create a Schedule that Works for YOU

Even after three years of homeschooling, I'm still amazed at the flexibility of our schedule. We're able to start our school year when it fits our family, taking longer breaks for holidays and birthdays, or scaling back when new babies arrive.
Don't get stuck in the rut of thinking that homeschooling has to look like a traditional school setting. Learning can happen at any time, not just Mondays through Fridays, 9AM until 3PM.
If you work outside the home and want to homeschool, consider afternoon lessons, evening lessons, or even on weekends. You can also look at a year round approach, spreading out your plans over twelve months instead of nine.
4. Plan Ahead and Manage Your Time Wisely

When you're wearing many hats, you've got to manage your time wisely. Between working as a nurse, managing a home, and teaching my children, there aren't enough hours in the day to get EVERYTHING done.
It's that simple.
I have to take an honest look at our calendar and figure out the priorities. I look at the 'must do' items, along with the 'it might be nice' things.
Planning my weeks is a priority with our lifestyle. I have to communicate with my husband about school days, my work schedule, doctor's appointments and field trip plans.
We share a Google calendar so that we can get a glance at what everyone has on tap. If you prefer paper, have a big calendar in a central area in the house so everyone is up to speed.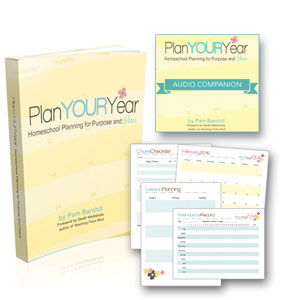 My go to resource for making sense out of our homeschool planning is my Plan Your Year Kit. Pam's simple, practical tips helped me to make the most of my variable schedule, highlighting the best days and times for school in our home, and guided me in making a routine.
We have a rule of one extracurricular activity at a time, to minimize cost, stress and travel time. My kids are extroverts, and there's no shortage of fun things to do in our town.
I'd love for my kids to experience everything, but it's just not possible. We sit down together and talk about what works for everyone.
Once a week, take a look at your calendar and sift through your to do list. Plan your school schedule and your meals for the upcoming days. The more you can plan ahead, the smoother things will run.
Resources:
5. Learn to Say No

If you're planning on working outside the home and homeschool your children, you'll have to pare down your extra commitments. Now is not the time to head up VBS or volunteering for extra work shifts.
Saying no to extra commitments means you can say yes to more time with your family. Win, win!
6. Involve Outside Help

If you can swing it in your budget, a housekeeper or mother's helper could help lighten your load. (We're in the midst of interviewing potential housekeepers from Care.com, to help me get back on track from the post-partum survival phase.)
While you have a housekeeper cleaning your bathroom, you could plan ahead a few weeks in your school. If you have a neighborhood teenager helping out with some of your little ones, you could get caught up on laundry or plan some meals for the week.
7. Take Care of Mom, Too

It's easy to burn the candle at both ends while working and homeschooling. You'll need to make sure that you're taking care of yourself by eating right and exercising. Don't wait for someone else to tell you to schedule your hair appointments or yearly checkups.
Build in time for yourself, your self care, and your interests.
Have questions about how you can homeschool while working outside the home? Please share them in the comments so we can help each other!