As an avid reader, I love adding great books to our library. I enjoy reading great children's books almost as much as my children.
As my children grow, I love exploring classic tales with them. It's a joy to share my childhood classics with them and find new favorites together.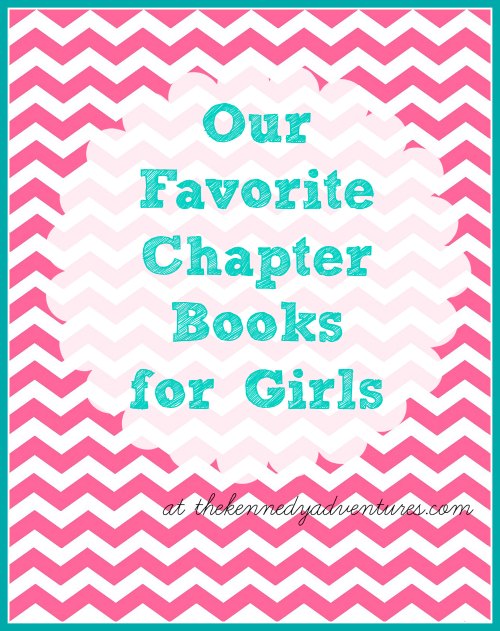 Get out a pen and paper ….. I'm going to share my very favorite chapter books for girls with you today. (My boys also enjoy many of these selections, but they have girls as the central character, or 'girl themes')
Favorite Chapter Books for Girls
Madeline
I first learned of Madeline as a cartoon, but we enjoy the books even more. This series has lots of illustrations, so it's great for early chapter book readers.
The Night Fairy
I'm adding this one to Rachel's birthday gift wish list.
Mary Poppins
As much as I love the movie, I can't believe I've never read the original book! I'll be adding it to my list to read this summer.
The Ordinary Princess
Princess Amy would rather have adventures than learn to play the harp — as a matter of fact, she's quite ordinary! I think Rachel would really like this one.
Little House series
I remember curling up at my cousin's house when I was young, pouring over her copies of the Little House series. I can't remember if my daughter Abigail read them, but Rachel devours them just like I did. We're slowly collecting the entire set.
As part of our homeschool curriculum, we're finishing up Little House in the Big Woods now.
Little Women
I read Little Women to Abigail when she was younger, and can't wait to share this classic with Rachel and Maeve later, too.
Caddie Woodlawn
Listening to the story of Caddie Woodlawn was right up Rachel's alley. She loved hearing the high spirited antics of Caddie, running through the woods with her brothers.
Ella Enchanted
Poor Ella is enchanted with the curse of obidience — she must follow any order given to her. This story follows her quest to break the curse.
Anne of Green Gables
We love historical fiction around here, especially ones with a feisty heroine! Anne of Green Gables is sure to become a family favorite.
Harriet the Spy
What in the world will happen when Harriet loses her notebook? It's where she writes down EVERYTHING she knows about everyone! (best for ages 9-12)
Coraline
Coraline finds herself in an alternate world, with 'mirror parents' who want to keep her there. If your older girls are looking for a slightly scary thriller, this a great place to start. (best for ages 8-12)
Matilda
Ronald Dahl takes up a large section of our bookcase at home. We love the story of Matilda, super-gifted girl who takes on the formidable headmistress Miss Trunchbull.
Inkheart
Abigail and I read Inkheart when she was young, and during a recent visit, she reminded me that Rachel was probably old enough to read it now. It's an amazing tale of a girl whose father can read characters OUT of books. So much fun!
Witch of Blackbird Pond
This might have to wait until Rachel gets a wee bit older. This is more historical fiction, following the life of Kit Tyler, who befriends a woman who is suspected of being a witch.
Sarah, Plain and Tall
I'll have fun discussing this story with Rachel. Sarah is a mail order bride in the late 19th century.
Charlotte's Web
My children have all loved the children's movie, but we just explored the book last summer. This is a must-add to your library.
The Boxcar Children series 
We listened to the first installment of The Boxcar Children last year and loved the adventures of the four Alden 'orphans'. The series has over 100 titles, aimed at readers in the 2nd-6th grades.
A Little Princess
Rachel has enjoyed Shirley Temple movies since she was tiny. Since we've watched the movie, I'll add the novel to our summer reading list.
The Secret Garden
This was a favorite of mine from childhood, and I'm looking forward to enjoying it with Rachel soon!
Pippi Long Stocking
A new neighbor with crazy red pigtails and a flair for adventure? Of course this will be a family favorite!
Ramona the Pest
I don't think Rachel is a pest to her big sister Abigail, but I'm sure she'll enjoy reading about Ramona and her big sister Beezus. With eight books in the series, this will keep you busy for a while!
Island of the Blue Dolphins
This book is based on the true story of an Indian girl who survived alone on an island off the coast of California. Best for ages 9 and up.
Rebecca of Sunnybrook Farm
We've enjoyed this in Shirley Temple movie form, too. I'll enjoy reading this to Rachel, about a high spirited young girl whose aunts try to teach her how to be a lady.
Best Christmas Pageant Ever
Brett and Rachel went to see this as a theater production in December and they both LOVED it. I told Rachel it was based on a book and she's been asking for it ever since. Would it be crazy to buy it for her for Valentine's Day?
The Hundred Dresses
My friend Kaye thought this book was depressing, but I think it has an important message about bullying. Wanda is poor, wearing the same blue dress to school everyday. Her classmates make fun of her, until one day, Wanda is gone.
The Courage of Sarah Noble
This story is also a part of our homeschool curriculum, and sparked our interest in historical fiction. Sarah travels through the wilderness and stays with the Indians while her father builds a new home for their family.
If you're planning on using this in your homeschool, you'll want to check out the great study guide from Memoria Press.
Nancy Drew
I read Nancy Drew books like CRAZY when I was young, and I can't wait to introduce them to Rachel. We'll probably pick up a few this summer.
Black Beauty
Rachel is still a bit tenderhearted to read this story, since it depicts scenes of animal cruelty. Depending on your daughter's maturity level, she might be ready. I would recommend this to ages 9 and up.
Don't miss our list of books for girls who love horses!
The Princess and the Goblin
Rachel received this book as a Christmas gift, and we've just started it as a read aloud at home. I'm looking forward to learning more about Princess Irene and how she outsmarts the goblins living under the mountains where she lives.
It's also available for FREE on Kindle!
Princess Academy
While shopping with Abigail one day, I picked up this book in Barnes and Noble. I whizzed through the first chapters about girls attending an academy for learning how to be a princess.
I never made it back to finish the book, but I'll be adding it to the list for Rachel and myself.
From the Mixed-Up Files of Mrs. Basil E. Frankweiler
Run away from home? Want somewhere elegant to stay? What about the Metropolitan Museum of Art in NYC?
Claudia and her brother Jamie get mixed up in the mystery of a bargain priced angel statue once they are settled into the Met. My daughter loved this story in audio form.
'Are you a gifted child, looking for special opportunities?'
As a gifted student, this book caught my eye recently. Dozens of children enroll to test their wits in a series of mind bending tests, but in the end, only four will succeed.
Mrs. Frisby and the Rats of NIMH
I read this book two or three times when I was young. I can't wait to share this tale of the brave Mrs. Frisby, the brave mouse who is determined to save her children, along with the help of the Rats of NIMH.
Heidi
Somehow, I don't remember reading this book as a child. Heidi is an orphan girl, sent to live with her cold grandfather. Rachel and I will explore this story set in an Alpine village next year. (recommended for ages 10 and up)
Peter Pan
This novel is another one that we enjoy in audio form. I'd highly recommend the Jim Dale version – he is an amazing narrator.
Alice in Wonderland
I've always been a fan of the Alice in Wonderland movie (the classic one, not the crazy Johnny Depp version!), but never read the book. A few months ago, we picked up the audio version, and the entire family was enthralled.
Do you have favorite chapter books for girls that I left off the list?
Be sure and share them in the comment section!