We're coming up on March in a few weeks, so it's time to work on some of our Saint Celebrations. Every month, to enrich our family's faith journey, we pick a saint for a special focus. We celebrate Saint Patrick in a big way around here — he's the namesake for 2 of our sons, and Baby Daniel was born on Saint Patrick's Day!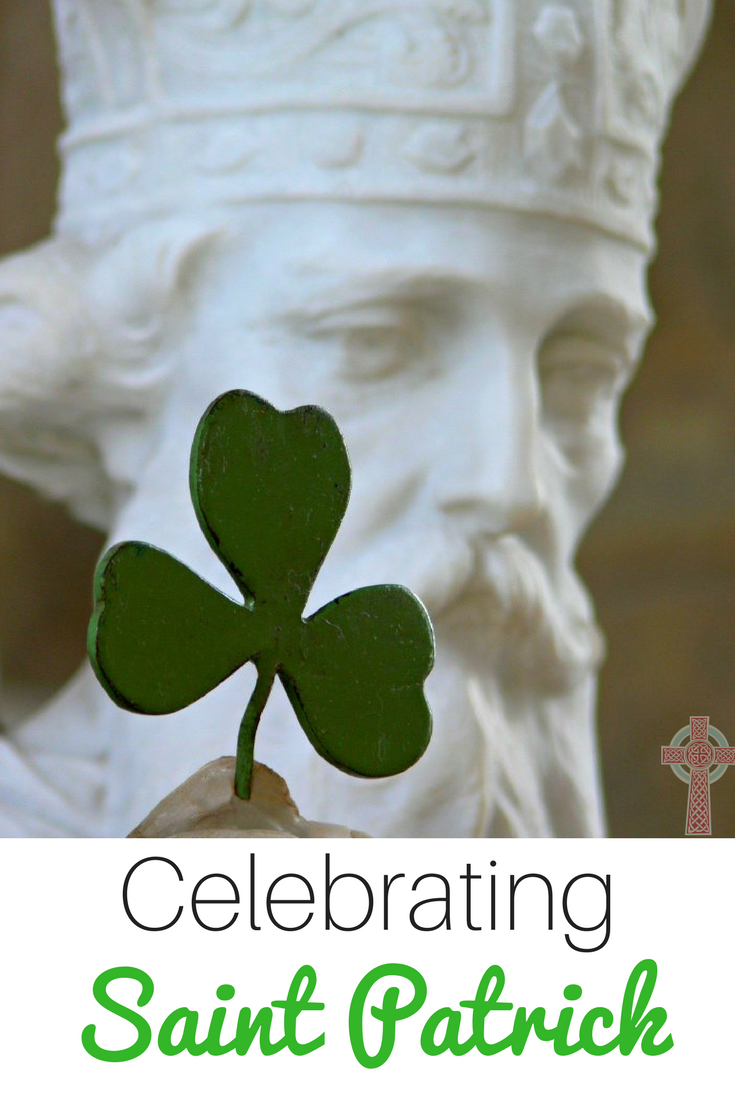 As a family, we keep it simple most months with a coloring page or book. Other times, we get more involved by adding in crafts, activities, printables or even movies.
Gathering ideas and resources can be a little overwhelming, especially for busy moms. I've gathered some of our favorite ways to celebrate — don't feel compelled to do everything. Pick and choose the ideas that work for you.
CRAFTS TO CELEBRATE SAINT PATRICK
Saint Patrick's Day and Irish themed crafts are an easy way to make the feast day super fun for your littles.
These ideas are quick and simple, but still have plenty of fun factor for your children.
Remember that harp craft from our Saint Brigid celebration? It's totally appropriate for Saint Patrick as well.

Tissue Paper Clover
Stained Glass Shamrock
Saint Patrick's Breastplate
---
FOODS TO CELEBRATE SAINT PATRICK
What better way to celebrate and learn about a saint than food?
In our home, saint celebrations and feast days are marked with a special dish, either from the saint's country of origin or that share some connection to the saint's life.
For Saint Patrick, we celebrate with Shamrock Sandwiches or Irish Frosties. Mr Kennedy makes a fantastically delicious Shepherd's Pie for dinner.
More ideas for Irish foods to celebrate:
Irish Beef Stew and Beer Bread
Corned Beef and Cabbage
Celtic Cakes
Mint Chocolate Chip Muffins
Victoria Sponge Cake
Magic Leprechaun Pudding
Irish Oreos
Irish Soda Bread French Toast
Snake Snack for Saint Patrick
Irish Flag Veggie Tray
Rainbow and Pot of Gold Treat
---
LEARNING ACTIVITIES TO CELEBRATE SAINT PATRICK
Whether you're a Catholic mom teaching her children at home, or sending them to a local school, you'll want to explore these ideas for learning more about Saint Patrick.
Over at Catholic Culture, you'll find Mass readings for today, along with ideas for celebrating.

Saint Patrick Fun Bundle
Saint Patrick Coloring Pages
Saint Patrick Word Puzzles
Saint Patrick Bingo
Saint Patrick notebooking pages
Saint Patrick's Day spelling mat
More Saint Patrick's Day Notebooking Pages
Do you have an Irish surname? Find your coat of arms here.
---
BOOKS TO CELEBRATE SAINT PATRICK
Around our home, we use Catholic picture books to help teach our children about the saints. Each month, I take a look at the saints that we want to study, then create my list. During morning time, we set aside time to learn more.
For Saint Patrick, take a look at some of our favorites:

Saint Patrick
Saint Patrick and the Peddler
St. Patrick
Patrick: Saint of Ireland
St. Patrick's Day
St. Patrick's Summer: A Children's Adventure Catechism
Around the Year Once Upon a Time Saints
Saints and Angels
Lives of the Saints: An Illustrated History for Children
Saints: Lives and Illuminations

Saints for Boys
Twenty Tales of Irish Saints
Tales of Old Ireland with CDs
A Child's Book of Celtic Prayers
St. Patrick's Day in the Morning
Crafts for St. Patrick's Day
St. Patrick's Day Alphabet
S is for Shamrock
This is Ireland
Patrick, Patron Saint of Ireland
The Story of Saint Patrick's Day board book
---
MOVIES TO CELEBRATE SAINT PATRICK AND IRELAND
Want to make a family movie night geared around Saint Patrick? Take a peep at some of these movies that explore the history of Saint Patrick, as well as Irish history, culture, and folklore.

Darby O'Gill
Finian's Rainbow
The Secret of Kells
Riverdance
The Secret of Roan Inish
The History of Saint Patrick's Day
Wearing of the Green
A Shine of Rainbows
St Patrick the Irish Legend
Legends of Ireland
St Patrick: Apostle of Ireland
Saint Patrick
Patrick
This is Ireland
---
CATHOLIC PRINTABLES TO CELEBRATE SAINT PATRICK
While you're reading some of the books above, keep little hands busy with some of these Catholic printables.

Saint Patrick Unit Study
Catholic Saints Flash Cards
St Patrick coloring page
Saint Patrick's Day coloring page
Saint Patrick Stained Glass coloring page

Claddagh coloring page
Irish Dance coloring page
St Patrick Bible coloring page
Saint Patrick printables
Saint Patrick unit study

Saint Patrick coloring page
Saint Patrick's breastplate
Saint Patrick coloring page
Saint Patrick notecards
P is for St Patrick coloring page
St Patrick's Window Craft
Saint Patrick's Day cards
Mom tip: Print some of these out and put them in your purse for Mass for your children.
---
SAINT PATRICK ART AND GIFTS
If you're looking to celebrate on a more permanent basis, you could add art to your home, or wear Catholic jewelry.
I'm printing out some of these and adding them to frames around our home.

Irish Blessing Subway Art
Shamrock and the Trinity Art
Irish Blessing
I found lots of other ideas, like Saint Patrick artwork, rosaries, Saint Patrick peg dolls and soft dolls for children. (click the picture above to be taken to the resource )
---
I'd love to hear from you — what's your favorite way to celebrate Saint Patrick in your home?