As the homeschooling mother of many, trying to keep babies and toddlers occupied while I teach lessons is a part of my daily routine.
Over in the Big Book of Homeschool Ideas, I shared how we set up our homeschooling area to accommodate crawling babies and active toddlers.


Some days are smoother than others, but I've learned that if I prepare fun activities for Maeve ahead of time, she will play close to us while we're working on math or reading with the older children.
I love the concept of busy bags and have used them with the boys. Nowdays, since my time is at a premium, I just have a special box where I keep all of our fun ideas and toys.
Each evening, I pick out a few ideas and put them in our workbox drawers for Maeve to find.
I hope that these supplies bless your family, just like my own.
Check out our favorites! (I'm sharing links too, so that you can create your own fun box!)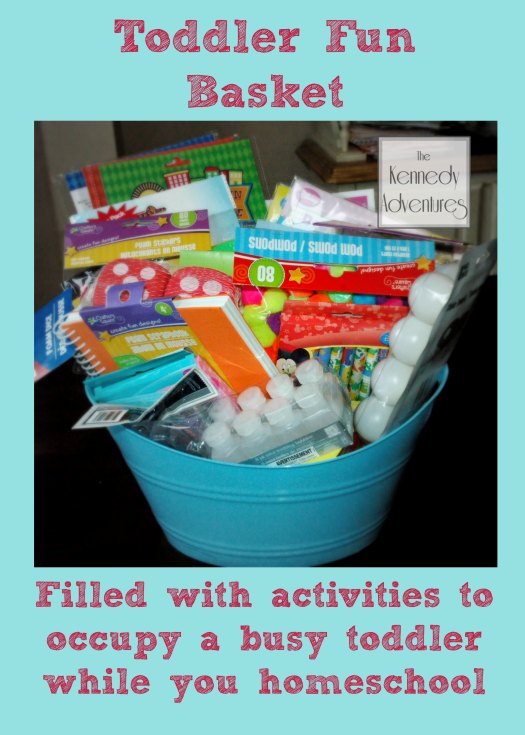 Toddler Fun Basket Giveaway
Foam stickers are great for toddlers and preschoolers! They're a great way to practice fine motor skills, counting, sorting and more!
Included here are Sports and Wild Animals We use these with the foam scrapbook and the mini notebooks.
We use these to create scenes with the foam stickers, but they're also fun for counting and sorting. Maeve took her flower shapes and pretended they were lily pads!
I like to be able to have everything ready to go at once, and these paper plate craft kits fit the bill. If we're studying ocean animals, it's great to have a craft ready to go that matches my theme.
This collection includes insects, ocean and zoo animals.
We use foam dice as a math tool with the older children, so I needed to grab Maeve a set of her own. She loves rolling them, throwing them and pretending to count the dots.
Another fine motor skill tool – we use ice tongs for transferring pompoms from container to container. We tried them with the ping pong balls, but they weren't quite flexible enough.
We use pompoms for counting, sorting and all kinds of activities here! Maeve loves pouring them into a bowl and 'mixing' them, or plucking them with a set of tongs.
Grab crayons or some of the foam stickers and let your toddler play. Maeve likes to write or place stickers on the pages.
Stickers are fun for counting, sorting, or wearing as temporary tattoos!
Included are: Doc McStuffins
Mickey
We've got jumbo crayons for boys and girls in this basket!
Perfect for snacks, or playing with pompoms, ping pong balls or water beads.
Bubbles keep Maeve occupied for at least an hour. These tiny containers are perfect size for her, with minimal mess.
We use bead necklaces in sensory bins, or just for fun. My kids love to take them on and off, over and over again.
If you haven't tried water beads …. you're missing out! These are tiny polymer beads that grow in water, then shrink back when dry. So much fun for sensory play!
Included are: Space
Firehouse
Grocery and Pet Store
We love these fun sticker scenes – I help Maeve identify the different parts of the town. Great for fine motor skills and literacy/vocabulary.
Included are: Doc McStuffins
Mickey
Let your little ones make their own fun stickers with this color-in sticker set.
I picked these up on a whim, and they've been a huge success. Maeve loves pouring the ping pong balls from bowl to bowl, 'mixing' them with a serving spoon, and counting them.
What's your favorite way to keep your toddler or preschooler busy while you work with older students? I'd love to hear about it!
P.S. If you've got a preschooler at home, don't miss our playful preschool ideas!