1. Yes, I know that there's a tab about homeschooling here, but I've been really lax in actually getting the job done. About two months ago, my husband and I firmed up our decision to homeschool Rachel. I'm a complete nervous wreck!
2. That's not ENTIRELY the truth. Somedays, I'm excited — like the days she comes to me and says, "Mommy, can I do my reading lessons?" The days when I have to beg, bargain and plead with her to do her work? I want to crawl under the desk and cry.
3. THERE ARE SO MANY DECISIONS! I've often told my friends that it's not the lack of information that worries me, but rather the sheer enormity of it all. I want to teach her EVERYTHING – about our Faith, science, favorite books, nature, animals, geography, writing, music …. how in the world will we have time for it all?
4. In choosing to be the primary educator of my child, I am following my Church's teaching. On one level, it sounds simple. Looking deeper, it's my greatest challenge in life.
5. I ask my husband once a week at least, if he's sure we shouldn't just send her to the local public school. He says, "Yes, I'm sure,and no, we're not." Sometimes, I just need to hear it from him.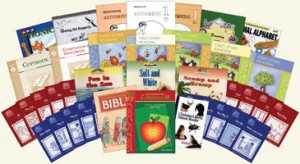 6. We'll be ordering our curriculum from Memoria Press soon. I'm excited, but also in a major panic.
7. I'm trying to stay calm and level headed, but those nagging thoughts of doubt keep creeping in. I don't worry about socialization, but I worry about her not having a best friend.
Any other homeschooling mommas have any thoughts for me? Wise words of wisdom? A reassuring pat on the head and tell me I'm not alone?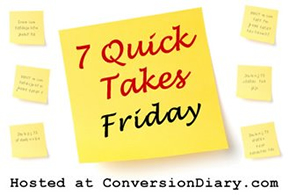 Head over to Conversion Diary for more Quick Takes today, and join right in.