Today, we're talking about teaching American History through literature in our homeschool. Come and take a deeper look at Beautiful Feet Books for the primary years.
Since we're in the middle of getting ready for our new homeschool year, I asked my Daniel (age 8) what he wanted to study this fall. (I realize that this is a loaded question, but I wanted to get him involved in the process.)
"Oh, that's easy, Mom. Math and history. That's it. "
Poor guy forgets that he still needs to work on his reading skills, but that's OK. Since he's shown an obvious interest in history, I wanted to lean into that and plan something that he would enjoy.
Last year, we dove into studying American History using literature, but I think I set my goals a little high. The books we chose to teach history were amazing, but they weren't quite engaging enough for my younger crew.
I started researching, and landed (again) on Beautiful Feet Books.
Disclaimer:I partnered with Beautiful Feet Books for this post, receiving a selection of their amazing books for free. I was compensated for my time, and as always, all opinions are my very own.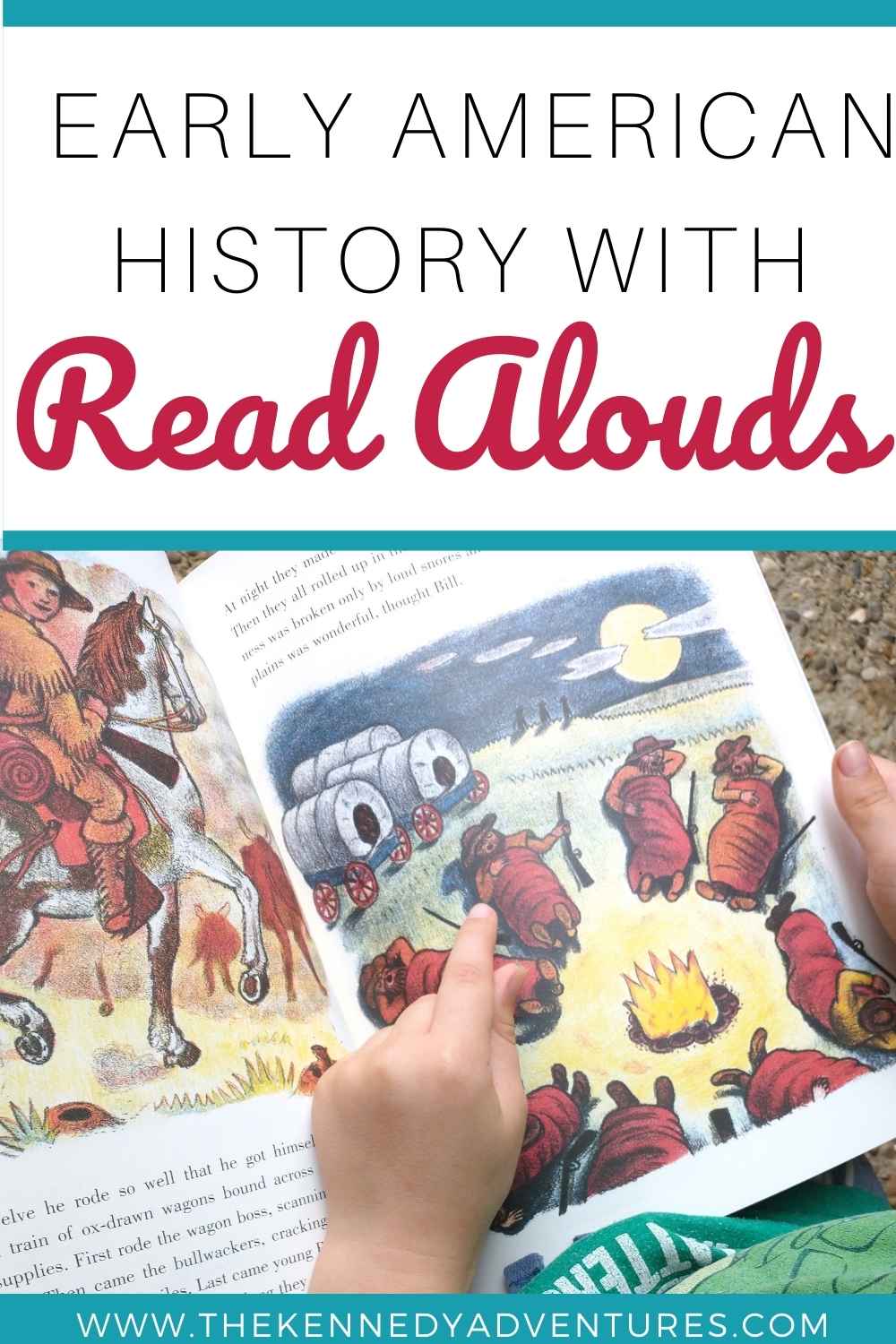 How do we get started teaching American history with literature?
First things first, you'll need to dive in to your Beautiful Feet Books teacher guide. Get familiar with how it's set up, and gather materials you may need. The article What is a Teacher Guide is a great reference guide for parents to get started.
Don't skip over the How to Use This Guide pages, located right in the front of the guide. This section gives a great overview of the layout of the study, important tips to consider, ideas for adjusting for younger children and more.
The new Early American Primary Teacher Guide divides the program into 7 areas of study:
The Vikings
The Indigenous Peoples of North America
The Golden Age of Discovery
The Colonies
The Revolutionary War
The Young United States
The Civil War
Within each section, you'll find an introduction (helpful to me as a mom who needs a history refresher), Rabbit Trails (additional literature selections related to the section), Study Notes, and the Historic Table. (recipe ideas that match the time period studied)
Explore these resources and make your plan. If your children are fascinated about a particular section, use that opportunity to dive in and spend more time there.
Example: I know my children adore Viking tales. We will dwell in that time period as long as they want, pulling in ideas listed in the Teacher Manual and beyond. We'll read Norse Myths, study about Saint Brendan, enjoy Icelandic skyr and maybe watch some Norse themed movies. (Any excuse for mom to watch Thor, right?)
*Mom Tip*
As you're planning your week, I would suggest reading through the Rabbit Trails section and explore the supplementary literature suggestions and websites. I usually pull at least one or two additional books from my collection to use, and begin bookmarking websites for reference.
*Special Note for Catholic Families *
I also love to pull in Catholic saints that fit this time period. For the Vikings period, we would also read about St. Brendan. While we're learning about the Indigenous Peoples of North America, we also study St Kateri Tekawitha. Take some time to do some research and make the connections with our faith.
What's Included in this Early American History Through Literature Program?
This program is LOADED with amazing literature selections. You'll find a comprehensive teacher's guide, a blank notebook, and 23 books to read and study. I'm actually going to use a primary composition notebook for my Daniel, as his handwriting is a little big for the notebook included in the pack.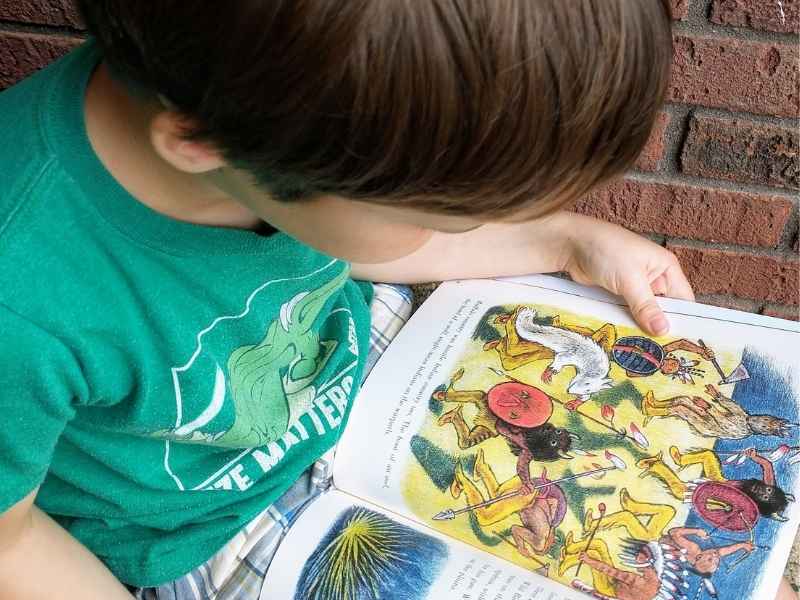 Are there more history through literature studies for the older kids in my family? I think this one might be too young for us
Absolutely! This Early American History through Literature study is designed for students in Kindergarten through third grade. In our home, we're using it for my younger children, ages 8 and 10. If you're looking for more American History, you can explore the Intermediate pack, which is designed for grades four through six.
Beautiful Feet Books makes it super easy on their site to discover studies that are perfect for your ages at home. Their studies are divided into K-3rd grade, 4th-8th grade, and high schoolers.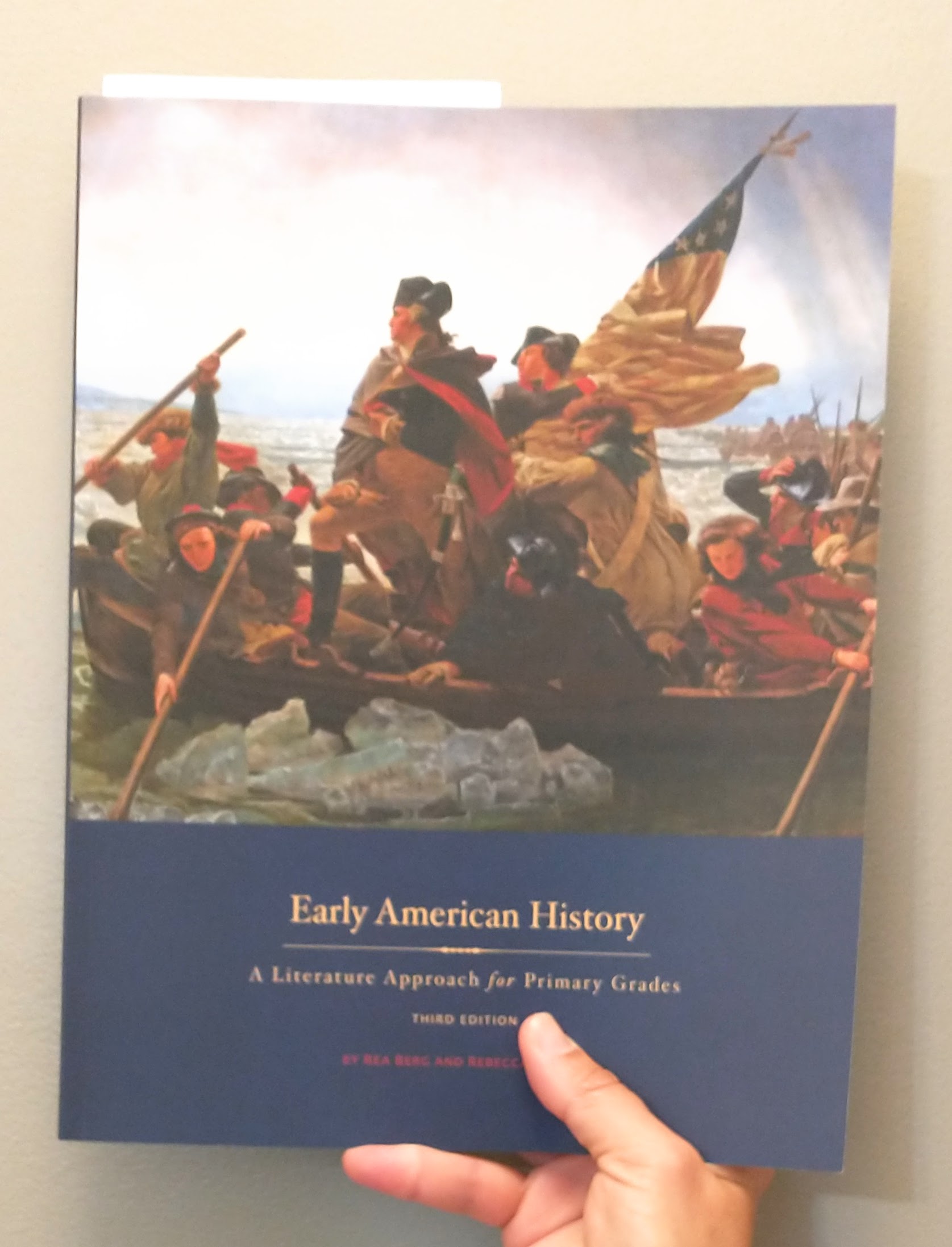 Will Studying History Through Literature Really Work in My Homeschool?
We're a literature-rich family, having followed a relaxed classical approach since the onset of our homeschool. I think that this approach of learning history through literature is a natural fit for classically homeschooling families, as well as those who follow a Charlotte Mason approach. What better way to teach history, than through stories, so that children can make connections?
If your child is a strong reader, they could read these selections ahead of time, and be more familiar with the material when you meet for a lesson. Some of the selections are longer and available on Audible or YouTube – we've been known to listen to an audiobook while getting the table ready for lunch.
These studies are designed for a range of ages. This makes it easy to combine two or more grades into one history study. (don't miss this great guide to homeschooling multiple grade levels )This fall, we'll be using this study with my two youngest children, ages 8 and 10. Because the stories are engaging, I won't be surprised if my middle schoolers join us as well to listen.
All the heavy lifting has been done for you — the book list is carefully crafted and curated, saving you the time of researching and reading countless reviews.
I have an only child. Will this American history through literature work for our family?
We have a large family, but I know that some of you may have only children. I feel like this would DEFINITELY work for an only child. You'll have much more time to dive in deeper, plan field trips and really enjoy this study.
How Much Will This Homeschool History Through Literature Cost Our Family?
The Early American History (Primary) pack retails for $249.95 for the entire year. They've also added the option to purchase the package by semester, with Semester I retailing for $128.95, and Semester II at $121. Any purchase over $100 is shipped for free!
Keep this in mind, too — you're going to be using these studies across multiple grades and ages, and possibly over a couple of years. That significantly decreases your price per child.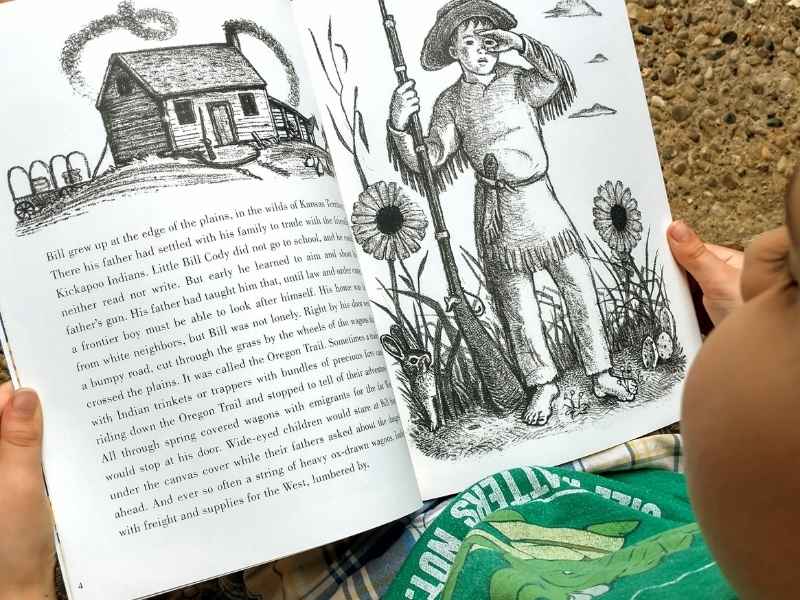 What if I already own some of these Early American History read-aloud books?
Beautiful Feet Books makes it super easy to customize your package. There's a button right on the order page to remove books you already own. Just hit that button and remove the books you already own.
Which History Topics Can You Study with Literature?
I'm always amazed at the topics that Beautiful Feet Books covers. Currently, you could choose from these selections:
Early American History Intermediate (see our experience here)
Ancient History
History of California
The History of Western Expansion
Modern American & World History
Medieval History (see our experience here)
Modern U.S. and World History
Want to branch out a little? You can use Beautiful Feet Books to help teach character, geography, or dive deeper into topics your children love.
Teaching Character
History of the Horse
History of Science
Geography through Literature (see our experience here)
History of Classical Music
How Long Does it Take to Study Early American History Through Literature?
This study of literature through history is arranged into 94 lessons. If you're wanting to finish in a school year, you'd need to tackle two to three lessons per week. Our family prefers a slower pace, stretching the study into 18 months or two years. You can choose what works best for your family.
Does this history through literature contain religious content?
Beautiful Feet Books is a Christian company. If you're a secular family, or looking to use charter funds, you can check out the edited Early American History pack here. The Teacher's Guide contains religious content, so it is removed.
Improvements I'd Like to See
The Curriculum Guide is a beautiful coffee table style book, perfect for keeping out and perusing at your leisure. As an older mom, I find the print difficult to read. I'd also love to have a printable PDF of the lesson plans without photos. I prefer to mark up my lesson plans, which I'm not likely to do with this beautiful book.
What about you? Have you tried Beautiful Feet Books programs? I'd love to hear about your favorites!