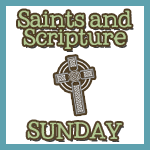 Psalm 91:11
For He will give his angels charge concerning you, to guard you in all you ways.
There's a giant hole in my heart, and it's one that I don't talk about a lot, except to my closest friends.
My oldest daughter no longer lives with me. She's been gone for a little over a year now, and is living with her father.
I don't talk about it because:
It hurts — I hate being in conversation, mentioning that I have 4 children, then when the conversation turns to Abby, have to explain that she no longer lives with us.
It's hard — try explaining to your 5 year old why her sister wanted to leave. It breaks my heart.
It's embarrassing – if your own daughter makes the choice not to live with you, it probably knocks you out of the Mom of the Year running. It most definitely destroys the 'I have it all together' persona I like to emulate.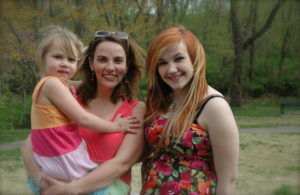 I've struggled with this, and it took many months (and a whole lot of therapy) for me to be a little more at peace with this situation. She made the decision to leave, and although it's painful for me, she's growing up, and capable of making choices regarding her life.
I love her to the depths of my soul, and I worry about her every day. I don't know where she goes, don't know who she hangs out with, and don't know if she is aware of the dangers of everyday life.
As a mother, especially one not involved in her day to day life, what can I do?
I can worry — got that one under control, obviously.
The greater choice is prayer.
Sometimes prayer is a difficult road for me – because I am so Type A. I want to DO something, be physical, and move mountains. Sitting in prayer sometimes seems like such a waste to me.
I do pray for her, every day. And the result? It changes ME – it softens my heart, and eases my anxiety. When she makes the decision on her own to come and visit, it's a glimmer of hope for me.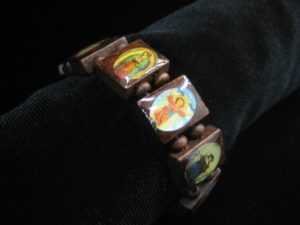 When I saw her wearing this, I about fell over. I took it as a little sign from God – "Relax. I have things under control." It's a reminder to me that He is guarding her, even when I can't.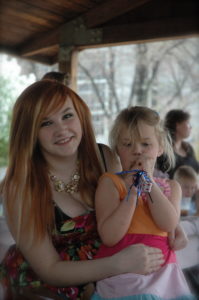 I'm setting St Monica in my sights — once I finish the novena to Saint Joseph that I've been working on, I'll be asking for her intercession as well.
Thanks to all of you who stopped by last week and linked up! I'll be visiting you shortly.
Be sure and let me know how your week is shaping up, and what Saints or Scripture are on your mind.