Today, we're talking about how we use the Homeschool Planet Online Planner to manage our homeschool planning within a busy family.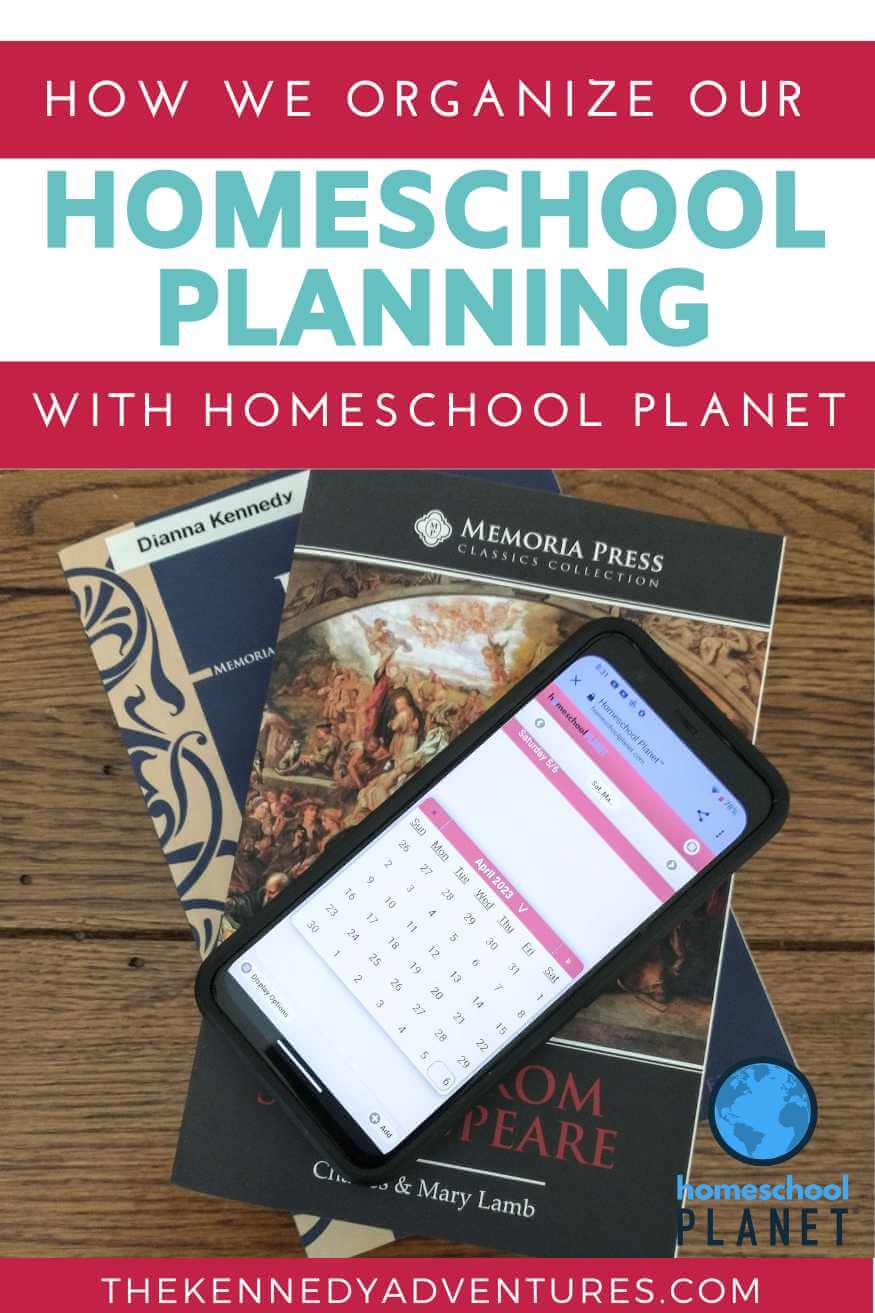 I feel like a broken record these days, but this year has been a hot mess. Junior year is NO JOKE, y'all. I neglected to consider the stress of standardized testing and college visits, and it really rocked my world. We had a health scare for one of our sons and navigated neuropsychological testing for two of our children this year. These evaluations revealed more challenges that I wasn't expecting, and I was knocked completely off track.
I feel like the year has been a flurry of missed assignments, misplaced books, random sticky notes, and piles of paper everywhere.
As we wrap up this year, looking toward summer classes and fall plans, I know something has to change, and quickly. It's glaringly obvious that I can't manage my homeschool without some sort of planning system. I want ONE spot where everyone in the family can access assignments and due dates, no matter the time of day. I need something that works if I'm out of town with college visits, soccer tournaments, horse shows, or medical appointments.
Disclaimer: I received a free subscription to Homeschool Planet, and was compensated for my time. All opinions you see here are my very own.
To help manage the madhouse, I opened up the Homeschool Planet Online Planner.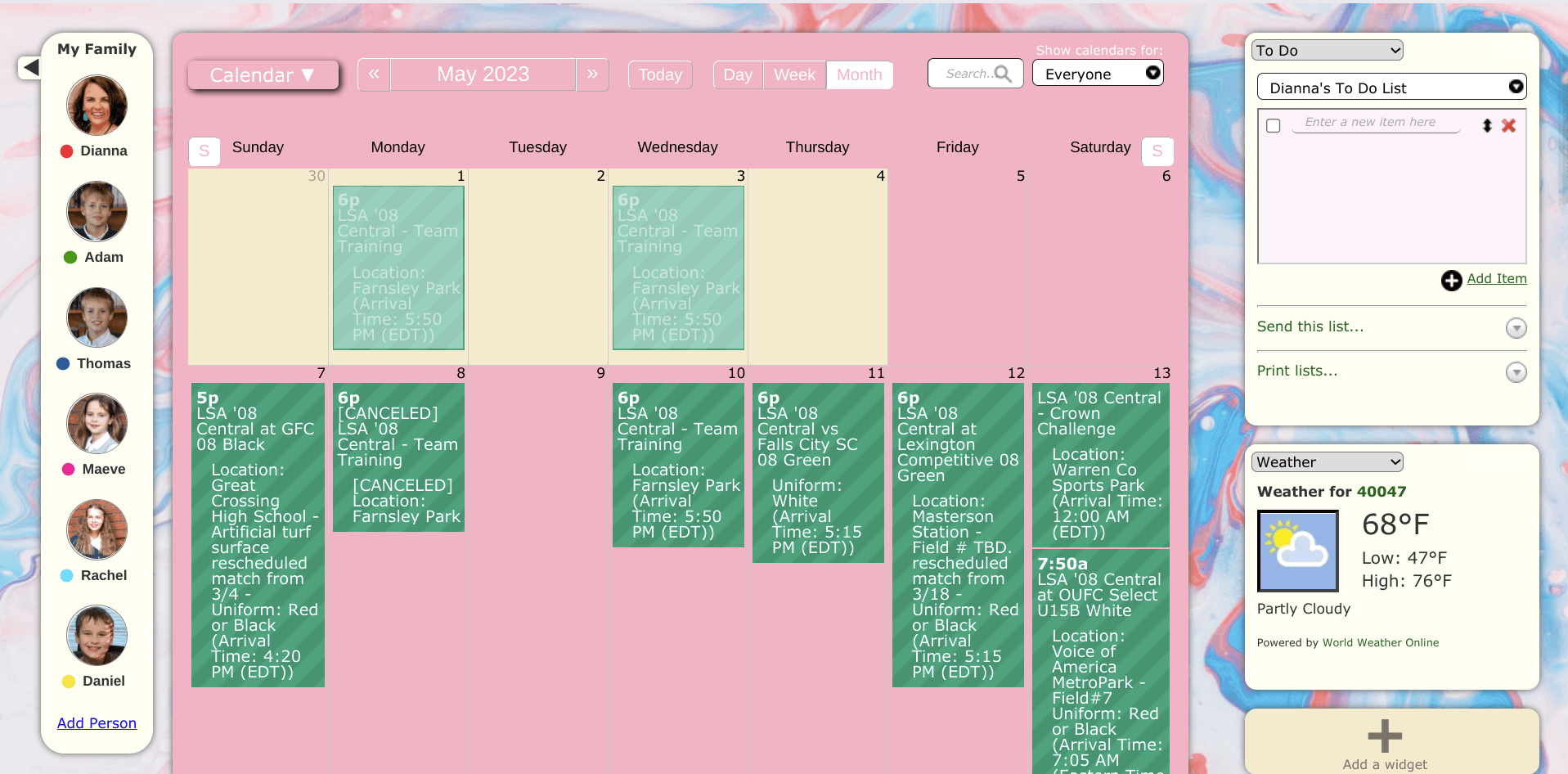 How to manage your homeschool planning with the Homeschool Planet Online Planner
The Homeschool Planet Online Planner is an easy-to-use, complete online homeschool planner that doesn't take hours to learn or set up. You can add home, school, and work schedules in one place, available at any time, from any device. Use this tool to keep track of music classes, doctor appointments, practices, field trips, assignments, classes, and chores, all in ONE dashboard.
This system is robust — you can use all of the features or just the ones that appeal to you the most.
Calendar and Calendar Sharing

Planner

To-Do List

Separate Logins for adults and kids

Daily Digest emails

Email/text reminders

Attendance Tracking

Grade Tracking

Shopping List

Transcript Creation

Customizable Widgets

Mobile Friendly View
The calendar is the section I use most often, to get a quick overview of what I've got to manage during the day. By adding in assignments for each child, I'm opening up some ownership to them, instead of having to manage everything on my own.
There's also the option to import information from Google or other online calendars that you're already using, so you don't have to enter events twice.
This is HUGELY helpful for our family since we already have all of our soccer practices, theater rehearsals, and Rachel's work schedule already loaded into Google Calendar.
Planner
Do you prefer to have assignments in a list format? No problem. Switch to the planner view and students' assignments appear in a simple list.
To-Do List
Want to encourage independence in your children? Use the to-do list feature and make a list for your children. For older kids, you can even send the to-do list via text. (This is also perfect for keeping Dad in the loop.) It's easy to print out and hand to your children for a worklist.
Separate log-ins
Having separate log-ins for parents and children puts my mind at ease — I don't have to worry about my children deleting my information. I get to choose what they can view and edit.
Digest emails
You can adjust your reminder settings, and Homeschool Planet sends you an overview of upcoming assignments. I like to look over this on Sundays, to get an idea of what's coming up for the week.
Transcript Creator
We'll be creating transcripts soon to send off with college applications, and I'll admit, the prospect has been overwhelming. The transcript creator makes it so easy. Just enter your student's classes, assign credits and grades, and you'll have a transcript in minutes.
Is there a mobile app for Homeschool Planet?
Homeschool Planet doesn't have a separate app, but it's easy to access on your phone or tablet. On a smartphone, you'll only be able to see a daily view, but on a tablet, you'll be able to view the weekly layout.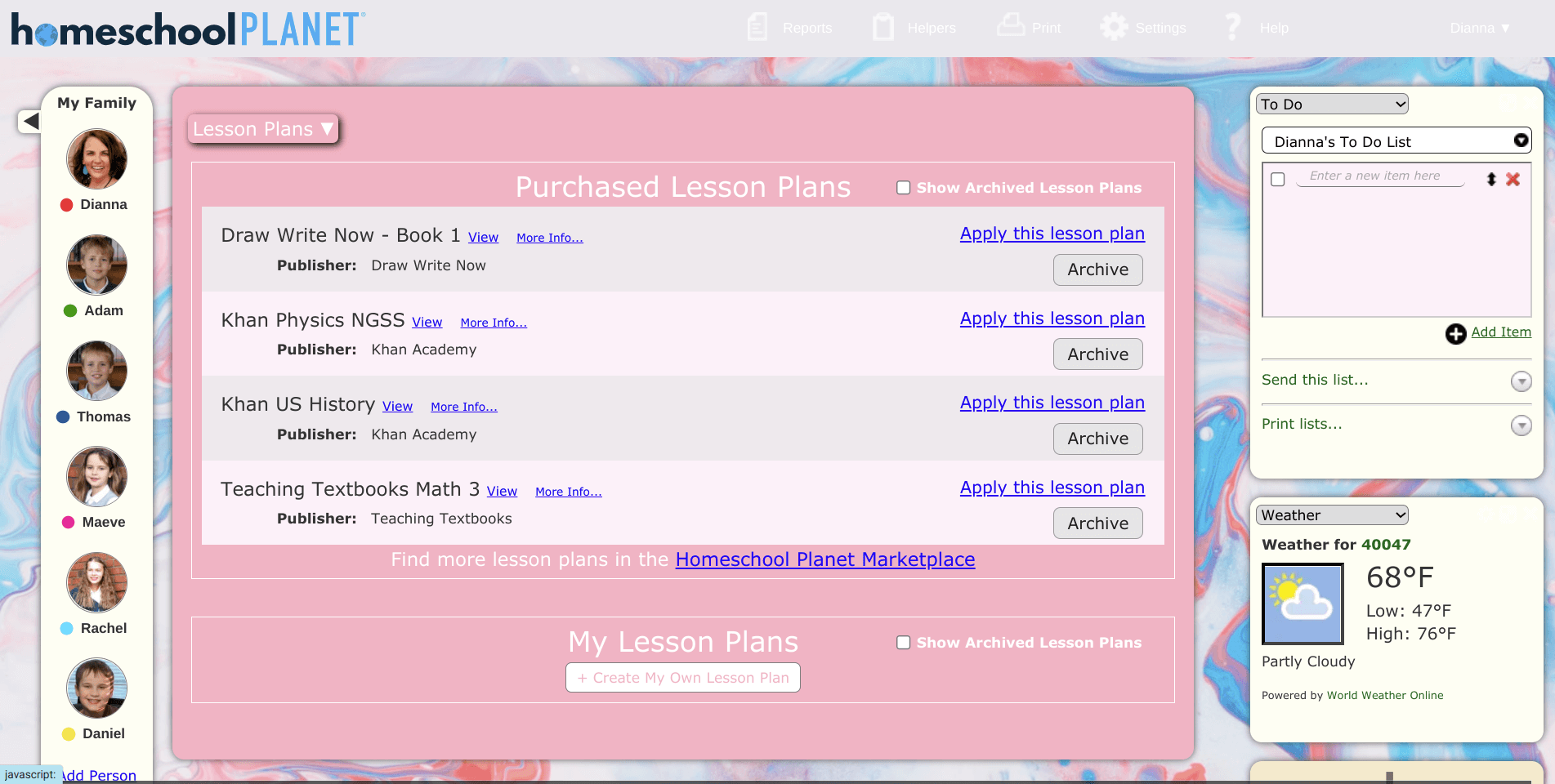 But I hate making my own homeschool lesson plans!
I know what you might be thinking — This sounds great, but I really don't have time to sit down and enter in all of our assignments into this homeschool planner.
You're right. It takes time, but Homeschool Planet has you covered.
To help out busy homeschool moms, Homeschool Planet has an extensive library of prepared lesson plans from Draw Write Now, Nomadic Professor (stay tuned for a review), Memoria Press, Khan Academy, Rod and Staff Math, and more
These lesson plans aren't downloadable, as they are housed within the Homeschool Planet platform, but you can easily print assignment lists or task lists for yourself.


Can you customize the premade lesson plans?
ABSOLUTELY — this is what makes these lesson plans so amazing. You can add to the assignments or delete items. Once you're finished customizing the lesson plan, you can save them for use again in the future with younger siblings!
The premade lesson plans are a one-time purchase — they stay in your library, for use as many times as you need. This is great news for moms with big families — purchase the lesson plans once, then use them again with younger siblings.
What if I don't know which lesson plans would be a good fit?
I noticed an amazing addition to the Homeschool Planet marketplace when I was browsing for lesson plans for our curriculum. The team at Homeschool Planet has created Ready Made School — curated lesson plans based on grade levels so that a family can get started with homeschooling quickly, without decision fatigue.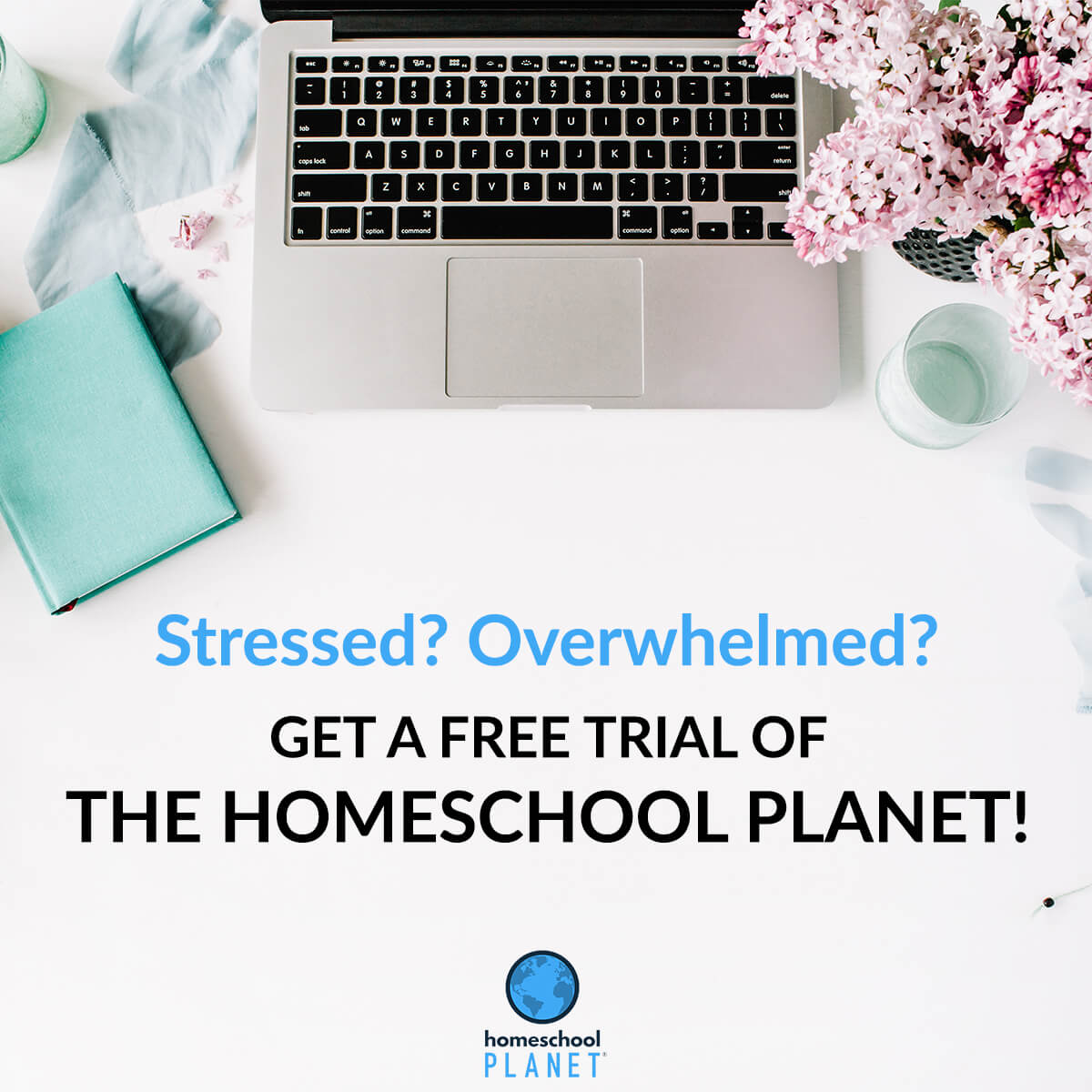 How much does this homeschool lesson planner cost?
The Homeschool Planet Online Planner is easy on a homeschool family budget.

For a full year's membership, you'll pay $69.95 for an annual subscription. If that's not convenient for you, you have the option to pay 7.95 per month with automatic billing.
I'd love for you to check out all of the features of Homeschool Planet. They're offering a FREE 30 day trial offer – no credit card required. This is the perfect length of time to try it out and see if it works for you. All the information you enter during a free trial stays in the system, so no worries about starting over again.

You'll be able to try out one of Homeschool Planet's publisher lesson plans from their huge collection of homeschool publishers.
You can find these homeschool publishers in the lesson plan marketplace:
All About Reading & Spelling

Apologia

Master Books

Notgrass History

Math Mammoth

The Art Of Problem Solving

Teaching Textbooks

and so many more!
I'd love to hear your best tips for homeschool planning! Let's make this fall our best year yet.