When talking about fitness, it's different strokes for different folks. I'm a runner, but know loads of friends hate running. I know people who love Pilates, Crossfit, yoga classes, swimming, cycling, tennis and more.
How do you choose a fitness method that works for you?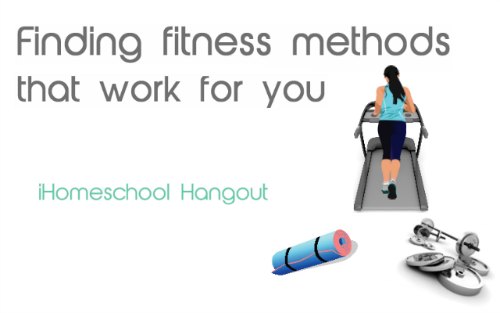 On Thursday, as part of the special iHomeschool Network Summer Wellness Series, we're going to be discussing finding fitness methods that work for YOU!
Join iHomeschool Network bloggers Christy Halsell, Sam Kelly, Selena Robinson and Ticia Messing as they share their ideas.
Marlene Griffith and Jimmie Lanley serve as my production team, and I'll be moderating the panel. (be sure to add all of us to your G+ circles)
Can't see the video? Click here for the video.
The discussion will be live Thursday, at 2pm ET, 1pm CT, 12noon MT and 11am PT. You can watch later via the Google Plus page or on YouTube.
Want to listen on the go? You can download the podcast version in iTunes or Stitcher for Android users.
Come join us and work on keeping yourself and your family healthy!