Random thoughts? Have a theme? Somewhere in between?
Spill your brain, with 7 Quick Takes! (I'm considering this my homeschool wrap up of the week, too!)
Here we go ….
Helpful homeschooling tips or advice to share
Stick to your guns.
I'm a bit of a bluffer when it comes to discipline and my children, and they know it. This week, I plugged my ears, told Rachel "NO" and followed through. Because she didn't get her work finished when she was told, she lost a precious privilege. I think she probably hated me for a day.
Hopefully, she'll learn two tenets of Kennedy life. I mean what I say, and work before play.
And I'll remember to invest in some earplugs.
A photo to share
What did she miss? She didn't get to got riding, which is one of her newest favorite things in the world. (this photo is from a few weeks ago)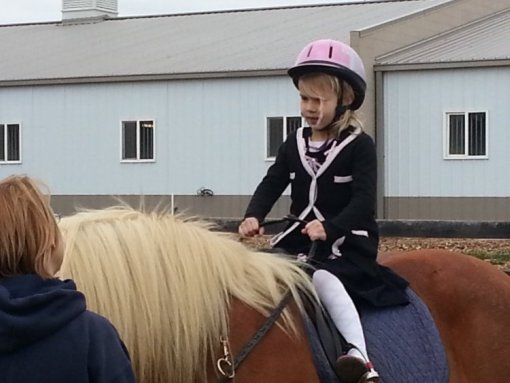 Places we're going and people we're seeing…
I think she'll be motivated to get her work after visiting the rodeo tonight with Laura. I'm anxious to hear how she enjoys it. I remember going every year with our Girl Scout troop when I was her age. So much fun!
Next week, we have a date with Daddy to see the Squallis Puppeteers in action with their show Food Fight!
We visited my friend Kaye this week as well — we were having some serious Brown withdrawals. I'm blessed to have her in this homeschooling journey with us. Silas and Rachel are two peas in a pod.
In our homeschool this week…
We just finished up studying Blueberries for Sal and completed the Story Time Treasures workbook that went along with it. I know I've sung this book's praises before, but I seriously love how it's laid out. Otherwise, how would I ever be able to explain onomatopoeia to Rachel?
We're plugging away in our cursive handbook — this is another favorite of mine. New American Cursive is attractive, but not as loopy and frilly as what we learned when we were kids. In other words, it's more of a natural handwriting.
Since we've learned skip counting by 2's, we're now working on measurements in math. Rachel is learning how to read a thermometer — I'd love a manipulative thermometer that I can change, and have her read the measurement. Is there even such a thing? Think the learning clock, only make it a learning thermometer.
The boys are slowly working on letter and numbers. They have a difficult time with writing, so I'm struggling there. I'm trying to encourage them, but phew! It's hard. We're working on Letter C and the Number 3. They're pretty good at recognizing the letters/numbers, but not so good with the writing.
I think I'm going to make some of these playdough mats and work on their fine motor skills that way. And practice my patience.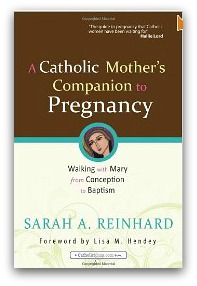 I'm reading ….
A Catholic Mother's Companion to Pregnancy. No, I'm not pregnant – I'm re-reading the chapters on Baptism, since we're (finally) getting Maeve baptized next week.
Things I'm working on…
Getting all these blog post ideas out of my head and on the screen. I'm in the midst of more Fabulous Forty posts — you'll soon be seeing some gift guides for the holidays here. I'm planning posts on what to buy babies, little boys, little girls, teenagers, moms and dads. That's everyone in my house! I'll even spotlight some DIY gifts.
I'm grateful for…
— a happy, healthy family
— my hard working husband
— my faith
— my friends who help me in my mothering journey (Laura, Angie, Kaye, Colleen)
I'm joining in with Jen at Conversion Diary, along with the iHN folks and the Homeschooling Mother's Journal. If you have a big family, hop over and visit Jammerill for Big Family Friday!