Summer in Kentucky is drawing to a close and we're gearing up for fall around here. We're planning a trip to an apple orchard for the first time this year, so we're busy learning about apples and having fun with preschool apple crafts.
To get ready for our trip, we planned a fun day of apple studies.
We read some of our favorite apple books and then got down to business.
I'll be honest.
I struggle with crafting with my kids.
I don't like the mess, and I have trouble keeping Maeve out of the supplies. I'm making it a point this year to put that aside, because my kids love hands on activities like arts and crafts and sensory play. The crafts we're doing will be simple (for other craft challenged moms like me), but we'll use the elements and materials that they love.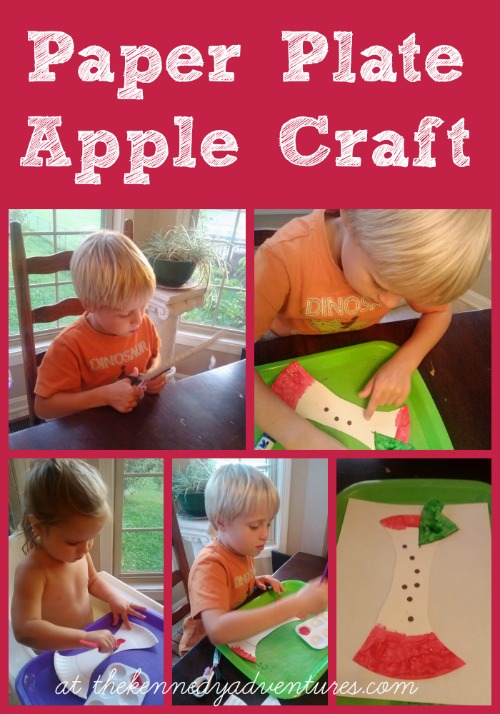 The key to my success in managing lots of littles is preparation. Before the kids got to the table, I had everything organized and ready to go. If I'm scrambling around to find the glue stick, Maeve will decorate herself with paint while I'm distracted.
Painting a Paper Plate Apple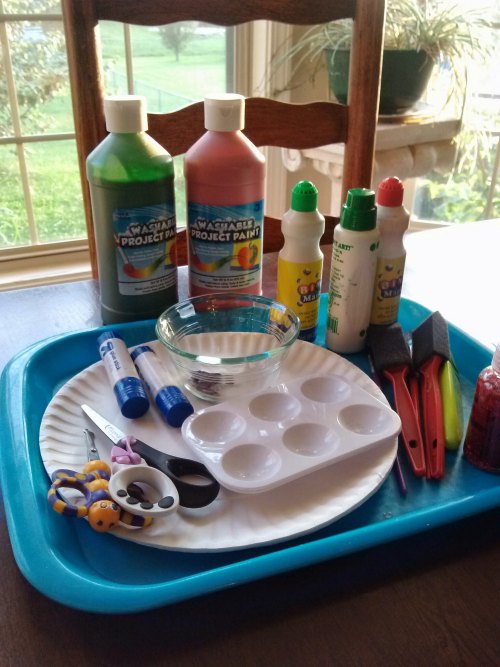 Materials Needed:

Work Trays
Paper Plates
Scissors
Sponges
Clothespins
Do A Dot Markers (red,green,yellow)
Paintbrushes
Paint (red,green,yellow)
Black construction paper
Brown construction paper (if you want stems)
Hole punch
Glue stick

You'll see Do a Dot Markers as well as paint on the list, because I wanted to give my crew a choice of materials.
For smaller children, you'll want to cut out the parts of the apple before getting started. My guys are pretty skilled with their scissors, so I traced the template and let them have at it. (We LOVE these Maped scissors. All the big kids have a pair, and they've lasted for 3 to 4 years!)
Maeve wants to be able to use scissors so badly, but she's just not ready.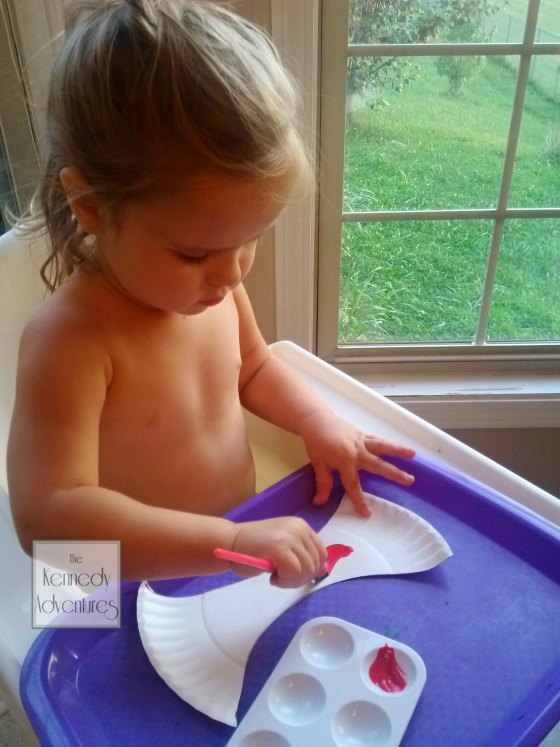 Encourage your children to color (with paint, markers, crayons or colored pencils) the tops and bottom of their apple. My kids see us bring home different varieties of apples home from the grocery, so they had fun making all their apples look a little different.
For a change of pace from paintbrushes, you can use clothespins and sponges.
They serve two purposes – the clothespins serve as a 'handle' of sorts for the sponges, plus working the clothespin's spring is great fine motor work!
Once they finished with the apple peel, it was time to paint the leaves.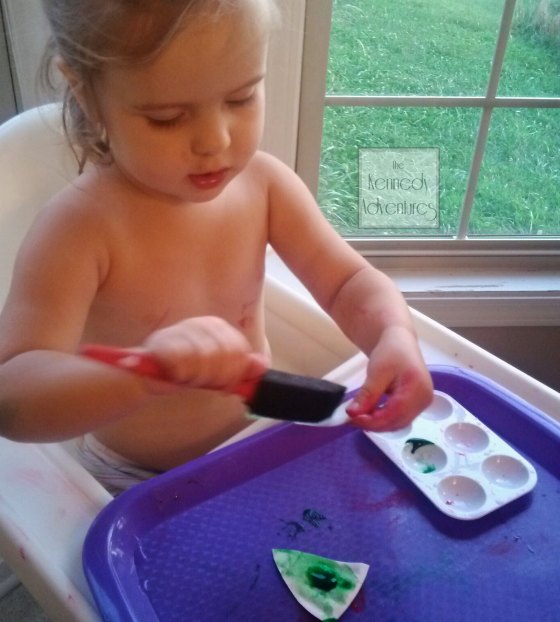 For the apple's seeds, we took our hole punch and created seeds out of black construction paper. (more fine motor work!)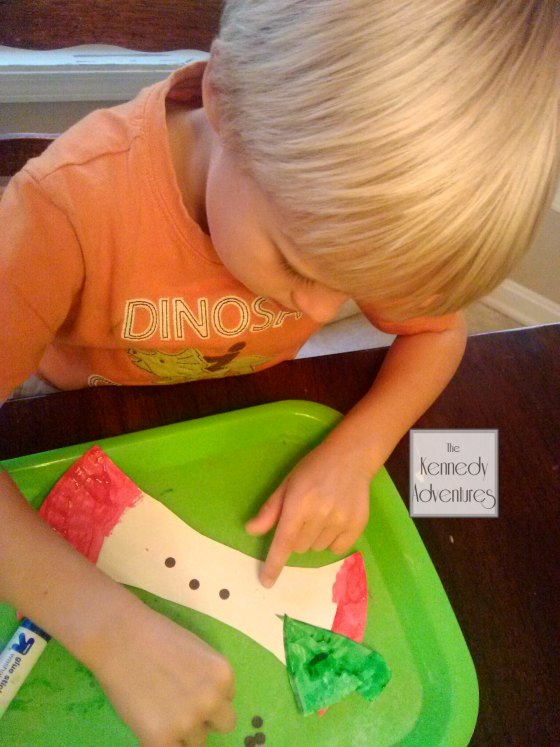 After the apples dried, we attached the leaves and the stems with glue. (You could also use a stapler or glue gun if you're impatient)
Ta da! All finished!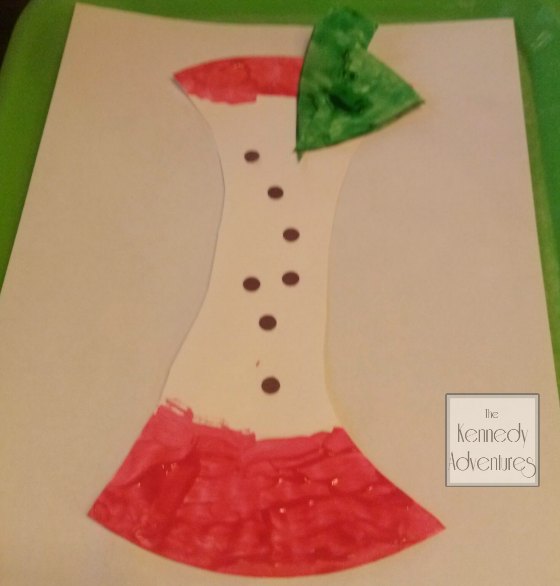 After creating our apple art, it was time for snacking and storytime.
Teaching the Trinity to Children with Apples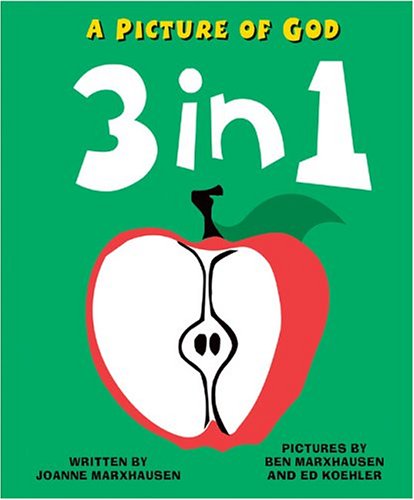 Before I started reading 3 in 1: A Picture of God, I brought out a snack of apple slices for the kids. Even Daniel got have some apple. (Baby led weaning for the win!)
As we snacked, I asked the kids to take a look at their apple slices(before dipping them in their toppings). Maeve even got out her latest favorite tool, her magnifying glass.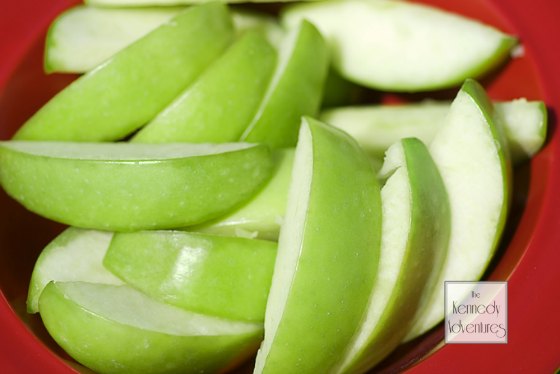 We chatted about how the skin of the apple, the flesh of the apple, and even the seeds all looked so very different and played different roles, yet they were still a part of the same fruit.
I reminded them that the apple can help us to learn about the Trinity – Father, Son and Holy Spirit. They are three distinct entities, making up one God.
There are so many fabulous ideas out there for teaching preschoolers using an apple theme, it's so hard to narrow it down to one or two activities. I keep collecting more and more ideas on my Apple Unit Study Ideas Pinterest board…seriously, we could do apple projects all month long! Join in the fun and follow my board:
Follow Dianna Kennedy's board Apple Unit Study Ideas on Pinterest.


Then, check out some of the other apple themed activities the talented bloggers of the #PlayfulPreschool team came up with: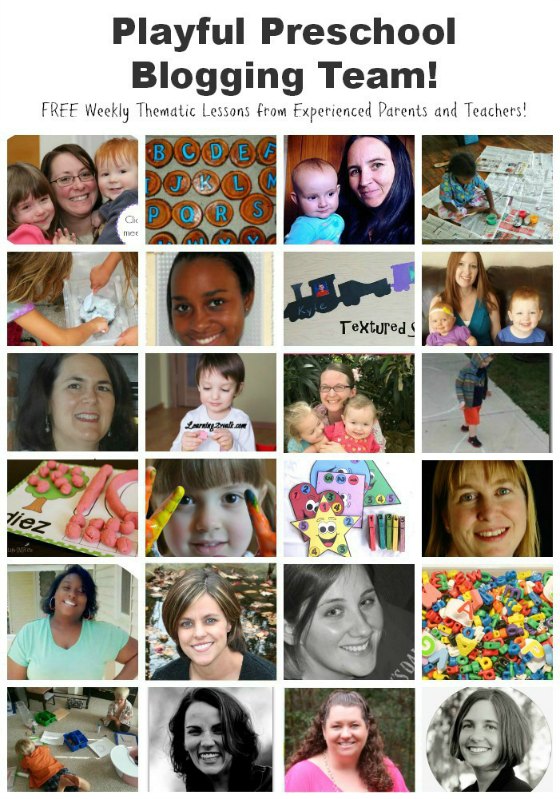 SOCIAL STUDIES
From Orchard to Table. Watch and Make at The Educators' Spin On It
SCIENCE
Examining Apple Parts, How Does It Grow, Sink/Float at Little Bins For Little Hands
MUSIC & MOVEMENT
Apple Hop at Learning 2 Walk
MATH
Counting Apples with Preschoolers: Real-Life Math at Life Over C's
Apple Math Fun in Preschool – Tasting and Graphing Apples at Fun-A-Day
LITERACY
Alphabet Activity: Apple Tree Letter Matching at Mom Inspired Life
Alphabet Learning: Apple Stamping at Growing Book by Book
Apple-Bet Match : Matching Lowercase with Upper Case Letters at Tiny Tots Adventures


SENSORY
Applesauce Dough for Sensory Play at Still Playing School


COOKING
How to Make Homemade Apple Pie – Cooking with Preschoolers at Powerful Mothering
SCIENCE
Apple Oxidation Experiment at Raising Lifelong Learners
Do you have any favorite apple activities? I'd love to hear about them — I'm in an apple kind of mood, and so are my kids. They'd love to keep the theme going! Share your great ideas in the comments.
I'll be sharing our #playfulpreschool activities every Wednesday and would love to have you stop by. If you sign up for email updates, you'll receive our activities each week!
P.S. For more preschool ideas, don't miss The Big Book of Homeschool Ideas. It's filled with ideas for babies and toddlers, how to preschool at home and much more.
Check out Tot School for more wonderful ideas, too!