Today we're talking about the brand new Trekking Through History board game. It's the perfect addition to your family game night!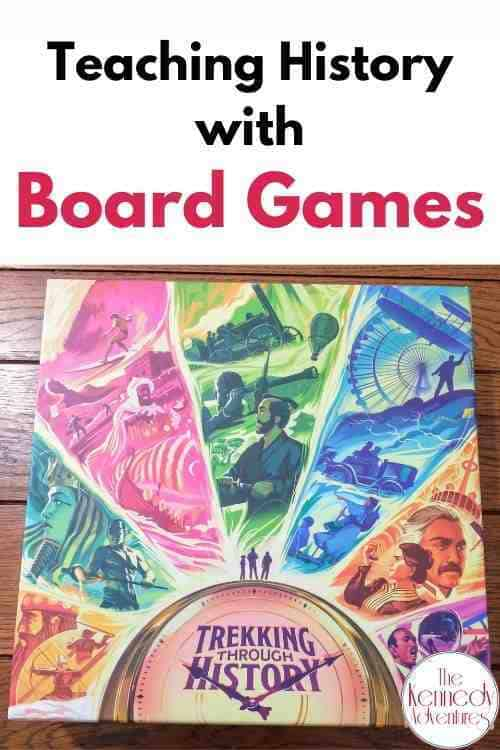 Do you ever have days where you simply don't have any motivation to teach your children?
Those days are TOUGH. I know that if I don't teach SOMETHING, I will end up feeling guilty later, think we're behind, and get caught in a cycle of negativity that isn't easy to overcome.
So, how do I balance a lack of motivation with wanting to provide learning experiences for my crew?
Board games to the rescue, baby.
We've been hooked on board games in our family for many years, starting when our kids were toddlers, and continuing on into young adulthood.
I'm SO excited about our latest addition to our game cabinet —
Trekking Through History, from Underdog Games.
Disclaimer: I partnered with Underdog Games for this post, receiving the Trekking through History Game for free. I was compensated for my time, and as always, all opinions are my very own.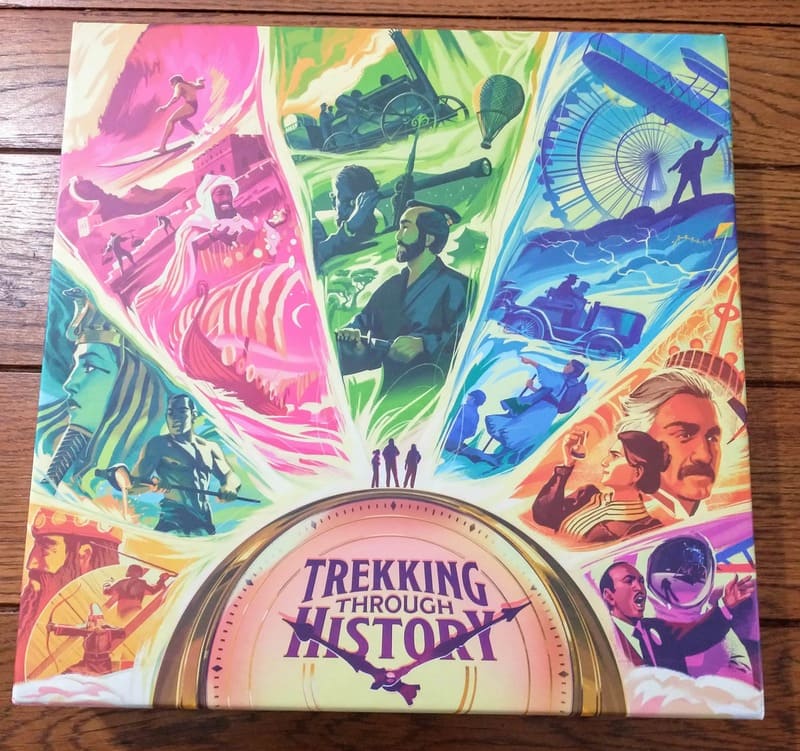 What is the Trekking Through History game all about?
Have you or your children ever wanted to 'see' the events in human history? Have they ever asked about time travel or wanted a time machine?
You're in luck. Trekking through History takes you on a three-day tour of history in a time machine, traveling thousands of years to relive moments from the past.
Each game has three rounds, which represent one day of your trip. During each day, you visit a series of historical events, spending different amounts of hours at each event.
During your turn, you'll choose a historical event to visit, check off items on your itinerary for points, and earn Time Crystals so that you can continue your journey. If you're visiting events in chronological order, you'll score points. The player with the most points after 3 rounds wins.
What are the ages recommended for Trekking through History?
This game is recommended for ages 10 and up. I bring in my 8-year-old by creating a team with him. Your younger players may need more coaching, as there are a lot of strategies involved in time management, time crystals, balancing time, and gaining experience.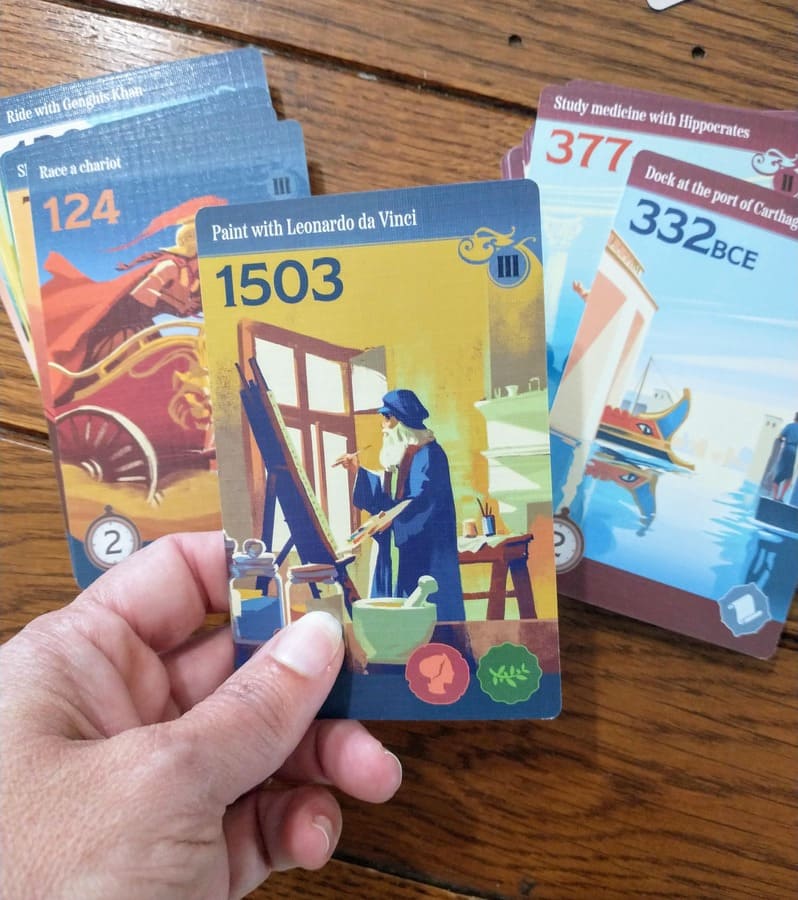 My kids have short attention spans. How long does Trekking through History take?
I get it, momma. Between having to wrangle children and the dog, I don't have all day to play a game. A game of Trekking Through History can be played in about an hour.
I'm a mom who doesn't know a lot about history. Can I still play the Trekking through History game?
Absolutely! History is a big part of our homeschool, but I'm more familiar with ancient history, honestly. The people and events in more modern history were somewhat unfamiliar to me, but it was a great jumping-off point for me to dive in and learn more.
Each beautifully designed card has a blurb on the back describing the person or event. A quick web search can pull up articles, videos, and more, for a deeper understanding of that time period.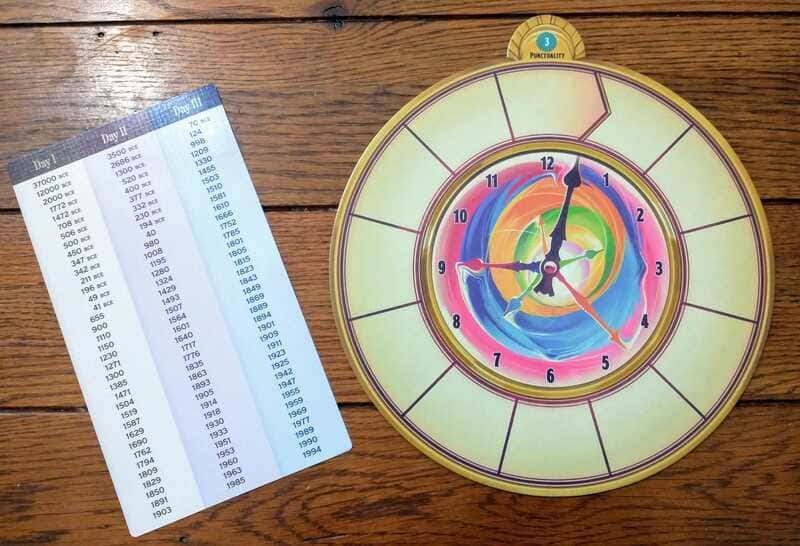 We have a big family. Can we still play Trekking through History?
You bet! We have 5 children here at the house, so if everyone wants to play, we create teams. This also helps pull in the kids who are under 10. You can play boys against girls, or kids versus adults.
Did you find any negatives with Trekking through History?
This game was a winner for us. My younger crew can be testy at times, as the game isn't a piece of cake to win, but it was engaging enough to hold their attention. You've got to think ahead and consider future options — that can be difficult for younger children who want immediate results.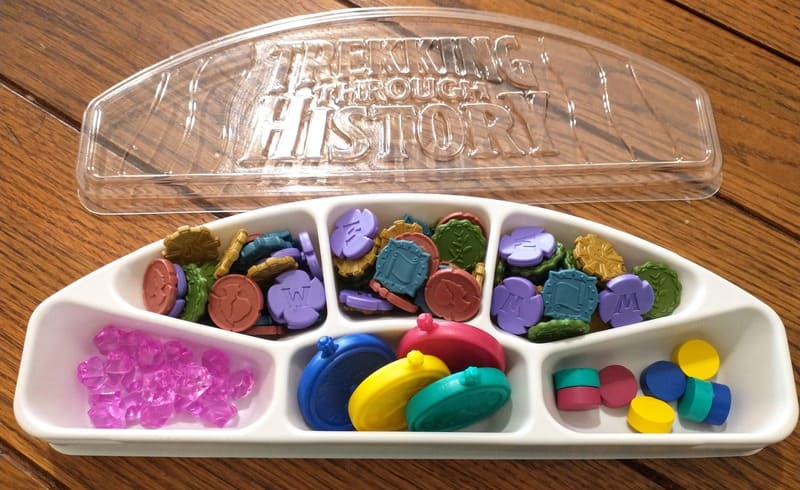 More Reasons We Enjoyed Trekking through History
I hate opening a game and finding parts that are cheaply made. My crew isn't easy on game pieces, and cardboard counters are the WORST.
Underdog Games uses quality components and doesn't skimp on the aesthetics. The cards are beautifully designed, with plastic tokens and game pieces for durability. The game board is a thick mat that's flexible enough to roll up, but doesn't get curled on the edges. It was some sort of magic!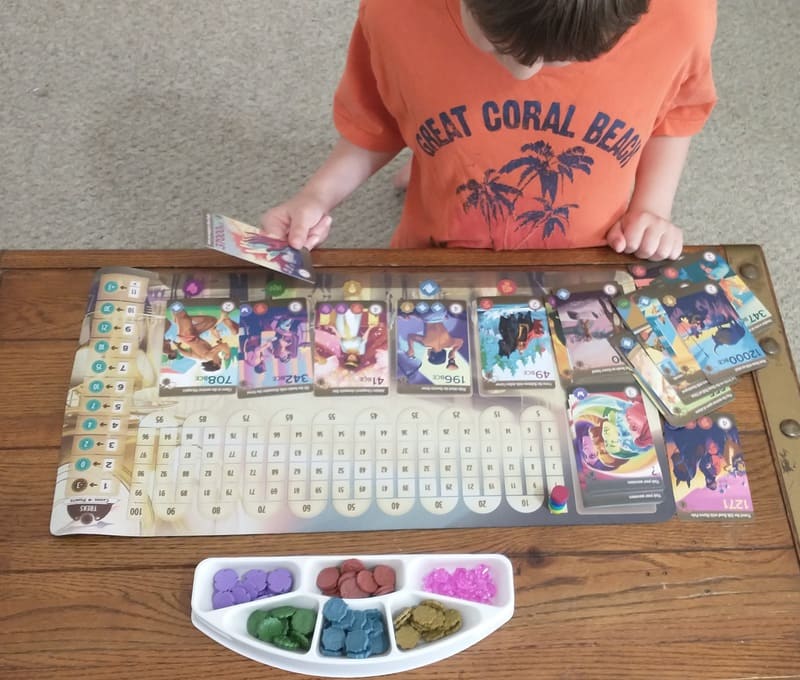 Is Trekking through History a once-and-done game?
Have you ever played a game that doesn't offer much replayability? Once you've learned the rules and played it a few times, it becomes predictable and dry. (I'm looking at you, Apples to Apples)
Trekking through History involves quite a bit of thinking. Players have to choose a history card, consider how it fits chronologically into a trek, the time on the card and what benefits are gained. There are ways to modify the turn order and even take more than one time in a row. In short, it's more than just collecting cards.
How much does the Trekking through History game cost?
This edition of the game costs $50. It's perfect for putting under the tree for a family Christmas present.
Where can I buy Trekking through History for my family?
You can buy the game on Amazon or directly from Underdog Games