Today, we're talking about our Memoria Press homeschool plan for third grade.
A little backstory for folks who might be new —
A few years ago, when my Maeve was getting ready for kindergarten, I was on the struggle bus, trying to navigate some learning challenges with our twin boys. All of my mental energy was expended with testing, therapies, and modifications for them, so we opted to send Maeve to our local classical school for Kindergarten and first grade.
By the middle of her first-grade year, I had a better handle on homeschooling her older brothers, and I SERIOUSLY missed her while she was gone. For second grade, it was time to bring my sweet girl home.
She wasn't thrilled about leaving her friends, but she soon realized that flexibility in our schedule was well worth the change. She went to our cottage school last year for classes one day a week, like her older siblings, and thrived.
This fall, she'll be entering the third grade. It's a ramp-up in workload, but we're looking toward a modified year-round approach to balance academics with extracurriculars and family time.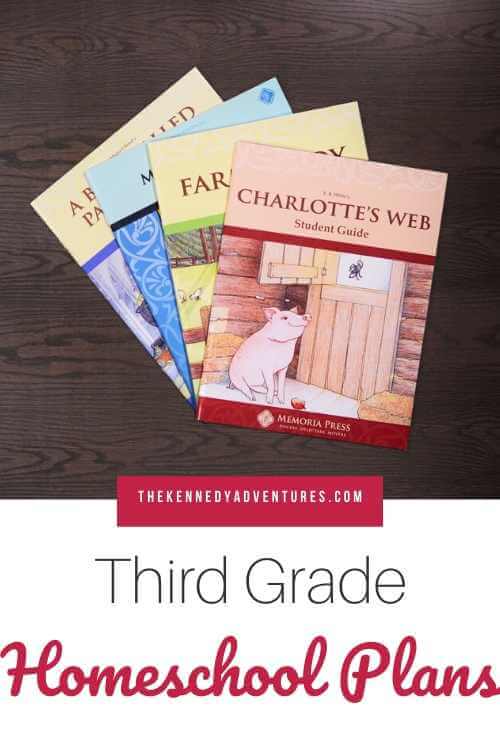 I'll break down each of our subjects and chat about how we're planning on tackling them. Maeve will be taking four classes at the cottage school this fall. She'll attend one day a week, receive instruction, and then works the rest of the week with me. (This is an approach that we use with our children once I feel like they're mature enough to attend classes in a small setting.)
Memoria Press Homeschool – Third Grade Spelling
We're actually going to go ahead and work through spelling in the summer, to keep us on a routine. Our start date for this will be mid-July.
We'll be using Spelling Workout , with practicing in Spelling City.
Memoria Press Homeschool – Third Grade Grammar
While we learn most of our grammar through the study of Latin, English Grammar Recitation I helps to reinforce those concepts. (This class will be covered in the cottage school, along with Composition)
Memoria Press Homeschool – Third Grade Classical Studies
For third grade, we begin studying classical studies, with Greek Myths.
Truth be told, this is one of my very, very favorite classes to study. I can't wait to get back into it again. We've already pulled out some of our favorite resource books for Greek Mythology, along with our coloring pages.
Memoria Press Homeschool – Christian Studies Third Grade
We're working slowly through Christian Studies I as a family, to learn the Bible as history.
We modify it slightly, learning our Catholic books of the Bible. We answer the questions in the study guide orally, so that my children know these events and their importance in our lives.
Memoria Press Homeschool – Third Grade Composition
Maeve will be taking her composition course, All Things Fun and Fascinating, at our local Cottage School.
This is a perfect segue into the Classical Composition writing program.
Memoria Press Homeschool – Third Grade Geography – States and Capitals
States and Capitals is another one of our summer subjects. We will get started with this slowly in a few weeks. This is one of the few subjects that we're combining this fall. We'll see how it works, and I'll report back on this later.
For more about the Memoria Press Geography program, you can check out this video that explains the progression.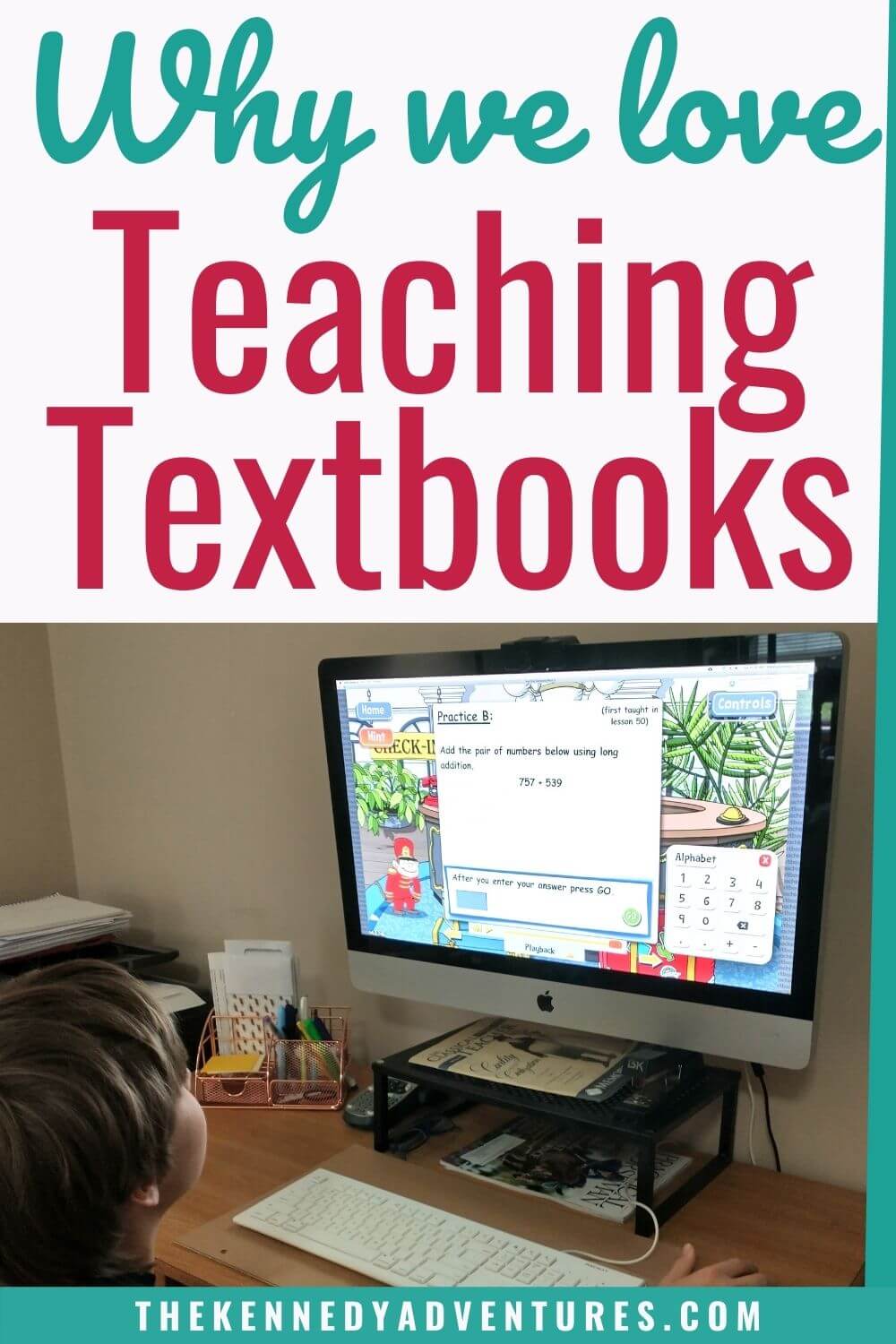 Math is another one of our year-round subjects. It's simply easier to just keep on going with math, instead of taking a break.
To free up some of my instructional time and help encourage independence in my children, we use Teaching Textbooks for our math program, beginning in the 3rd grade.

Homeschool Science for Third Grade
Originally, we had planned to go with the Mammals program for Maeve, but a passion for horses made me re-think that idea. Following in her older sister's footsteps, she began riding last fall and adores it.
We're diving in with the Winter Promise Equine Science program, and we are so excited. I've looked through her enormous Student Workbook and know that we are going to love this Charlotte Mason-based approach to learning more about our passions.
Memoria Press Homeschool – Latin for Third Grade – Latina Christiana
Maeve started her Latin studies last year with Prima Latina, and will continue on this year, with Latina Christiana in the Cottage School. She'll receive instruction one day a week, then work with me the rest of the week with review, recitation and workbook exercises.
Memoria Press Homeschool – Literature for Third Grade
We're moving into the deep, not wide approach with literature that I love for third grade. During the course of the year, we will study three novels. This slower, more methodical approach is a breath of fresh air to me, even as an avid reader. We get to know the characters and these books become like family friends. Even though this will be my third time going back through these selections, I'm anticipating this with joy. Maeve has already listened to Charlotte's Web and The Moffats, but Farmer Boy will be brand new to her.
Selections for the fall:
Charlotte's Web
Farmer Boy
The Moffats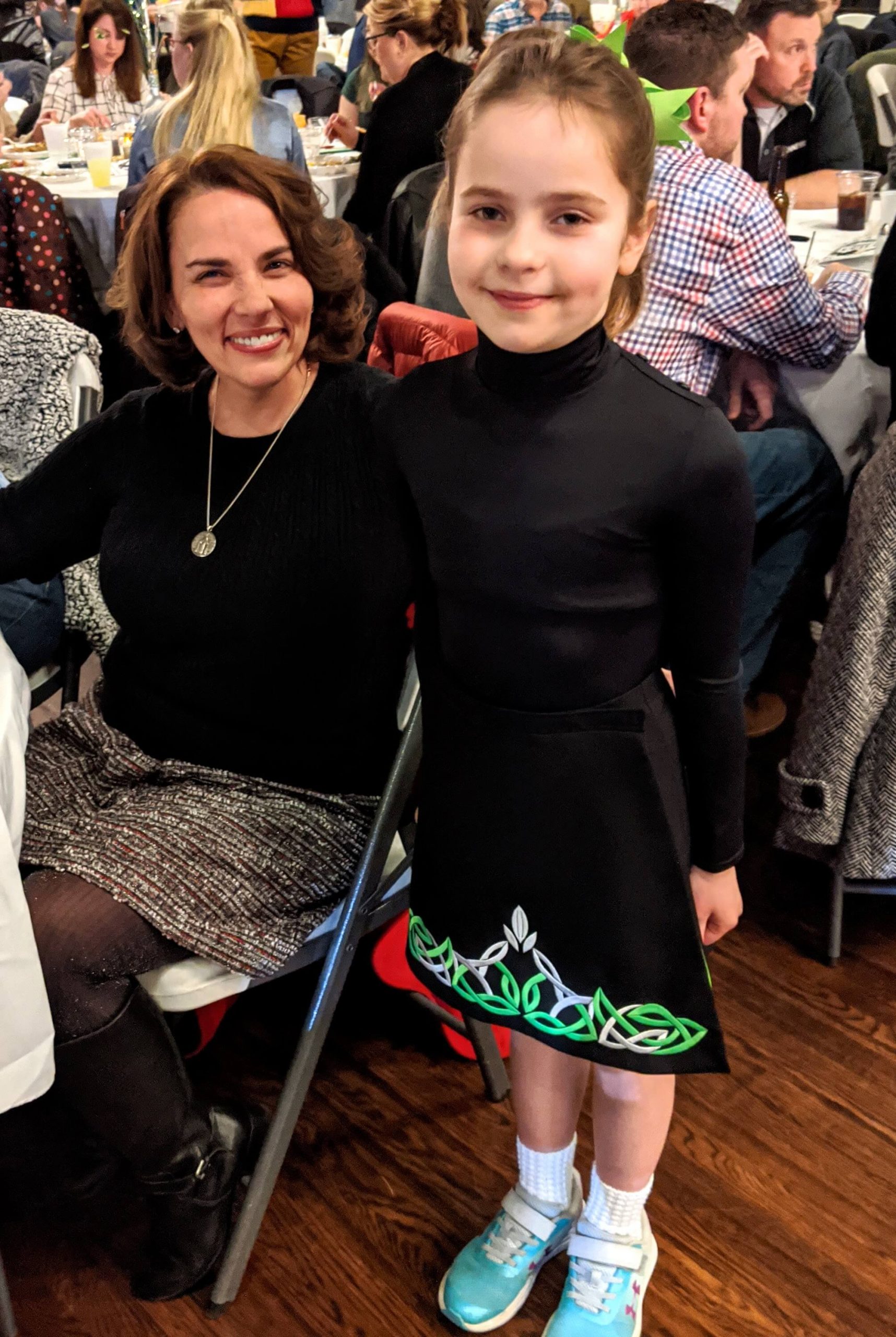 Third Grade Homeschool – The Extra-Curriculars
If you've been a reader for a while, you'll know that I encourage my children to explore opportunities outside the classroom, too. We follow a mind, body, and spirit approach — to make sure my children are growing in their faith, working hard academically, and spending time outdoors or in a sport.
For third grade, Maeve will continue in religious education with our parish. She'll also be continuing in American Heritage Girls.
Last summer, we tried Irish Dance and Maeve fell in love. (truth be told, so did I.) The music is beautiful, and I love that Maeve learns Irish culture along with traditional Irish dances. She'll be back this fall for the next level. Like her sister, she's also a budding equestrian. She began riding lessons last fall.
I'm also busy looking through the lessons in You Are an Artist to see which ones we can pull out and match up with our curriculum choices for the year. I know for sure, we'll be painting this little baby pig and lamb for Charlotte's Web!
What about you? I'd love to hear what you're using for third grade for the fall.