Are you considering Teaching Textbooks math in your classical homeschool? Here's how it works for our family.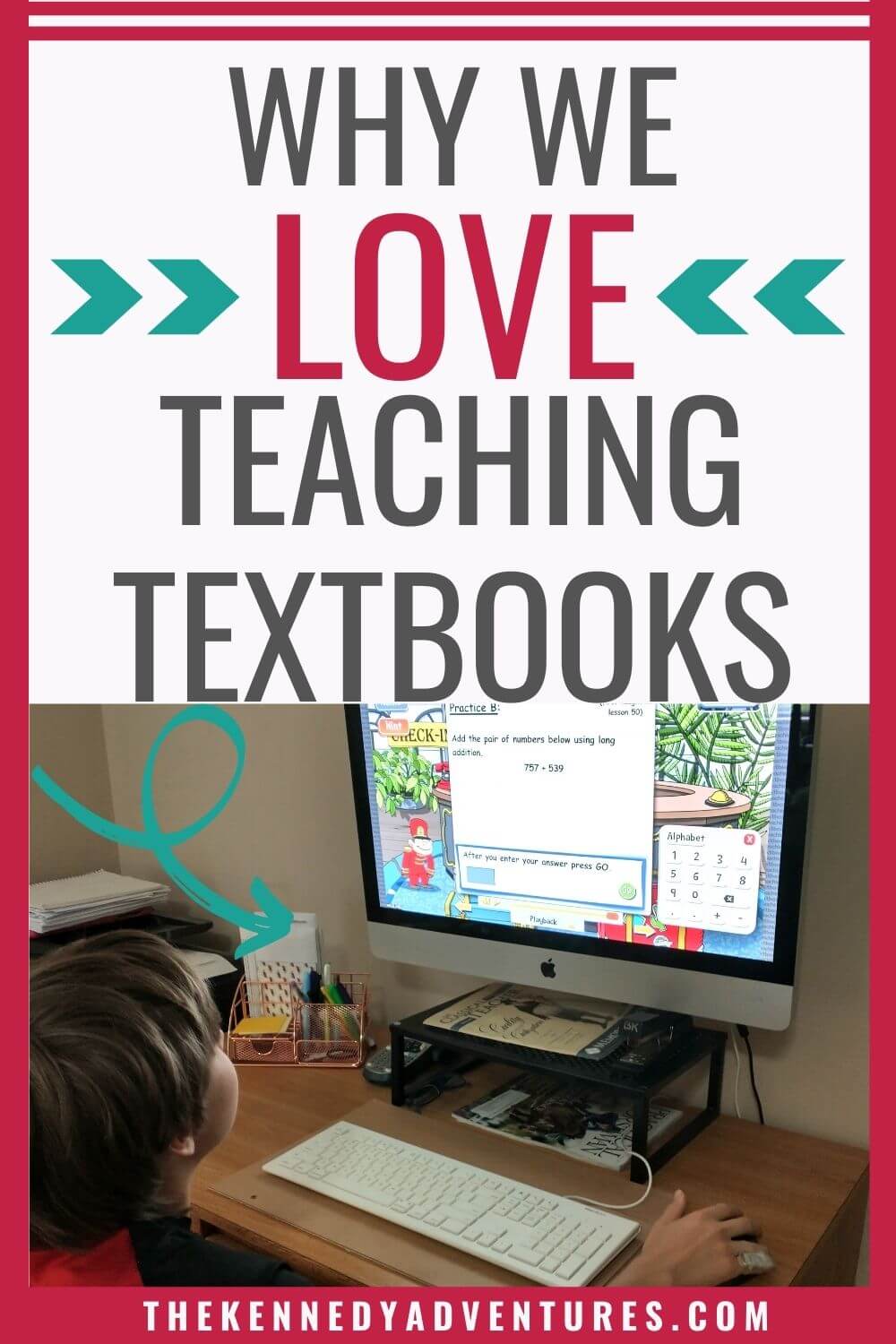 When I meet someone new, and the topic of homeschooling comes up, people are usually intrigued.
One of the first things people ask me is, "But what about math?"
I usually laugh and say, "Oh, I hire that out!"
And it's true.
Being a homeschool mother doesn't mean I have to teach EVERY SINGLE SUBJECT on my own. It means I am in charge of the curriculum choices, the schedule, as well as when and how we outsource.
I'm totally fine with teaching early arithmetic, but once we move into long division, I don't have a lot of energy left for other subjects.
That's where the Teaching Textbooks homeschool math program comes in.
Disclaimer: I received access to the Teaching Textbooks platform for our family, and was compensated for my time. All opinions are my very own.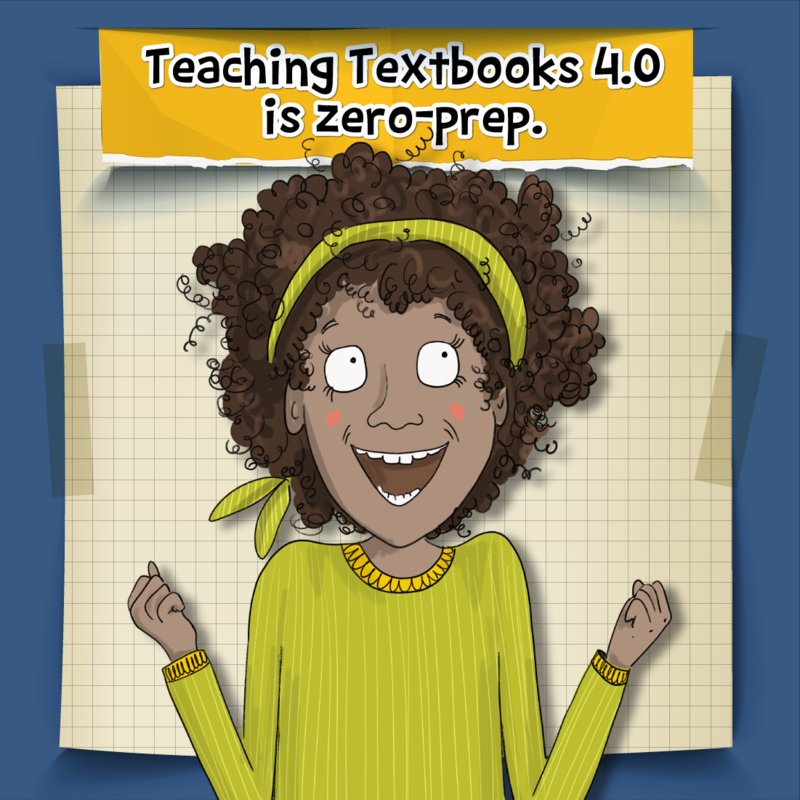 Why We Use Teaching Textbooks in Our Classical Homeschool
We got started with Teaching Textbooks years ago when my daughter was in the fourth grade. I was tired of math battles and needed a way to outsource math without sacrificing content.
As the years went on, I've added more children to our Teaching Textbooks program, and it's lightened my load significantly. I don't have to argue about math, and my children are learning how to work independently.
How to Get Started with Teaching Textbooks in Your Classical Homeschool
Getting started with Teaching Textbooks 4.0 homeschool math program is a piece of cake.
Since the program is now app-based, you can download it to multiple devices and take it on the road! There are apps available for Windows, Mac, Chromebooks and Android phones and tablets, Kindle Fire tablets, as well as iPad and iPhones.
Once you've signed up, just follow the on-screen prompts and add in your children. You'll need a separate app for each math level you're using. (TT Math 3, Algebra, etc) Remember to write down your passwords somewhere for quick access.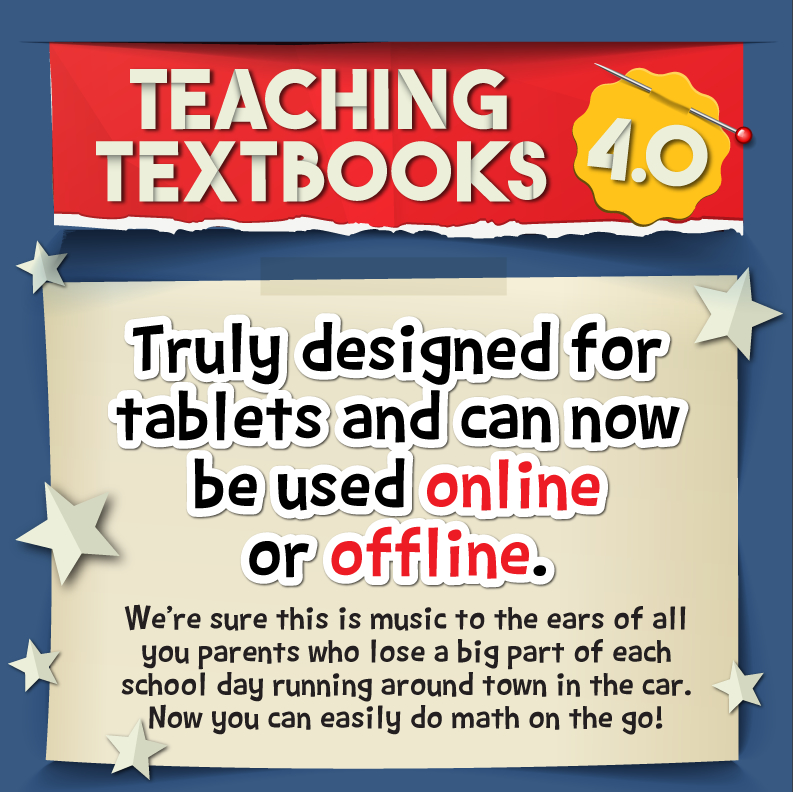 I would recommend downloading the apps to all of your devices. Our primary family computer for Teaching Textbooks is our Mac, but I also downloaded it to our iPad and my Chromebook, so that we can have multiple students logged in at one time. Having the program loaded on mobile devices also helps to maximize my time — my kids can knock out a math lesson on the way to soccer practice or riding lessons.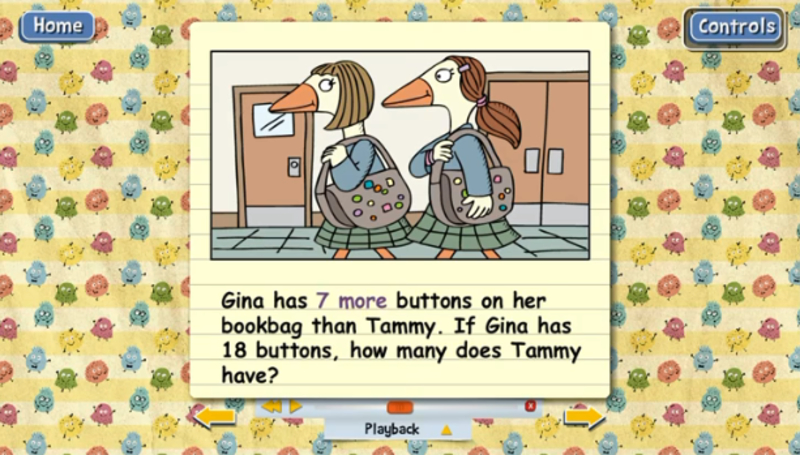 If you're new to Teaching Textbooks, plan to listen in on the first few lessons. Another tip? Do a practice lesson on your own, without your child, going back and deleting it out of the grade book at the end of the day.
I feel like it's important to get a feel for how the lessons are set up within Teaching Textbooks so that you can serve as a resource for your child. Most lessons are around 15 minutes, which starts with a lecture, then practice problems. From time to time, you'll come across bonus rounds, quizzes, and in the later grades, chapter tests.
Parent Note: The bonus rounds are timed and can be challenging for children who get anxious with testing. I would encourage you to walk them through these rounds, but it's OK to skip these if they are too stressful.
You'll want to explore the teacher's manual ebook in your dashboard, to see when specific concepts will be coming up. For me, it's important to know ahead of time when my children might be wrestling with trouble spots. (decimals and fractions, for example)
Since we've used the Teaching Textbooks homeschool math program for several years, my kids just grab their headphones, whiteboard, and markers, and get to work.
Using the Teaching Textbooks Parent Home Page in Your Classical Homeschool
The Parent Home Page is your key to tracking your child's progress with Teaching Textbooks. It's also the place you'll find loads of helpful resources. A bonus for moms with multiple students? Everyone's information is contained in one spot.
You can access the Parent Portal via the Teaching Textbooks website, or by logging into the parent account on any of your devices where you've downloaded the app.
Within the homepage you'll be able to:
– Get into the grade book:
This is where you can find a record of your student's overall grade or even a detailed lesson by lesson report — whatever you need. You can print out the grade book with a push of a button.
– Change Student Settings
In this section, you can change settings for lessons and quizzes, as well as wallpapers and stickers. You can adjust hint settings, limit wallpapers and more.
– View Answer Key and Ebook
In this section, you can view an answer key of all quizzes, as well as the Teaching Textbooks lessons in an ebook format.
– Manage Courses
When you sign up for a Teaching Textbooks enrollment, you have 12 months to complete a level. If your homeschool gets derailed for a period of time, no worries.
You can pause your digital course for up to 180 days. This is perfect for extended illnesses, vacations, or other life events.
Why Teaching Textbooks Works in Our Classical Homeschool
We've used TT in our homeschool for a number of years. Here's a quick rundown of the reasons why.
Frees Up Instructional Time
As the momma of many, this is HUGE for me. This fall, I'm going to have five students at home. Even though I've been homeschooling for over ten years, the sheer number of students is daunting. Using Teaching Textbooks for my older students frees up precious instructional time so that I can focus on working with my youngest students.
Refresher Course for Mom
Let's be honest. It's been a very long time since I had to graph an equation. I could probably do it, but I would need an example of how to get started. Listening to the TT lessons during my children's math time or reading through the TT teacher manual is a HUGE help for me. Reviewing these concepts sharpens my brain and helps me to be a better teacher.
Encourages Independence
As my children get older, I want them to take more ownership of their schoolwork. Depending on their age and maturity levels, they're capable of handling some things solo, just checking in with me for help. Teaching Textbooks allows me to make sure they're learning math concepts, without me being there every moment of the way.
Self Paced
Isn't this one of the primary reasons that we all homeschool? To be able to meet our children where they are, instead of following an arbitrary timeline?
If my children are rocking a math concept, I let them move on. If they need a little more work, they review. We can go at a pace that works for us.
Easy Grading and Record Keeping
Having five students at home means that I need to use my time wisely. Using Teaching Textbooks frees up precious minutes in my day, which adds up to hours in the long haul.
My routine for math grading:
Check into my parent dashboard to see if the assignment has been completed
Check the overall grade for the lesson
Click into the final grade, to see if there were areas where my child struggled. That's it! Easy peasy grading at its best.
For Rachel, I'll be having to write a transcript in a few short years. Again, TT, makes this a piece of cake. All I have to do is log in, and print out the grade book with a push of a button. I can give an overall grade and keep a detailed report, lesson by lesson, for my records.
How Do I Know if Teaching Textbooks Will Work for Our Classical Homeschool?
I'm a HUGE fan of trying something before you buy it, especially when it comes to a homeschooling program. Teaching Textbooks makes it super simple to explore their program, to see if it's right for you.
If you're wondering where to start, you need to take a peep at the placement tests that Teaching Textbooks offers. This will give you a good idea if you're not sure which level you need.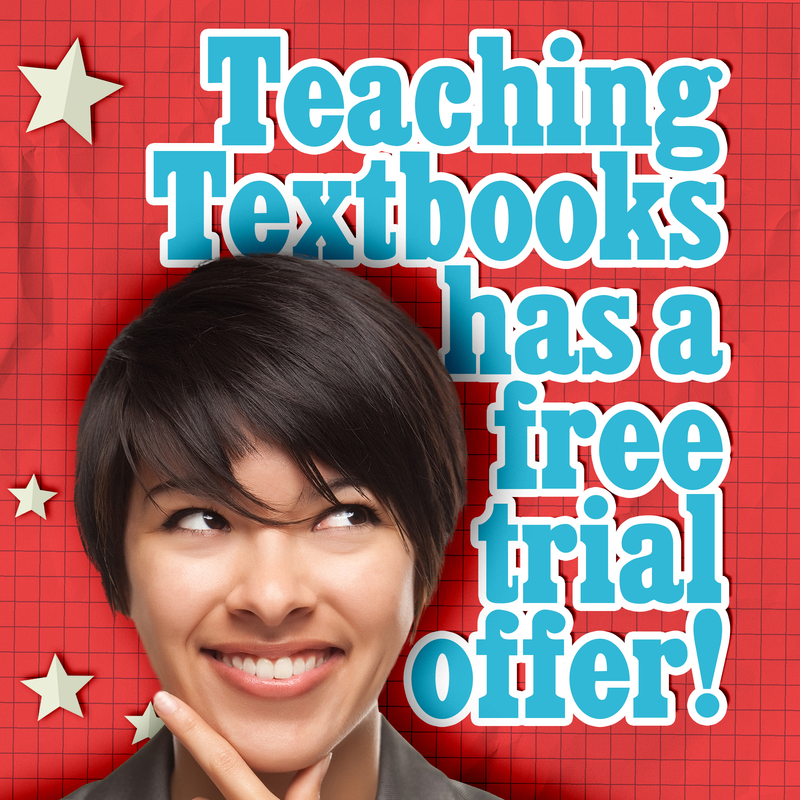 Teaching Textbooks has a GENEROUS free trial program. After signing up, you can work through the first 15 lessons in a level. After you've decided that it's the perfect fit for your family, you can switch over seamlessly. All of the progress your student made in the trial period will be saved and you'll pick up with the next lesson in the program.
Teaching Textbooks also offers users 30 days after they start using a 4.0 course to opt-out of their purchase.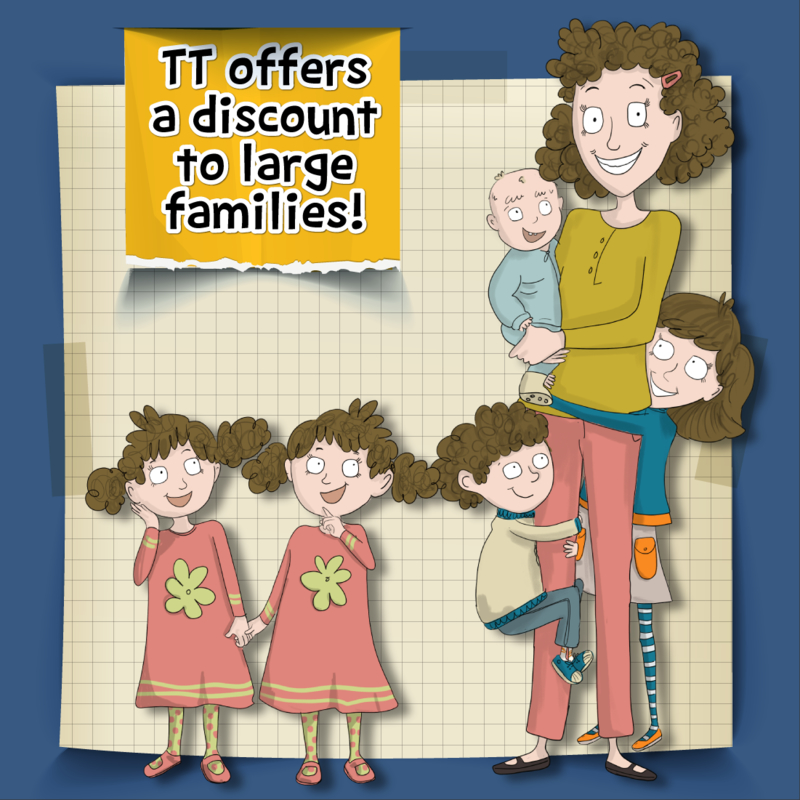 How Much Will Teaching Textbooks Cost?
One of my favorite attributes of Teaching Textbooks is its pricing. This program has always been affordable.
The pricing for a Teaching Textbooks 4.0 digital course ranges from $43.08 to $67.08 per year, depending on the class. That's absolutely a budget-friendly price for a math class that frees up your teaching time.
For a big family like mine, there's another bonus — a Family Plan.
If you have multiple students in the TT programs, you'll only spend a max of 199.08 per year. The family plan is the best deal for you if you have 4 or more students enrolled. (please note, this is for a single-family household, not a group or co-op.)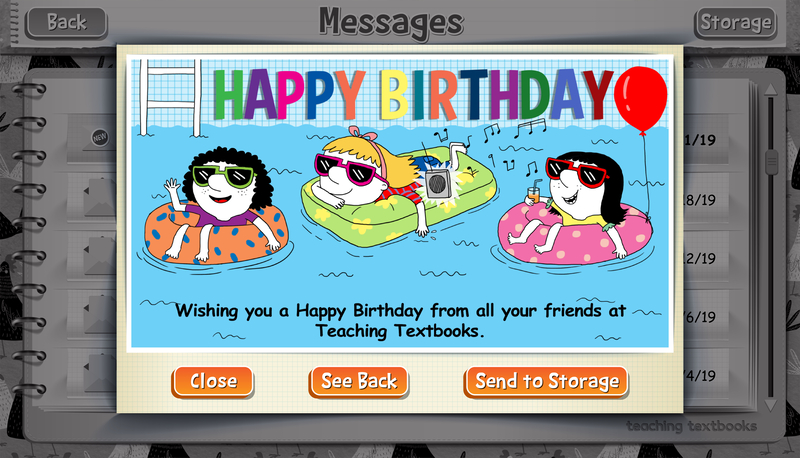 Are there any updates planned for Teaching Textbooks Math?
There are a few additions planned for TT 4.0 that I'm super excited about!
– A new messages feature – students will receive birthday messages and funny postcards from buddies they've used in the past. I know my daughter Maeve will love this. She spends a good amount of time going through the wallpapers, buddies, and stickers when she logs in, so this would be so fun for her.
– A daily progress email for parents – I'm usually on top of our TT lessons, but on days when I have a million things to do, it would be wonderful to get a progress report. The Teaching Textbooks parent emails tell you the last lesson completed and the score, as well as the course average and time remaining in the course. This would be helpful for my twin boys, as they tend to forget to log in to TT daily.
Have you used Teaching Textbooks? I'd love for you to check out the free trial and share your thoughts in the comments!