Are you considering making a switch to the Teaching Textbooks homeschool math curriculum? Read on for some insider tips to get you off to a great start!
If you're ever around a group of homeschooling mommas, chances are, you'll eventually hear the conversation turn to math. Moms may extol the virtues of their favorite homeschool math curriculum, or seek guidance from other experienced homeschooling mothers.
Let's face it. Some days, you just need to commiserate with someone who understands when the multiplication facts just aren't sticking. (am I right?)
Recently, our family purchased the Teaching Textbooks homeschool math curriculum. We've been very pleased, both from the student and parent perspectives.
If you're contemplating hopping on board the Teaching Textbooks train, read on for more tips for getting started without any hiccups.
Disclaimer: I'm a Teaching Textbooks Champion, but all advice and opinions provided here are my very own.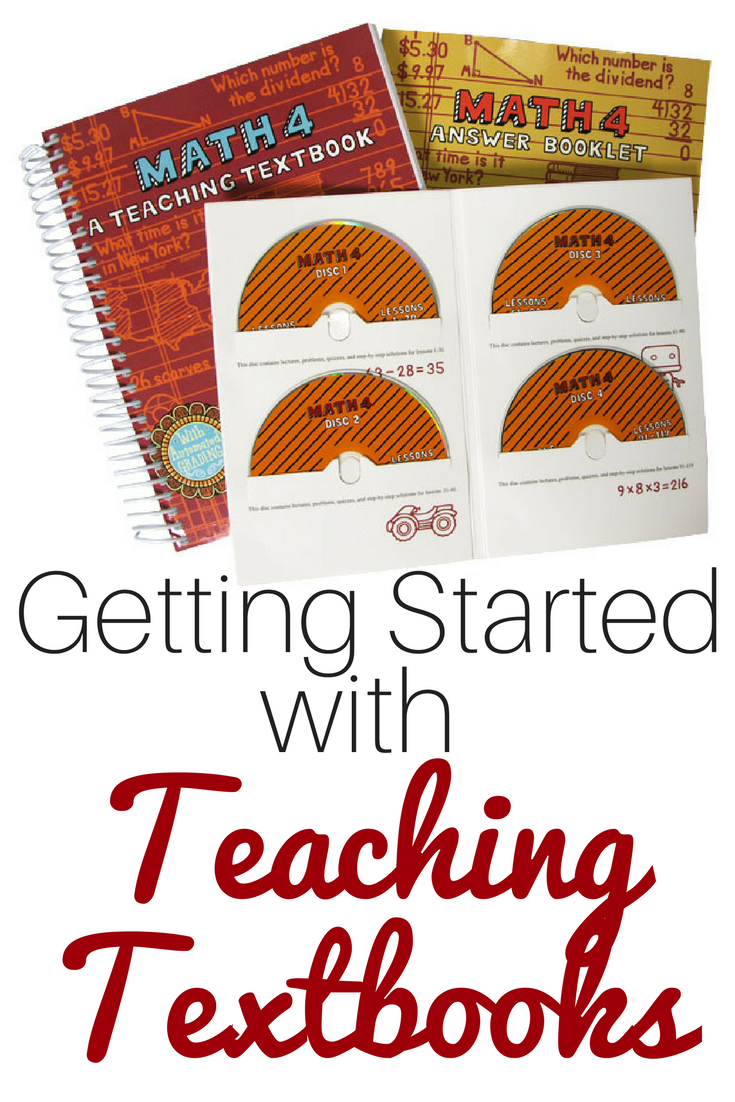 Take Some Time to Get Familiar with Teaching Textbooks
Ready to learn a little more about Teaching Textbooks? Let's jump in.
Teaching Textbooks is a spiral program, designed for use with advanced second graders all the way up through high school.
A package includes consumable workbook, a print answer booklet, and PC and Mac compatible CDs that contain step-by-step audiovisual solutions to each of the homework and test problems.
Most levels also come with a digital gradebook that grades answers as soon as they are entered and calculates percentages for each assignment.
Prices begin at $119.90 for the complete level (Textbook, CDs and answer booklet). You can opt to buy the CDs only, or look for the program used.
Things to consider regarding cost:
You can use a level of Teaching Textbooks for multiple children. For big families, the cost per child isn't much at all.
You can buy TT used and resell it when you are finished. Teaching Textbooks holds its resale value very well. A quick check on Ebay — I found a complete set of TT4 for less than $60.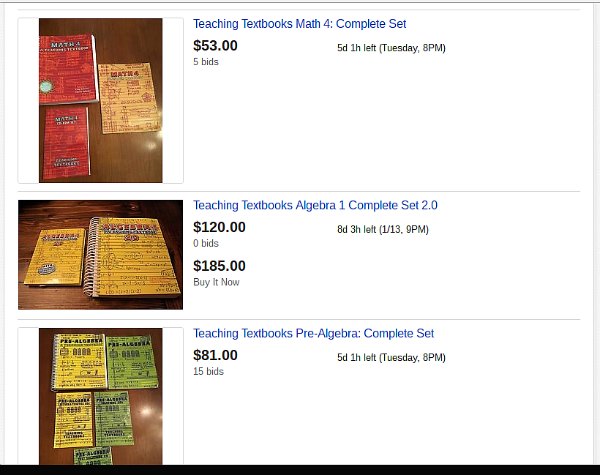 Install the Program
Installing the curriculum is a snap. Drop the CDs in and follow the on-screen prompts. If you run into any snags, a quick call to the Teaching Textbooks support line will have you on your way in a flash.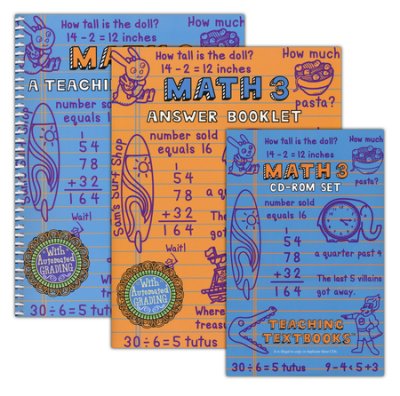 Read Through the Manual
Teaching Textbooks arranges concepts slightly differently than I've experienced with other math programs. It's perfectly OK, but if I'd taken the time to peruse the manual, it would have been a bit easier for me.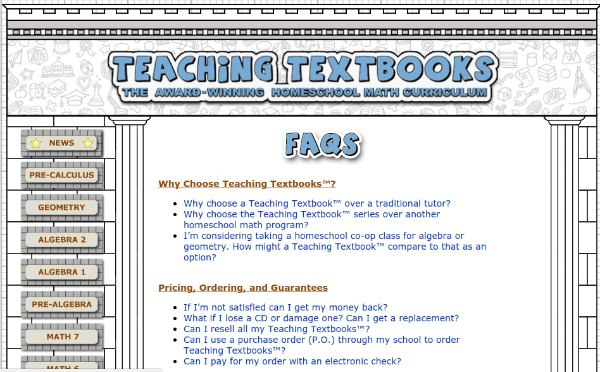 FAQs on Teaching Textbooks site
Be sure and explore the FAQs on the site. You'll find placement tests, tips, answers to common questions and more.
**Sneak Peek
In the next few months, Teaching Textbooks will be releasing their 3.0 web based versions of the curriculum. Soon, you'll be able to access Teaching Textbooks on the web, with no CDs to manage. That's great news for Chromebook users, and means that you may even be able to have your students do their math lessons on a tablet. **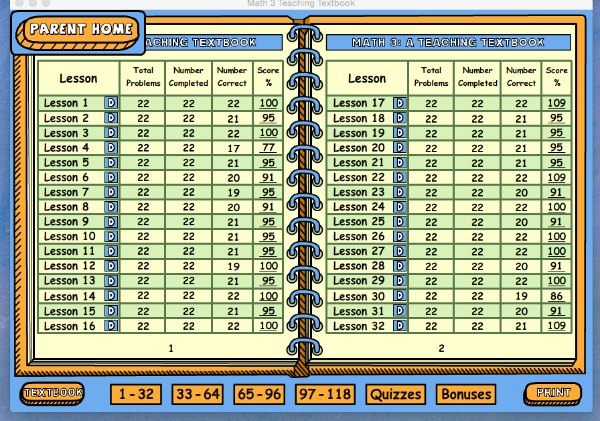 Tips on Gradebook
The gradebook is one of the key places you'll be hanging out as a Teaching Textbooks parent.
You'll need to make yourself familiar with the different components.
Log in as a parent, and you'll be able to take a look at your student's grades for each lesson, bonus rounds (if applicable) and quizzes.
You'll want to look all the way over at the final score, and click there.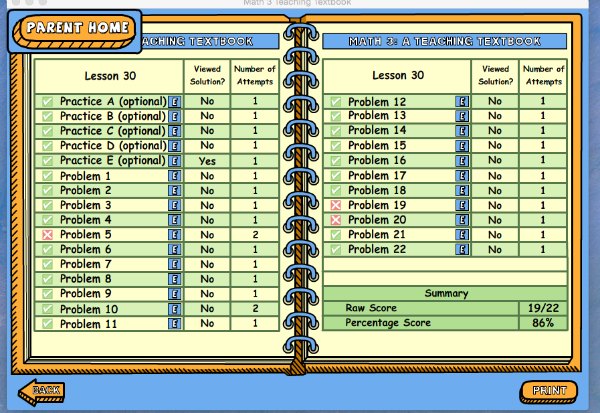 This opens up more information for you. In this area, you'll be able to see the breakdown of how your child answered the question, if they had a second attempt, and if they viewed the solution.
This is your key to understanding how well your child is grasping the material. If they're getting the question correct, mostly on the first try, then you're golden. If they're mired in second attempts, then you may need to take a closer look or review the lesson again.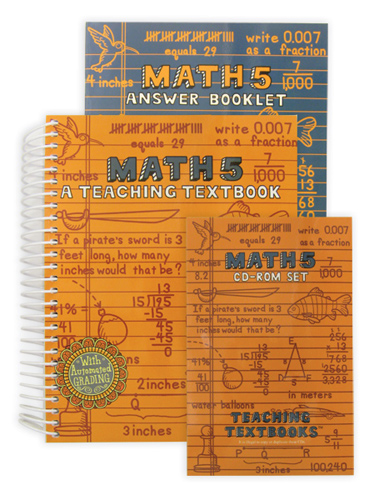 Touch Base with Your Kids
When you're trying to discern which level of Teaching Textbooks your student needs, you'll need to take a look at the placement tests.
These tests offer you a chance to assess what your child already knows, and where they need more work. Based on these scores, you'll get a good idea of which Teaching Textbooks level is right for them.
In our home, I opted to start with a slightly lower level for Rachel, to build her confidence.
Sit in on Some Teaching Textbooks Lessons
You'll need to sit in on some lessons and get a feel for how they work. You can do this as your children begin using Teaching Textbooks, or even take some practice lessons yourself.
Each lesson is around 20 minutes. You'll have a lecture, followed by practice problems. Periodically, you'll have bonus rounds, quizzes, and chapter tests.
Some children may work better while wearing headphones, while others prefer using the computer's speakers.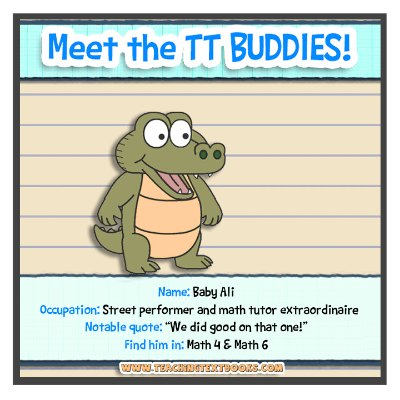 Within the lessons, you'll find buddies – animated characters that change with practice problems. My kids find them fun and engaging, but as they get older, they may not enjoy them. You have the option to turn these off in settings.
TT recommends:
1) Read the printed lesson in the textbook.
2) Watch the lecture for that lesson.
3) Do the entire assignment, including the practice problems. Watch solutions for any problems that were missed as soon as the problem has been graded.
Why We Don't Let Our Children Use Teaching Textbooks Solo
Even though Teaching Textbooks COULD be used as an completely independent math curriculum (meaning NO work for Mom), I wouldn't recommend using it in that fashion.
Turning your children completely free inside a math program could be a recipe for disaster. Staying on top of your children as they utilize Teaching Textbooks offers accountability, encouragement and math help for the future.
Taking the past of least resistance is human nature — including children. They may not be aware that they're not grasping a concept. It's your responsibility to make sure they're on track. Staying connected with their math program offers them a safe place to land. They'll know that you care about how they're doing, and that you can offer help when necessary.
Being around for lessons has an additional bonus — jogging your own math memory and providing you with a refresher course. Sure, I know decimals and fractions, as well as algebra and geometry. BUT — it's been a long time since I had to put those skills into practice. By peeking in on my children's Teaching Textbooks lessons, it helps me brush out the cobwebs and be prepared when the kids need my help.
I don't hang around for the entire lesson. Instead, I take a quick peep at the textbook to see what's covered that day. If it's a concept that my child has covered before, I don't sweat it. If it's something new, I make myself available to make sure everything clicks.
I also make sure I eyeball the gradebook. You'll be able to see which problems were answered incorrectly, if the student tried twice, or if they asked for a hint or watched how the problem should be tackled. This gives you a heads up that they've reached an area that needs more work.
We also still do flashcards/drills with our children periodically, to reinforce addition/subtraction facts as well as multiplication/division. Being able to recall these facts quickly is key to higher level computations.
Follow Your Students Lead
My children love that the Teaching Textbooks lessons are short — about 20 minutes in length. This makes it easy to double up on lessons if your student feels ready.
Since we're not spending a huge chunk of time on math, we can approach it a few different ways.
Simply do one lesson a day – this is the approach we use with our twin boys. This leaves more time for playing math games or working on other subjects.
My daughter doubles up on lessons, usually doing 2 lessons per day if she feels comfortable with the concepts.
** We only have experience with Teaching Textbooks Levels 3, 4, and 5. I probably wouldn't recommend doing more than one lesson a day in the higher levels. Once again,this depends on your child. **
Thoughts from other Teaching Textbooks users:
Teaching Textbooks on a Budget
Teaching Textbooks in a Charlotte Mason homeschool
10 Reasons We Love Teaching Textbooks Math
Teaching Textbooks versus Abeka Math
Teaching Textbooks for Struggling Math Students
Using Teaching Textbooks in a Big Family
Reasons to Switch to Teaching Textbooks
High School Math with Teaching Textbooks
Eliminating Math Stress with Teaching Textbooks
Teaching Textbooks for a Right Brained Student
Teaching Textbooks for Dyslexics
Teaching Textbooks in a Big Family
Middle School Math with Teaching Textbooks (for a gifted student)
Honest Reviews of Math Curricula (includes Teaching Textbooks)
Have you tried Teaching Textbooks in your homeschool? What's holding you back?