We took a trip to the Newport Aquarium recently — even with my husband along, keeping track of all of the Kaboodle was a lot of work!!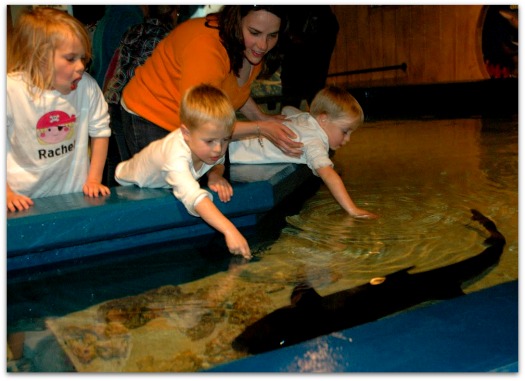 This is me, Rachel and the boys. I'm trying my best to keep my sons from jumping in the shark tank. The docent (is that what you call them at the aquarium?), said, "Oh, it's happened before. The sharks don't bite, and he'd just end up wet."
No way. I don't want to be that mom.
Head over to Krystyn at Really, Are You Serious, for more Mommy and Me fun. Give your husband the camera, or take a self portrait. Either way — get in the picture!
I'm also joining in with my pal Cheryl at Twinfatuation for Makes My Monday — because, seriously, these children bless me every single day.