The following is a sponsored post brought to you by Dohmie and Mom It Forward. All opinions are honest and my very own.

During the holiday season, everyone's routines can be knocked off kilter. This can result in a change in sleeping habits for everyone in the house, especially children.
Maeve was a great sleeper as a baby, but as she's grown into a toddler, she seemed to have a harder time settling down at night. We'd go to bed, but she'd climb in and out, talking to herself and running around the room until she collapsed of sheer exhaustion. My tried and true tips for getting a baby to sleep didn't seem to work on her.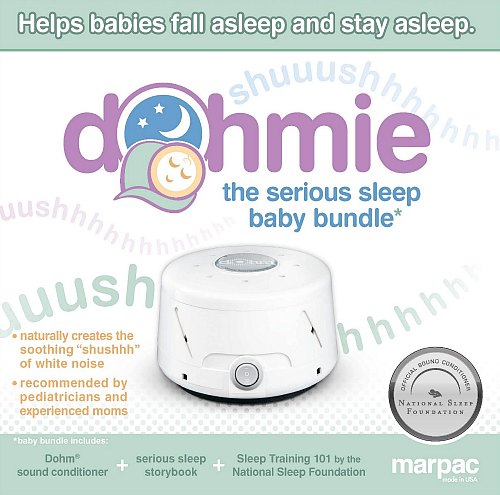 I decided to give a white noise machine a try. I received the Dohmie serious baby sleep bundle to try at home with Maeve. I was impressed with it's simple design and ease of use. Just flip the switch and adjust the top or sides to the noise level you'd like.
The first night I used it, Maeve looked at me like I had two heads. I put the level to HIGH, and settled in to read her a story. In about 10 minutes, she was sound asleep — without kicking, rolling, or climbing over me 100 times. It's become part of our bedtime routine. We take a bath, read a story, turn the dohmie on, then settle in to bed.
My husband jokingly calls it our 'pretend jet to Hawaii', but I noticed that he's been sleeping better as well. Rachel (age 7) has even asked if she can use it in her room, to help her sleep.
It's a natural white noise — it reminds me of the roar of the jet engines once you've taken off, or the hum of a vacuum cleaner in another room – just the sound of rushing air. It helps Maeve (along with the rest of the family) to fall asleep and stay asleep. The compact,lightweight design is easy to move from room to room as you need it. I may invest in another one to take to the hospital when the new baby is born!
You can check out more about Marpac, maker of the dohmie and other white noise machines via their website, follow them on Twitter, connect with them on Facebook, and find them on Pinterest. A Dohmie serious sleep baby bundle would make a great gift for expectant mothers this Christmas! Pick one up at Toys'R'Us online.
Have you ever tried a white noise machine in your house? How did it work for your children?