Thinking about teaching Shakespeare in your homeschool? Don't be intimidated! Read on for easy peasy ideas to get started with the Bard.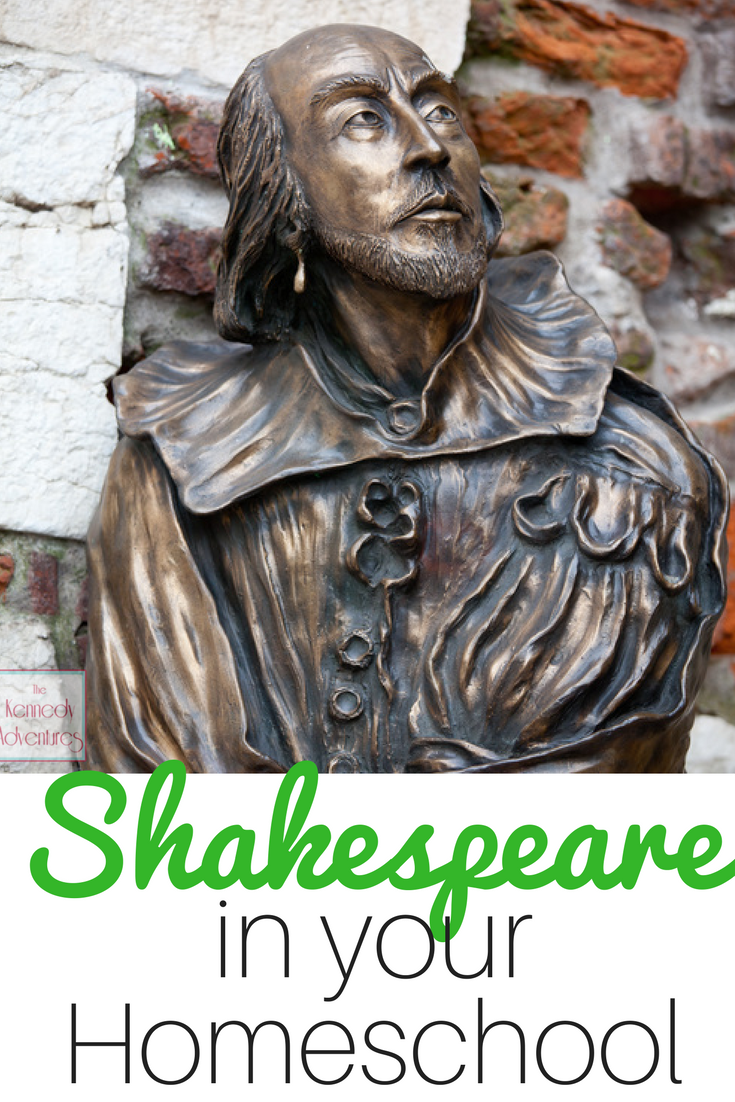 How We Started Studying Shakespeare in Our Homeschool
One of my favorite things about homeschooling is introducing my children to amazing literature. We follow a classical Christian curriculum, and our bookshelves are overflowing.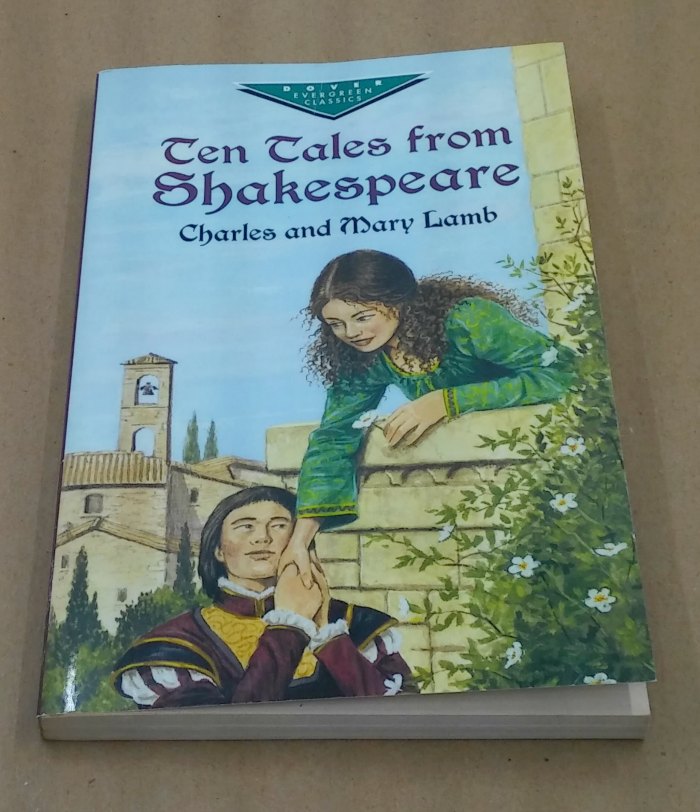 A few years ago, Shakespeare (via Charles and Mary Lamb) was on our read aloud list. I purchased the recommended book, placed it on the shelf, but then forgot about it in a haze of pregnancy and toddler wrangling.
My voracious reader didn't miss it. She devoured the book, unbeknownst to me. She didn't say anything about it, until a few months ago.
She'd seen an advertisement for our local theatre and wanted to attend.
"Mom, can I go see Macbeth? It's playing at Actors Theatre."
(imagine me falling over)
Macbeth?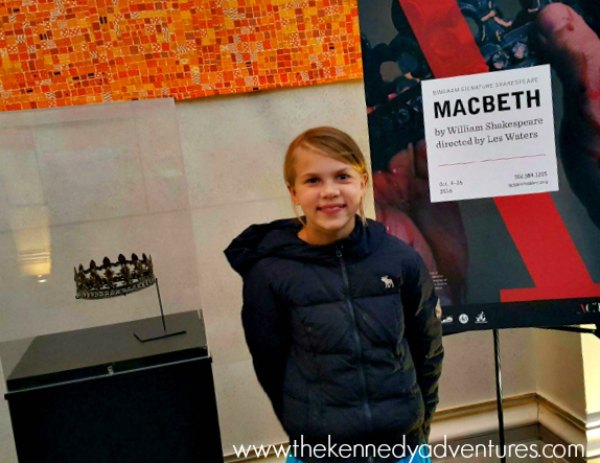 Disclosure: We received the book, How to Teach Your Children Shakespeare for free. I was compensated for my time, but all love for Shakespeare is my very own. (and Rachel's, too!)
I'd perused The How to Teach Your Children Shakespeare Book, and filed away a few points. "Start with the comedies", stood out in my mind.
"MACBETH?", I said. "Are you sure? What do you know about Macbeth?"
Turns out, she had loved the Charles and Mary Lamb book. And she'd heard more about Shakespeare while listening to Story of the World. (How did I miss this?)
And so, a love of Shakespeare's tragedies was born.
Reasons for Introducing Shakespeare in Your Homeschool
For us, studying Shakespeare ranks up there with studying Greek Myths.
We embrace beautiful literature in our classical curriculum – reading Shakespeare is one of the pinnacles of English literature.
His command and usage of our language is a beauty to behold. He manipulated nouns into verbs, verbs to adjectives, and creating entirely original words for our vocabulary.
The themes in his plays, over 400 years old, are still relevant today. Want to teach your children about political intrigue, honor, bravery, love, or treason? Study Shakespeare.
Leaning toward a Catholic worldview for your homeschool? Shakespeare's plays are full of Biblical principles. Revenge and its effect? Hamlet. The dangers of pride and ambition. That's covered in Rachel's favorite, Macbeth. Want to teach about deceptive appearances? Much Ado About Nothing deals with this. Studying mercy? Pull out The Merchant of Venice.
His influence, both literally and culturally, is boundless.
So, how do you teach Shakespeare to your children, when you're not that well-versed yourself?
The answer? You dive in, momma, and learn right alongside them.
Tips and Tricks for Introducing Shakespeare in Your Homeschool
I studied Shakespeare when I was in high school, but it was a fast and furious experience. My English teacher was enamored of Mel Gibson, so we watched and discussed Hamlet. (The Gibson version)
I seriously don't remember a thing.
For our family, getting started early, with age appropriate versions is key.
Think about the subjects that you deem important in your homeschool. Christian studies? Reading? Math? You don't wait until middle school or high school to get started.
With a gentle introduction to Shakespeare, you'll set your children off on a long and winding road to a literary feast.
We began the technique that Ken Ludwig designed in How to Teach Your Children Shakespeare. He offers a step by step technique that teaches children (and their mommas!) to memorize passages from Shakespeare plays, and even offers insight to the choice of words, vocabulary, and even the patterns in which Shakespeare wrote.
(where in the world was Ken Ludwig when I was in high school? I might have enjoyed Shakespeare more if I'd actually known what the words meant!)
My 4 year old even knows some lines. Who wouldn't want to memorize a passage that contains your name?
MERCUTIO
O, then I see Queen Mab hath been with you.
She is the fairies' midwife, and she comes
In shape no bigger than an agate stone
On the forefinger of an alderman,
Drawn with a team of little atomi
Over men's noses as they lie asleep.
If you're having trouble with iambic pentameter, check out this resource. I think it also helps if you check out the particular speech you're examining. Hearing a professional actor perform the lines can give you an idea of the rhythm and cadence to emulate.
I'd also recommend exploring some selections that fit your family. Many start with comedies, but in our family, we took a slightly different approach. Rachel was familiar with Macbeth, and we have plans to see Julius Caesar in a few weeks. She's familiar with some of the material that's covered in these plays, so I let her call the shots.
As you're studying Shakespeare with your family, you can take a look at some of Shakespeare's work depicted in film, or explore documentaries about his life.
Amazon Prime has many of Shakespeare's works, as well as a scientific exploration of Shakespeare's grave.
Netflix has Shakespeare in Love, as well as Shakespeare, the Legacy.
Mom Tip — I have NOT previewed all of these movies. You'll need to check them out yourself and see if they are appropriate for you or your children. My favorite resource for that? Common Sense Media.
Don't overlook the importance of seeing Shakespeare's works on stage. We're blessed with an amazing Shakespeare troupe in our area, so we have Julius Caesar, Much Ado About Nothing, Richard II and The Merchant of Venice on our potential list for the summer.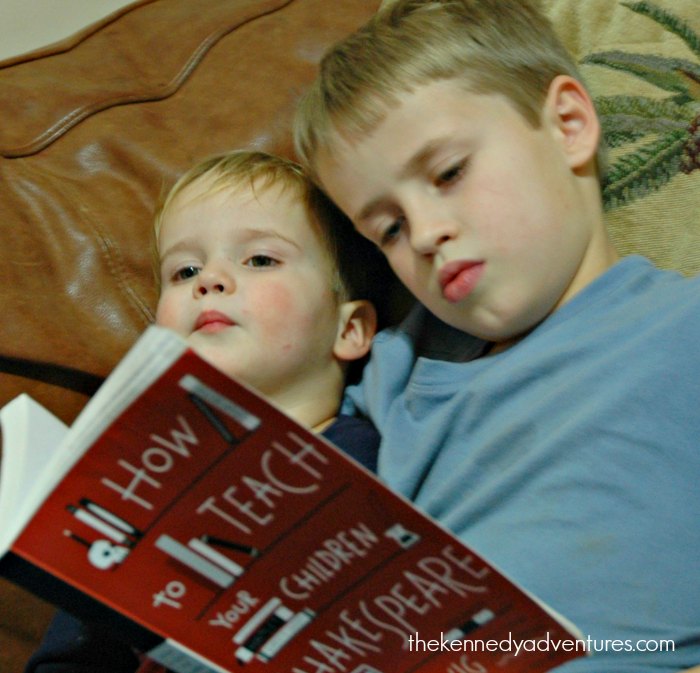 Getting Boys Interested in Shakespeare
Some moms struggle with encouraging a love of Shakespeare with their boys.
For us, it boils down to some positive peer pressure, and playing to their interests.
My boys would hardly admit it, but they watch their older sister and emulate her in our homeschool. They take note of what she's reading, and often ask me things like, "When do we get to study Latin? or "Are you going to teach us cursive this year?"
Having their sister pave the way makes it easier on me. They look to Shakespeare as something 'big kids' get to study. In short, we treat it as a privilege.
If my boys balked at exploring Shakespeare, I'd be sure to point out some of the more masculine points of Shakespeare. Kings? Macbeth. Want to take over the Roman Empire? Julius Caesar. Swordfighting? The fight scene in Romeo and Juliet.
You can even teach your boys how to insult someone, Shakespeare style. (be prepared for lots of giggles!)
Imagine yelling, "Thou art a beef-witted box of envy!" or telling your sister she is an "an untoward hag-seed". My kids have a lot of fun with these.
&
Our Favorite Resources for Teaching Shakespeare in Your Homeschool
When Rachel hits the 7th grade in a few years, she will be studying A Midsummer Night's Dream. She's already demonstrated her love for all things Shakespeare, so we'll explore some other works along the way.
If you're ready to learn more, take a look at our very favorite Shakespeare resources.
&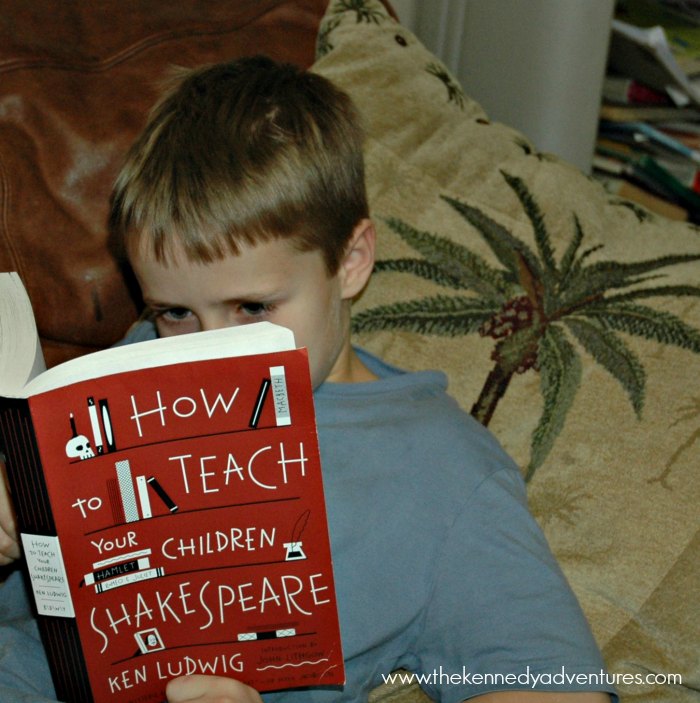 Ready to get started studying Shakespeare in your homeschool? Enter below for your chance to win your very own copy of The How to Teach Your Children Shakespeare Book
Chat with Ken on Twitter or find him on Facebook.
Have you studied Shakespeare in your homeschool? I'd love to hear about your experience