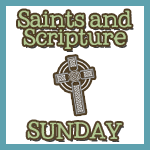 Hebrews 12:1
Therefore, since we have so great a cloud of witnesses surrounding us, let us also lay aside every encumbrance and the sin which so easily entangles us, and let us run with endurance the race that is set before us

My life has been filled with support this week from family and friends – not because I've been in a crisis, but simply being loved.
Everyday, my friend Mary Jo has been sending me inspirational messages on Twitter, designed to keep me running. Angie cheered me on all the way, too. My sweet friend Lisa from The Practicing Catholic even sent me a sweet message on Facebook. (and gave me the Scripture for today!) During the run, my husband encouraged me every step of the way.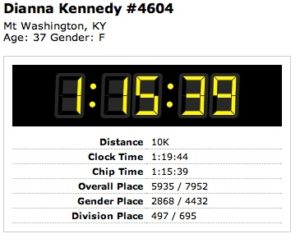 To help us recharge our batteries and celebrate our fifth anniversary, my best friend took on the daunting task of keeping the Kennedy Kaboodle. I've missed the children, but love being able to eat hot meals, actually have a conversation with Brett and not be constantly interrupted. We've been able to spend time together, and get some things taken care of on the never ending to do list, including working with our friends from 40 Days for Life.
On this first Sunday of Lent, things are right on track for me. How are things shaping up for you?
It's a busy, busy week for saints this week, too! In Louisville, our strong Irish community began the celebration of Saint Patrick one week before his feast day! We've had a Pre Parade Party, a Blessing of the Beer, and a giant parade on Saturday! Turnout was larger than normal, since we were blessed with warm weather that day. Many thanks to the Louisville Ancient Order of the Hibernians for their hard work and community service. We've already been working on St Patrick's Day crafts around here, and you can rest assured that the Kaboodle will be decked out in green come Thursday.
This week brings to mind another wonderful saint – Joseph. I will be working on (and finally finishing) a novena to him this week. There are no St Joseph Day parties, or wearing of the green, but this saint can be a model for fathers and workers everywhere.
Keep me up to date on how your Lent is progressing! Grab a button, and link up!