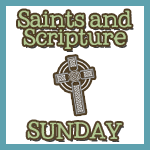 For us Catholic folks, Christmas celebrations continue, all the way up through early January. Today, we celebrate the Solemnity of Mary, on the eighth day of Christmas. It's an excellent way to start off the New Year, commemorating the motherhood of Mary and reflecting on her role.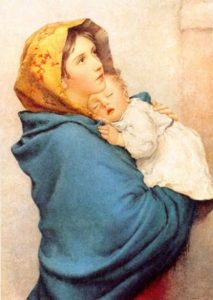 Luke 2:19
But Mary kept all these things, pondering them in her heart
Looking over the readings for today, this passage jumped out at me. I strive (and fail miserably most times) to be like Mary, and quiet contemplation is not one of my strong points.
This year, I'm going to TRY to be a little quieter — to appreciate my role as a mother, and be thankful for how very blessed I am.
Kick off the New Year, and join right in the fun! Put up a post highlighting your favorite saint or Scripture, and link up below.
Looking for more faith filled posts? I'll be linking up to Scripture and a Snapshot, Sunday Snippets, Spiritual Sundays, Hear it on Sunday, Word Filled Wednesdays, Walk With Him Wednesdays, iFellowship, Planting Mustard Seeds, Good Morning Girls, Inspiration Fridays and Journeys of Faith Fridays.