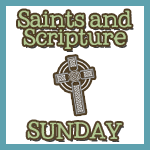 John 16:21
When a woman is in labor, she has pain, because her hour has come. But when her child is born, she no longer remembers the anguish because of the joy of bringing another human being into the world.
For Mother's Day, there couldn't be a more beautiful and appropriate verse. As the proud mother of four amazing children, the aches and pains of pregnancy and labor pale in comparision to the endless joy my children bring to me. I'm so very thankful to God for blessing me with my crew, and aspire to be the mother that He wishes.
On this Mother's Day, I'd like to remember the many women affected by the pain of infertility. I've linked up to St Gerard before, as the patron of pregnant women. Today, I'm spotlighting St Rita of Cascia, who is known as the patron saint of infertility. She's an Italian saint, born in the late 1300s. She begged her parents to let her enter a convent, but they arranged a marriage for her at age twelve. She suffered through an abusive marriage and the death of her children before entering the convent as a widow. I'm having trouble connecting why she is the patroness of infertility, but she's also a go to girl for impossible causes.
I found a prayer here, at Hannah's ministries, for those women dealing with this stressful situation.
Thank you, Lord, for all the blessings in my life. Help me to remember them as I face the challenges of infertility. I pray that I can surrender myself into your hands. Let me accept the reality of this situation and have the wisdom and courage to take action where I can. Strengthen my body, mind and spirit to endure the trials of infertility. Keep me ever mindful of the needs of others and grant us your peace. Amen.
Be sure and stop by Kaitlin's blog, and offer up some support. She's in the process of trying to start a family, using the NaPro method. She's also in the midst of the Dress Dare, which I'll talk about in weeks to come.
Join up and share with us on this wonderful Mother's Day!