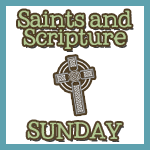 Mark 6:31
He said to them, "Come away to a deserted place all by yourselves and rest a while."
For many were coming and going, and they had no leisure even to eat.
Even as an extrovert, it should come as no surprise that I need time to myself.
When I happened upon this Scripture passage, I had to laugh, because it felt like it was written just for me.
In my house, with many small children, there's not a deserted spot to be seen. Many days, with our busy schedule, 3 o'clock comes and goes, and I've forgotten to eat.
Last week, I was starting to come unglued. I couldn't put my finger one what was wrong. It was a kind of undercurrent of grump. I was snippy and grumpy, but seemed to mired there, day after day.
Thankfully, my husband recognized what was wrong, even when I couldn't.
After everyone pitched in and helped me clean house, he took all the kids out for the day. While the baby napped, I was able to breathe.
Time alone pushes my reset button and offers me a fresh start that I desperately need.
Are you getting enough time to yourself?
Looking for more faith filled posts? You'll find me visiting Soli Deo Gloria,Jump Tandem,Scripture and a Snapshot, Sunday Snippets, Spiritual Sundays, Hear it on Sunday, Playdates with God,Titus 2sday,On Your Heart Tuesday,Domestically Divine Tuesdays,Gratituesday,Word Filled Wednesdays, Walk With Him Wednesdays, iFellowship, and Good Morning Girls.