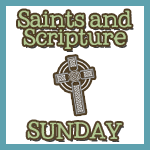 You have heard that it was said, "An eye for an eye, a tooth for a tooth."
But I say to you, offer no resistance to one who is evil. When someone strikes you on your right cheek, turn the other one to him as well.
I don't think I know anyone who can read this passage and say, "Yup, piece of cake. I can do that."
We're hard wired to protect ourselves, beginning when we are very small. Wanting to 'get even' is part of our human nature, and is amazingly difficult to overcome. (at least for myself) What do you do when someone cuts you off in traffic? Race down the road, to get in front of them again?
I'll be the first to admit that I have a great deal of difficulty dealing with past wrongs, anger and forgiveness. I don't pay it a lot of mind most days, but once in a while, this Achilles heel brings me down. My gut reaction is instant retaliation, but I'm trying my best to treat other with patience and understanding. Thanks to Catholic Healing Prayers, I have a new resource. I'll be using learning the Prayer of Inner Healing for my difficult times.
This week, I'll be looking toward some saints for models of patience and a forgiving spirit. I've highlighted Saint Monica before, as a prime example of persistence in prayer. Today, I'm also featuring Saint Francis De Sales, for his perennial meekness and sunny disposition.
A Frenchman, born into a wealthy family, he earned doctorates in law and theology in Italy before answering the call to the priesthood. Named provost in Geneva, Switzerland, his gentle demeanor and clear, concise teaching of our Catholic doctrines brought many into the Catholic Church. He even ministered to the deaf community using sign language. A prolific writer, he is known as the patron saint of authors, writers, journalists, as well as the deaf community.
I'll be thinking about one of his more famous quotes as I go about my quest to be a more patient person.
The virtue of patience is the one which most assures us of perfection.
Join in, and have a wonderful week!