Ready for a mom confession?
I'm not the best housekeeper.
With lots of little children underfoot, there are many days when my house looks like a disaster. After a few years of struggling to keep my head above water with cleaning, I've finally gotten to a point that my house isn't perfect, but it's reasonably clean enough.
Here's how we juggle five small children, homeschooling and working outside the home while keeping life's messes under control.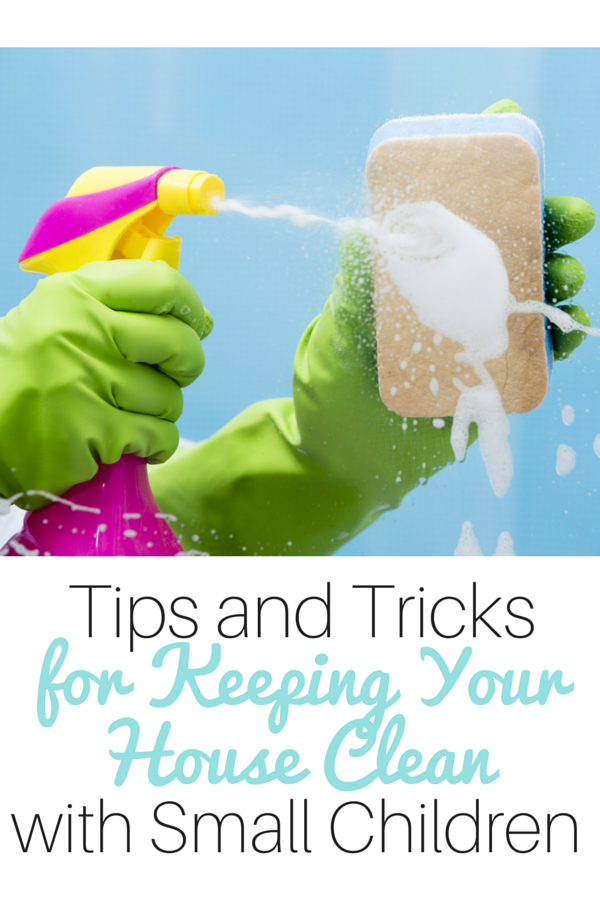 Ditch the Unrealistic Expectations
Let's face it. I'm NOT going to have House Beautiful for at least a few years. Toddlers and preschoolers can wreck a room in moments.
Instead of wishing for different circumstances, I try to minimize the potential messes and damages as much as possible. You won't find fine art and white carpet in my house, but durable kid friendly furniture and decor that stands up to the abuse of many small children.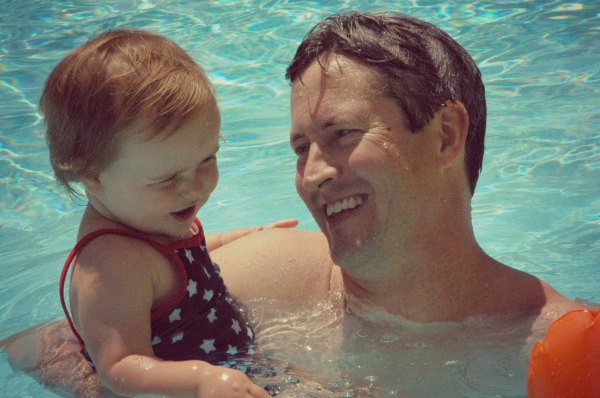 Divide and Conquer with Your Spouse
It takes a team effort to run a home. No matter who's working or who's at home with the children, you and your spouse are busy.
You both have strengths and weakness — make a list of all the tasks that need to be done and devise a plan to get everything done.
Your roles will look different than other families, but the end result is working together.
Have a Teaching Spirit
It's easy to send your husband to the park with the children while you clean, but that could breed resentment. Take the time to teach them how to do chores.
They're not going to be perfect, but with time, they'll learn all of the tasks they need to run their own home one day.
Praise Your Children For Their Help
I KNOW it takes longer to do chores with children underfoot. I've been there, done that a million times.
Thanking them when they help is essential.
When my kids drag the laundry hamper to the kitchen, I tell them how strong they are. While they help me load the clothes into the washer, I explain to them that they are being SUCH a help to me.
Kindness goes a long way with children. Try your best to temper your words and spirit.
Less Stuff Means Less Cleaning
Take some time while you're cleaning to throw things out — broken toys go in the trash, outgrown clothes go in the Goodwill pile or sorted to be sold.
*Mom Tip* – keep a box by the front door for donations. When it's full, load it in your car and take it away.
Find Some Friends
Stressed about having the children home all the time, and not being able to clean? Chat with one of your friends about trading time.
Work it out where your friend takes your children, while you tackle the housework that's piling up on you. Then reciprocate and take her children so she can get caught up at her house.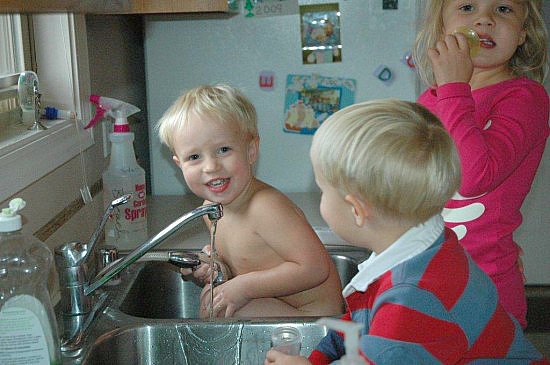 Make it a Game
We set the timer in my house, and see who can pick up the most stuff before the bell rings.
I like doing this especially before bed, since it means I wake up to a mostly clean living room. Ta da!
Another fun tip? We put on 'cleaning music' – fun songs with a catchy beat to keep us moving and grooving while we work.
Live By Example
If my house is a mess, I can't think straight enough to homeschool (or find everything I need). Our rule is no school before chores, which also means my kids can't go outside to play if everything is in a shambles.
We get our work done FIRST, then we have fun.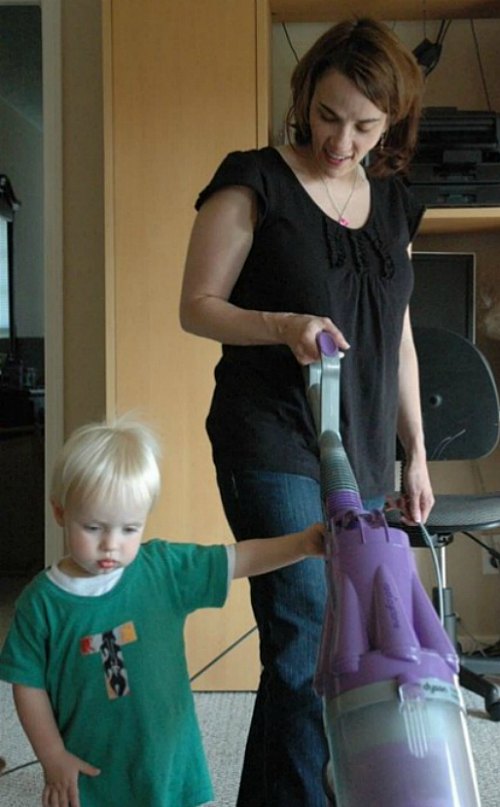 Involve Your Children in Age Appropriate Chores
In our home, everyone is expected to pitch in and help keep the house picked up. Even my toddler and preschooler are capable of helping to put dirty clothes in the laundry baskets or helping to run the vaccuum.
If the idea of getting your kids involved with the cleaning is new to you, check out this list of age specific chores. Pick a few from the list and get started.
Having children involved helps them with taking ownership of their home, encourages self worth with a job well done, and helps lift the burden on you.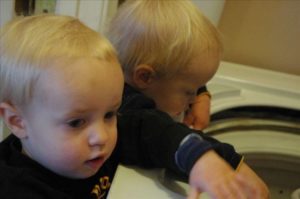 Don't Be Afraid to Hire Some Help
As a working mom who homeschools and has her own business, I've been known to burn the candle at both ends. Hiring a housekeeper allows me to get caught up on projects that I've left on the back burner (like organizing the pantry!).
I'd love to hear from you — How do you keep your house clean with small children underfoot?