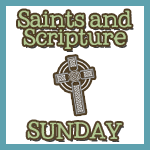 Ephesians 6:10-18
Finally, be strong in the Lord and in the strength of his power. Put on the whole armor of God, so that you will be able to stand against the wiles of the devil. For our struggles are not against enemies of blood and flesh, but against the rulers, against the authorities, against the cosmic powers of this present darkness, against the spiritual forces of evil in the heavenly places. Therefore, take up the whole armor of God, so that you will be able to withstand on that evil day, and having done everything to stand firm. Stand therefore, and fasten the belt of truth around your waist, and put on the breastplate of righteousness. As shoes for your feet put on whatever will make you ready to proclaim the gospel of peace. With all of these, take the shield of faith, with which you will be able to quench all the flaming arrows of the evil one. Take the helmet of salvation, and the sword of the Spirit, which is the word of God.
I'm always amazed when I open my Bible to look at something, and the words are so very powerful, they almost leap off the page.
Christians have been persecuted for CENTURIES, and this passage offers up hope, courage, and a game plan.
We're encouraged to stay strong, prepared for battle and ready to fight for our beliefs, armed with truth and faith in a world that seems so very dim.
These words give me strength and hope, knowing that I'm not the only Christian who has felt alone in a battle of evil. Like my friend Leanne, I'm proud of my beliefs, and while some may be amazed at changes in my life, I'm not. I've just dusted off the dirt, and am trying daily to walk the path God has intended for me.
Amid the distractions of the world, I'm trying to stay focused and concentrate on what's truly important. My role is to follow God's vocation for me as a wife and mother, to pass on our values and faith to my children, and to help others in need.
Looking for more faith filled posts? You'll find me visiting Soli Deo Gloria,Jump Tandem,Scripture and a Snapshot, Sunday Snippets, Spiritual Sundays, Hear it on Sunday, Playdates with God,Titus 2sday,On Your Heart Tuesday,Domestically Divine Tuesdays,Gratituesday,Word Filled Wednesdays, Walk With Him Wednesdays, iFellowship, and Good Morning Girls.