Today, we're talking about Thiel College and how it's super friendly to homeschoolers. With over 60 programs, it might be the right fit for your homeschooled high schooler!
It seems like I JUST started this homeschool marathon with Rachel a few days ago with Kindergarten. I've blinked, and suddenly, we're getting college flyers in the mailbox.
Since she's a sophomore, Rachel and I have started to make a list of potential schools to start exploring further. She doesn't have any experience with college or university life, so I'm trying to guide her toward a school that would be a good fit.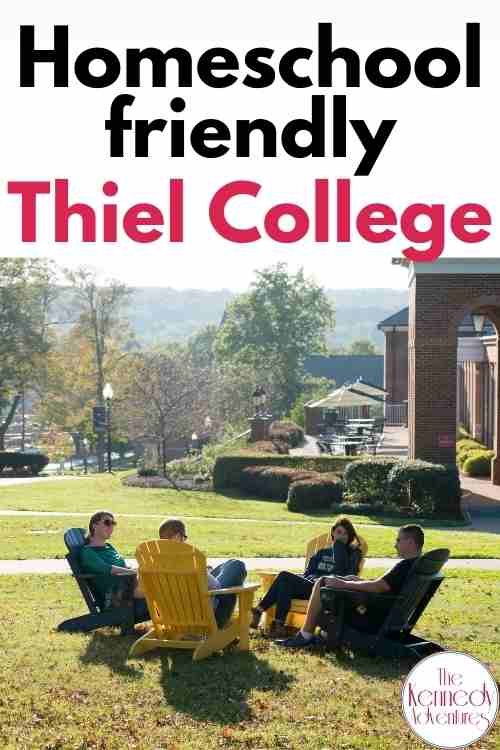 As a mom, I have some ideas of schools that would work well for our family. Given that Rachel's always been homeschooled, I'm leaning more toward smaller colleges. (I'm also a wee bit biased since I went to a small private college.) I want her far enough away from home to spread her wings, but not across the country. The college has to be affordable and offer programs in which she might be interested. (as well as alternatives in the event she changes her major)
Disclaimer: I was compensated for my time reviewing this college. As always, all opinions are my very own. Your mileage may vary.
While searching for colleges, I ran across Thiel College, nestled in Greenville, Pennslyvania.
Even though it's in the countryside, it's only a 90-minute drive to Pittsburgh or Cleveland.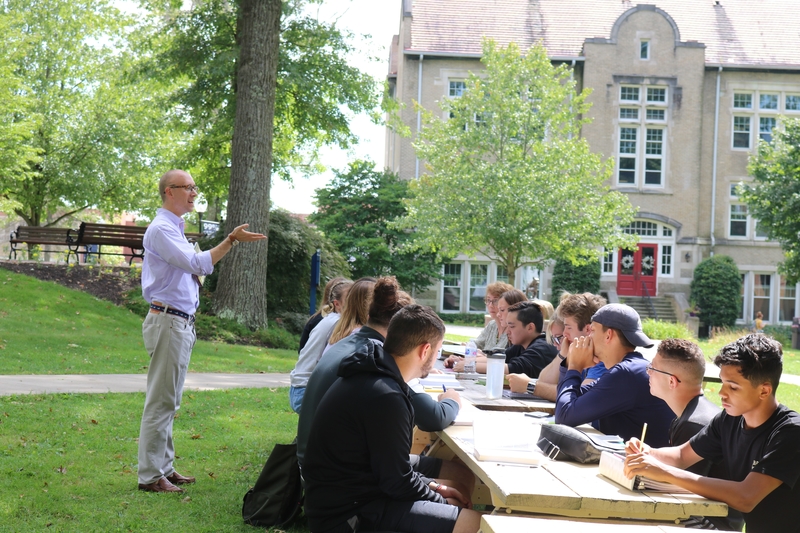 The small classes appealed to me, with an 11:1 student-faculty ratio. Over 70% of classes have less than 20 students, which is very similar to our cottage school classroom experience. There are over 60 areas of studies, as well as over 100 clubs, teams, and organizations for students. (There's even an equestrian club, perfect for my Rachel)
For folks close to Mercer County, Pennsylvania, there are options for dual enrollment on campus. That's an excellent opportunity for your student to dip their toe into college classes and environments.
Parents like me who are concerned about costs will be happy to know that Thiel awarded more than $14.2 million in undergraduate grants and scholarships last year.
How Thiel College Appeals to Homeschool Families
More points I noticed as I researched Thiel:
– 95% of their students live right on campus
– 100% of students complete one or more internships or a practicum prior to graduating
– Graduates often go on to study at top institutions like Duke, Harvard, Oxford, University of Chicago, Vanderbilt, Yale
– Thiel features a robust enrichment program that encourages cultural and educational excursions to major metropolitan areas, as well as domestic and study abroad opportunities
– Thiel College was ranked as the top school in western Pennsylvania overall and recognized for the social mobility of its graduates among the Regional Colleges in the North in the 37th edition of U.S. News and World Report Best Colleges rankings
– Thiel consistently appears on the Forbes list of Grateful Grad Colleges: The Top 200 Show-Me-The-Money Schools
– It's about 7 hours from our home

More Thiel College Homeschool Benefits
NEW at Thiel College is an accelerated Bachelor's/Master's pathway program. You'll pursue your Bachelor's Degree at Thiel, then go on to earn your Master's in as little as 11 months.
-Communication Sciences and Disorders/Speech-language Pathology
-Business and Accounting/MBA
-All other majors/Communication and Leadership
-Physician Assistant/Physician Assistant
-Psychology/Clinical Mental Health Counseling
This accelerated path is perfect for folks who want to get a jump start on advanced degrees.
What about you? Have you started researching colleges for your homeschooled high schooler? I'd love to hear about it in the comments.