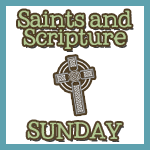 Romans 12:13
Share with the Lord's people who are in need. Practice hospitality.
Last week, while traveling home, my family and I were approached three separate times by a man asking for money. The first time, I brushed it off. The second time, my husband handled it. The third time was NOT the charm for me. I was rude incredibly hateful to the man, telling him to get lost, with words I don't want my children repeating.
After my tirade, I felt bad. I KNOW we are called to help others in need, but there are causes that come easier to me than others. I'm all about giving my money and time to my church, children's ministries, and the pro-life movement. On the other hand, I'm especially challenged to feel compassion for people affected by drugs and alcohol.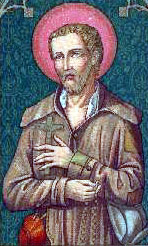 Saint Benedict Joseph Labre is considered to be the patron saint of the homeless, beggars, and those affected by mental illness. He was born to a prosperous family in France during the 1700s, and was educated by his uncle, who was a parish priest. Following his uncle's death, he tried to join three different religious orders, but was rejected by all. He spent his years in Europe, in complete poverty, frequenting the perpetual adoration chapels. He healed other beggars, and died in a hospice at age 35. A prayer to him can be found here.
What about you? Are you like me, feeling challenged to be compassionate? Or do you find it easy to help those in need, no matter the circumstances?
Link up and join in today!