Luke 2:4-7
So Joseph also went up from the town of Nazareth in Galilee to Judea, to Bethlehem the town of David, because he belonged to the house and line of David.
He went there to register with Mary, who was pledged to be married to him and was expecting a child.
While they were there, the time came for the baby to be born, and she gave birth to her firstborn, a son. She wrapped him in cloths and placed him in a manger, because there was no room for them in the inn.
I've made it no secret that Mary is my go to girl. In my life, she is who I run to with struggles, as she is my ultimate cheerleader. With her gentle demeanor (so opposite my own), she reminds me to "Do whatever He tells you".
I find myself thinking of her a lot this week, in these days that lead up to Christmas. For mothers, remember how you felt in the last days of your pregnancy? I certainly would have been a major pain in the rump for Joseph, riding on a donkey to Bethlehem. Put me in a stable to give birth? Again, I certainly wouldn't have handled it with style or grace. She had no epidural, no doula, no supportive girlfriends or family members …. instead, just she and Joseph welcomed baby Jesus into the world.
This week, in our home, we're trying our best to remember the 'reason for the season'. In the midst of Santa Claus and ice storms, I'm learning to get down on their level ……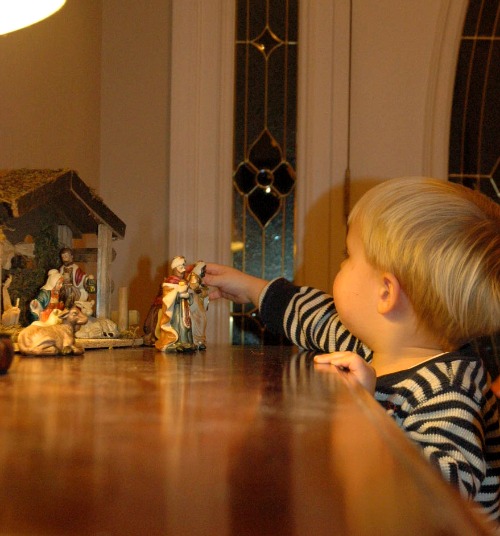 in order to pass on the faith that is so very much a part of who I am.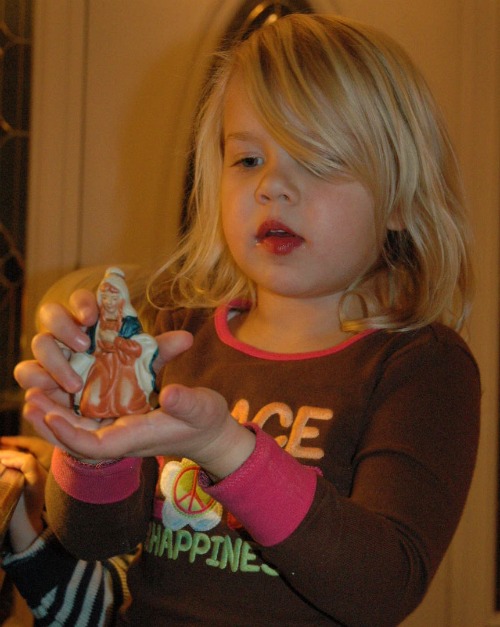 Join up, and let me know how things are shaping up for you this week. I'll be sharing pictures of our felt board Nativity set and I'm hoping to watch The Nativity Story with my family as well.
Have a happy, safe, and blessed Christmas, everyone!