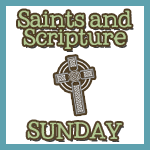 Luke 4:40
As the sun was setting, all those who had any who were sick with various kinds of diseases brought them to him; and he laid his hands on each of them and cured them.

I made a mistake, and forgot one of the cardinal rules of traveling – "If you have Zofran, take it with you." On the way to Florida, poor Thomas threw up three times. Of course, Saturday afternoon, Brett became sick, and by Saturday evening, Rachel joined the vomit train.Today, I'm waiting for Adam to get sick, or myself. Not the way I wanted to begin vacation with my family. I was looking forward to relaxing – instead, I'm doing four loads of laundry. I'm trying to have a positive outlook, but it's a little hard on minimal sleep.
Link up and join in, to let me know how your week is shaping up.