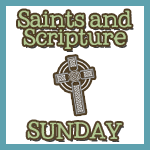 1 Corinthians 12:27-31
Now you are Christ's body, and individually parts of it.
Some people God has designated in the church to be, first, apostles; second, prophets; third, teachers; then, mighty deeds; then, gifts of healing, assistance, administration, and varieties of tongues.Are all apostles? Are all prophets? Are all teachers? Do all work mighty deeds? Do all have gifts of healing? Do all speak in tongues? Do all interpret?
Strive eagerly for the greatest spiritual gifts.
I've been doing a lot of thinking about gifts as of late, so today's Gospel reading hit home for me.
Not gifts, like presents, but spiritual gifts, on loan to us from God for the benefit of His Church.
In Paul's letter to the Corinthians today, it's difficult to sit and listen without a little jealousy.
I fight the green eyed monster as I think about my friends who are blessed with various spiritual gifts. It's hard for me not to be envious of some of the gals that I know.
My friend Angie? Her mighty deed is grace and patience while dealing with chronic pain. My friend Lisa is an amazing teacher and public speaker, while my pal Leanne rocks at encouraging other mothers in many walks of life. My beautiful friend Colleen is a wonderful writer and I hope to meet Kathyrn one day, although I'm terribly envious of how she runs her beautiful household like a well oiled machine.
As a bona fide Type A kind of gal, I often have trouble with discernment. Namely, I have trouble figuring out just where God wants to me to be.
What gifts do I have? How am I supposed to use these gifts?
Part of this restlessness comes in part from me growing older. I'm staring down forty in a few short weeks, so I'm doing a mental inventory of my life.
Wonderful husband? Check.
Amazing children? Check.
A good job, health for all my family, with a roof over our heads? Check.
A strong spiritual life? Hmm. Needs work.
As we begin to prepare for Lent, I'm going to keep striving toward some peace, quiet, and solitude, so that I can HEAR what God has to tell me.
Until I figure it all out, I'll be concentrating on teaching my children. Inspired by this St Brigid's post on Catholic Mothers Online, my friend Lindsey and I are getting together our clans this week. (Be jealous. We'll have 9 kids in her house, y'all. All ages 6 and under!)
In many areas, it's Catholic Schools week, so send up some thankful prayers for your principals, teachers and homeschooling mommas. St Thomas Aquinas is the patron saint of Catholic schools, in case you were wondering. We also celebrate the feast day of St. John Bosco this week as well.
Viewing this in a reader? Click over to join in with Saints and Scripture Sunday!