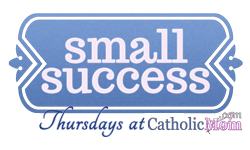 Success #1: Over the past few weeks, I've been getting more 'domesticated'. I made some homemade laundry detergent, as well as some homemade baby wipes. Hooray for less trips to the store, and saving money! I'm thinking about making wipes for myself to take to the hospital when the baby is born.
Success #2: Looking over my homeschool schedule/curriculum for Rachel, I'm not as far off from being done as I thought we were. We might still be able to finish before August.
Success #3: Over the weekend, I worked on some writing, and scheduled posts for my maternity leave. I'm looking forward to sharing some great ideas with you from my good friend Angie at The Jammie Girl while I relax with a sweet new baby!
Hop on over to Catholic Mom and share your small successes, too. Together, we're celebrating!