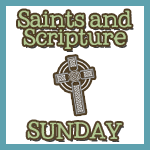 Earlier in July, my husband and I managed to get a weekend away thanks to my best friend Laura. We were headed up to Cincinatti, to hear Father John Corapi speak. I had bought these tickets as a gift for Brett, but blessed myself as well.
The event was held at Xavier University, an easy drive from our home in Louisville. I'm hoping that the Kennedy Kaboodle would like being Musketeers, since I loved the campus!
For those unfamiliar with Father Corapi, introducing him as the Catholic version of Chuck Norris isn't too far from the mark. This gun toting, Harley Davidson riding priest brings his fiery style all over the country, as well as via the Internet as an apostolic preacher.
His topic for the day in Cincy was the social teachings of our Catholic Church. Over the course of four hour-long talks, he boiled the Catechism teachings down into seven standards that should stand as our basic moral framework. During the conference, in Bloggy Boot Camp style, I Tweeted out snippets of what I was hearing, but had a hard time balancing taking notes with sending Tweets.
He began with one of my favorite scriptures, and I had to smile, since I had highlighted it here on Saints and Scripture Sunday in the past.
Matthew 25:34-40
Then the king will say to those at his right hand, "Come, you that are blessed by my Father, inherit the kingdom prepared for you from the foundation of the world; for I was hungry and you gave me food, I was thirsty and you gave me something to drink, I was a stranger and you welcomed me, I was naked and you gave me clothing, I was sick and you took care of me, I was in prison and you visited me." Then the righteous will answer, "Lord, when was it that we saw you hungry and gave you food, or thirsty and gave you something to drink? And when was it that we saw you a stranger and welcomed you, or naked and gave you clothing? And when was it that we saw you sick or in prison and visited you? And the king will answer them, "Truly, I tell you, just as you did it to one of the least of these who are members of my family, you did it to me."
The primary and most important principle of our social teachings is the utmost respect for human life, from conception until natural death. This means everyone, including the unborn, the disabled, and the elderly. I was reminded of these comments this week as I read stories about Melanie Pritchard's fight for life, Jeff Daly's search for his institutionialized sister, Molly, and from my own Deacon Gerry's blog, the moving story of Father Hipsley, suffering from Alzheimer's. Father Corapi reminded us that we are all created in God's divine image, and that seeking to see God in others will help us to follow the teachings of our Church.
I'll be sharing more of what we learned over the next few weeks. Join in and share your favorite Saints and Scripture, sign in the Linky tools below, and grab the button. Have a marvelous week, everybody!