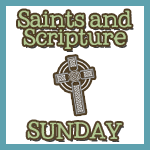 Mark 1:15
"This is the time of fulfillment.
The kingdom of God is at hand.
Repent, and believe in the gospel."
As we approached Lent, it seemed like I had obstacles in the way of my goals. Brett and I intended to head to Mass early on Ash Wednesday, to beat the crowds. It worked out well for us, schedule wise, since we could then drop the boys off at school and head home.
The morning did not go as smoothly as I had hoped – despite me getting up early. I fought my tendency to yell and scream, and we finally got the children rustled up and out the door.
There are days when I'd love to take a picture at Mass, so everyone can see how crazy my children can be. Brett compares it to going to the dentist and having teeth pulled.
I gave myself another patience trial on Friday, when we packed up the whole Kaboodle, and headed out to church again. We managed to make it through Vespers (a totally new experience for me) and Stations of the Cross without me losing all of my hair.
Taking all of my littles to church is certainly a challenge for me. I'm trying to stay focused and have reasonable expectations — even though it's a little bit out of my comfort zone!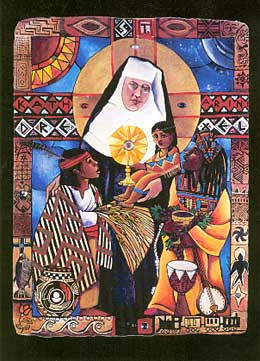 Want a saint who exemplifies taking those big steps out of your comfort zone? This week marks the feast day (March 3) of Saint Katherine Drexel.
She is one of only two American born saints, who came from a millionaire banking family. Her family placed a high emphasis on travel, faith formation and a compassion for the poor and needy.
She became a philanthropist, paying particular attention to the plight of Native Americans and African-Americans. After a meeting with Pope Leo XII, she became a missionary, giving more than twenty million dollars to build a religious order committed to continuing her ministry.
When I'm feeling a bit sorry for myself, and think, "What good am I? How can one person help?", I'll be reminded of her amazing story, and the effects that live on today.
Let me know how your Lent is shaping up! Are you keeping your commitments?
Looking for more faith filled posts? You'll find me visiting Soli Deo Gloria,Sabbath Moments,Scripture and a Snapshot, Sunday Snippets, Spiritual Sundays, Hear it on Sunday, Playdates with God,Titus 2sday,On Your Heart Tuesday,Domestically Divine Tuesdays,Gratituesday,Word Filled Wednesdays, Walk With Him Wednesdays, iFellowship, Planting Mustard Seeds, Good Morning Girls,and Journeys of Faith Fridays.