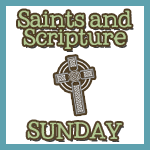 Psalm 139:13-14
You formed me my inmost being;
you knit me in my mother's womb. I praise you, so wonderfully you made me, wonderful are your works!
Being pregnant with Baby 5.0, the story of St Gianna is one that I hold very dear. Gianna was the tenth of thirteen children, and as a working mother, practiced pediatrics in her Italian clinic.
When she was pregnant with her fourth child, it was discovered that she had a uterine fibroma. Her doctor advised her to have an abortion, which Gianna adamantly refused. She went on to carry her daughter to full term, instructing her physicians to save the life of her unborn child. A few days after her daughter Gianna Emanuela Molla was born, St Gianna died at age 39, leaving behind an amazing legacy for all mothers.
Her daughter Gianna followed in her footsteps and became a physician. Her husband and her three surviving children were able to be present during her canonization. She is the inspiration behind St Gianna's Physician's Guild, an organization of Catholic physicians and health care professionals dedicated to upholding Catholic principles.
Contemplating her life reminds me to cherish my own pregnancies, my children, my husband, as well as my vocation as a mother and professional. She is a spiritual go to girl for pregnant mothers such as myself, as well as those dealing with the cross of infertility.
"Be living witnesses of the greatness and beauty
of Christianity." – Gianna Beretta Molla (1922-1962)
Looking for more faith filled posts? You'll find me visiting Soli Deo Gloria,Jump Tandem,Scripture and a Snapshot, Sunday Snippets, Spiritual Sundays, Hear it on Sunday, Playdates with God,Titus 2sday,On Your Heart Tuesday,Domestically Divine Tuesdays,Gratituesday,Word Filled Wednesdays, Walk With Him Wednesdays, iFellowship, and Good Morning Girls.