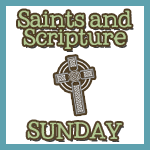 1 Timothy 4:14
Do not neglect the gift you have …

This weekend, I'm connecting with other Christian homeschool bloggers at the 2:1 Conference. Common themes among all the speakers this weekend have included using your writing to glorify God, shunning comparisons to others, and seeking God's will for your life.
Imagine my surprise when I opened A Book of Catholic Saints for Mothers, and saw this heading under St Catherine of Bologna:
Using our creative gifts to glorify God
I had to laugh, since God has to speak loud and clear to get me to listen.
St Catherine of Bologna(1413-1463) worked in the French court before entering the convent of the Poor Clares. She was a talented artist, musician, dancer, singer, and writer, penning The Seven Spiritual Weapons. Blessed with a multitude of talent, she remained humble, striving to serve others in God's will. Considered to be the patron saint of artists, we celebrate her feast day on March 9th.
Being around these women has inspired me, yet reminded me of my focus in life. This weekend will challenge me to work on my spiritual life, refocus my priorities back to my husband and family, and continue to strive to use my creative talent (writing) as God intended.
How are you using your gifts?
Looking for more faith filled posts? You'll find me visiting Soli Deo Gloria,Jump Tandem,Scripture and a Snapshot, Sunday Snippets, Spiritual Sundays, Hear it on Sunday, Playdates with God,Titus 2sday,On Your Heart Tuesday,Domestically Divine Tuesdays,Gratituesday,Word Filled Wednesdays, Walk With Him Wednesdays, iFellowship, and Good Morning Girls.