You knew it was coming …… on Valentine's Day, how could I NOT discuss anything else??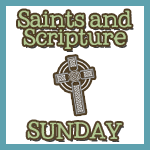 Matthew 19:4 – 6
He answered and said, "Have you not read that the one who made them at the beginning 'made them male and female', and said, "For this reason a man shall leave his father and mother and be joined to his wife, and the two shall become one flesh"? So they are no longer two, but one flesh. Therefore what God has joined together, let no man separate."
Many times, you'll see this scripture passage discussed as it pertains to the Church's teaching regarding divorce. For myself, I tend to look at it from another angle.
See the line that talks about a man leaving his father and mother? In my mind, this speaks of creating a marriage, rather than ending one. Before a man is married, his family of origin should be the priority — in other words, his parents. This line makes me think of my own husband. When we met, one of the things I admired about him was his deep love and adoration for his parents, and the time he spent with them.
After we married, and we were blessed with the Kennedy Kaboodle, priorities began to change. Having 3 children in a little over 2 years is a huge time commitment for these weary parents. — unfortunately, our visits to Brett's parents went from every weekend, to less and less often. Brett still talks to his mother 3 or 4 times a week, but bringing all 3 of our small children seems like a more of a strain (to me) on Grandma Kennedy than a blessing. Add to that the task of packing up the yahoos and all of their things, and it's no small wonder we don't head to Grandma's more often.
It doesn't mean that we love his parents any less, but right now, our priority is creating and nurturing our own young nuclear family. I've written many times about how much I admire Brett's parents and family, and use their marriage as a yardstick against which to measure my own. I look to Pat and Betty as an amazing couple, and wonderful parents. My hope is that one day, my own children will say that about myself and Brett.
Today's Saint?? I decided to highlight St. Valentine, not knowing what I was getting myself into. Apparently, there are several Saints with the name of Valentine, with varying stories. My favorite? He was a Roman priest martyred during the reign of Claudis II. Arrested for marrying Christian couples and aiding Christians persecuted under Roman rule; he attempted to convert the Emperor which resulted in his death.
Join in, and link up with your favorite Saints and Scripture!