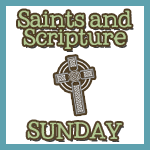 Genesis 3:19
By the sweat of your face
You will eat bread,
Till you return to the ground,
Because from it you were taken;
For you are dust,
And to dust you shall return.

Ash Wednesday is knocking at the door, and I've been doing a lot of thinking about this year's Lenten season.
For Catholics, the Lenten season reminds us of our baptismal commitment. On Ash Wednesday, as we are marked with ashes, the priest or deacon reminds us of our mortality and dependence on God's mercy.
Our three pillars of Lenten observance are prayer, fasting, and almsgiving. For this Lent, I'm going to focus my efforts based on these tenets.
One of our most beautiful traditions is the Stations of the Cross. These series of prayers, marking the Passion of Our Lord can be said any time of the year, but people feel especially drawn to them during Lent.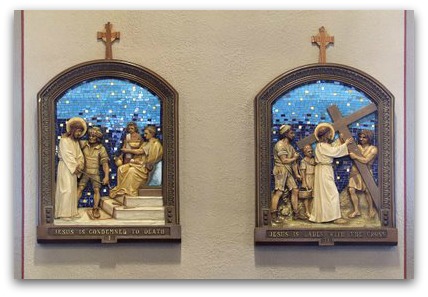 This coming Friday, I'll be taking the Kennedy Kaboodle for Stations of the Cross. Rachel's American Heritage Girls troop is participating in a service project and providing a pasta dinner for our sponsoring parish. I may not be able to make it through all 14 Stations, but I plan to try.
During the Lenten season, we participate in fasting, as well as abstinence. On Ash Wednesday and Good Friday, our fast consists of one FULL meal, avoiding meat. On all Fridays during Lent, we abstain from eating meat.
As part of our abstinence this season, many people choose to 'give something up' during Lent. Giving something up requires a sacrifice, and reminds us of God's sacrifices for us.
I always try to curb my potty mouth during Lent, and usually fail miserably. It's not ladylike, and it's certainly not a habit I want my children picking up. This year, I'm trying to tackle that demon again. I'm even going to tie it into a 'cuss jar' – where I drop money for my transgressions.
With almsgiving, we are reminded of our calling to help those less fortunate than ourselves. I recently took over a parish council position as Social Ministry Chairperson at my church, and I'm amazed at all the different ways we can assist others.
Since we're busy saving up money for Baby #5 and paying off bills, the majority of my almsgiving will be with the gift of time.
By making my list public and having you follow along, I'm making myself more accountable this Lenten season.
Things I want to accomplish:
1. Less potty mouth – and for cursing, money goes in the cuss jar. At the end of Lent, this money goes into the collection plate at church. (Abstinence/almsgiving)
2. Spend time in Adoration – one hour per week during Lent. (prayer)
3. Delve a little deeper into A Book of Saints for Catholic Moms – I'd like to pick a few saints and investigate them more. (prayer)
4. Participate in 40 Days for Life again this year. (prayer)
5. Donate 10% of my earnings from this spring's children's consignment sales to my church. (almsgiving)
What about you? What are you planning to do this Lenten season to grow in your faith?
Looking for more faith filled link ups? I'll be sharing my stories at:Scripture and a Snapshot, Sunday Snippets, Spiritual Sundays, Hear it on Sunday, Playdates with God,Titus 2sday,On Your Heart Tuesday,Domestically Divine Tuesdays,Gratituesday,Word Filled Wednesdays, Walk With Him Wednesdays, iFellowship, Planting Mustard Seeds, Good Morning Girls,and Journeys of Faith Fridays.