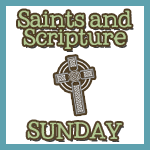 Luke 1:37
For nothing will be impossible for God.
In our Catholic Church, it is traditional to choose a saint's name at Confirmation. My children won't have to look very far.(I have Abigail, Patrick, Thomas, and Elizabeth in my children's names)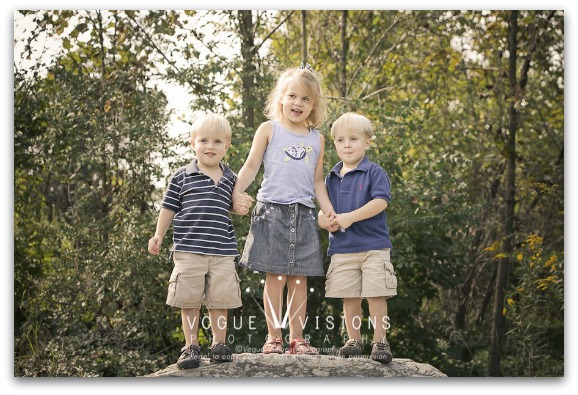 For myself, I had to choose a brand new name. At the time I was confirmed, I was attending a parish with a beautiful Lourdes grotto, so Saint Bernadette seemed the obvious choice.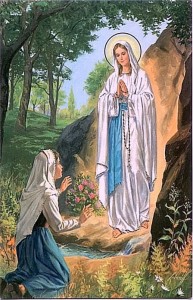 The story of Our Lady of Lourdes is beautiful. Bernadette Soubirous was the oldest daughter in a very poor family in France. Over a six month period in 1858, Our Lady appeared to Bernadette, despite the fact that the young girl was poor and uneducated.
She was met with great hostility upon word of the visitations, by church officials and even her own family members. The apparitions were approved by the Church in 1862.
Bernadette often remarked that Mary appeared to her in spite of her shortcomings. She went on to become a member of the Sisters of Charity, never seeking the spotlight.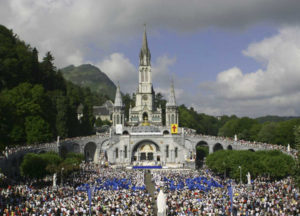 Today, Lourdes is visited by millions of pilgrims seeking healing in the spring waters there. It's on my bucket list of places to visit, right along with Vatican City.
Looking for ways to celebrate the feast day of Our Lady of Lourdes with your family? Be sure and check out these creative ideas.
Lacy from Catholic Icing has a blue grotto spring cups craft, while Melissa at St Brigid's Academy has a grotto … made out of Fruity Pebbles! If you're craft challenged like me, stick to a Our Lady of Lourdes coloring page.
There are movies that you can share with your family, such as Song of Bernadette, or St Bernadette of Lourdes. We'll be checking out St Bernadette, since the cast is made up of homeschooled children.
What about you? Do you have plans to celebrate Our Lady of Lourdes, or St Valentine's Day? Be sure and leave your thoughts in the comment box!
Looking for more faith filled link ups? I'll be sharing my stories at:Scripture and a Snapshot, Sunday Snippets, Spiritual Sundays, Hear it on Sunday, Playdates with God,Titus 2sday,On Your Heart Tuesday,Domestically Divine Tuesdays,Gratituesday,Word Filled Wednesdays, Walk With Him Wednesdays, iFellowship, Planting Mustard Seeds, Good Morning Girls,and Journeys of Faith Fridays.