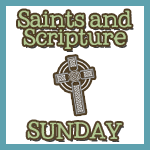 And this is love, that we walk according to his commandments; this is the commandment, just as you have heard from the beginning, so that you should walk in it.
2 John 1:6

Living your faith in your day to day life can be a challenge.
It's easy to head to Mass on Sunday and be pious, but what about at work? With your children?
What about in the way you VOTE?
As Catholics, we have a set of social teachings that have been a part of our Church for centuries. As Christians, we have a set of rules handed down from thousands of years ago. Our faith offers guidance for us, a light for a path that is sometimes confusing and lonely.
It's a unsettling time in our society for me today. Traditional marriage is assaulted, tiny babies are killed in a mother's womb, and the race is on for human cloning. Add the trampling of religious freedoms as we know it, and it's enough to make me want to cover my head in the sand.
As Catholics, we have five non-negotiable issues that are intrinsically evil and must never be promoted by law. Before you head into the voting booth, it's vital that you take a look, then look at the candidates you plan to support. Tim Staples, former evangelical pastor, has a wonderful podcast that helps to lay it all out.
Want more resources? Don't miss this video from Bishop Paprocki.
Exercise your right to vote, but don't forget to pray about it before you head into the booth.
A vote for a candidate who promotes actions or behaviors that are intrinsically evil and gravely sinful makes you morally complicit and places the eternal salvation of your own soul in serious jeopardy.
Bishop Thomas Paprocki