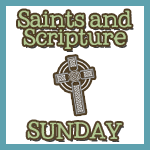 Genesis 49:9
Joseph said to his father, "These are my sons, whom God has given me here." And he said, "Bring them to me, please, that I may bless them"
As crazy and chaotic as our life at home is, I am undeniably blessed with my two handsome sons. Now that my boys are getting older, I'm been thinking about the differences between raising girls versus boys. They each bring their own set of unique challenges. With my rambunctious boys, I'm concerned about channeling their boundless energy into productive outlets, protecting them from constant bodily harm, and guiding them to be amazing husbands and fathers.
I'm incredibly appreciative of Brett's mother, since I give her credit for how respectful Brett is of me, and all women. I want my boys to be JUST like him when they grow older.
My boys may not be in the choir, when they learn to sing, but
Saint Dominic Savio
can be an example of purity for them. I had to laugh when I read the story about his mother losing him when he was four — but I'm sure I won't find my boys in the corner, praying! He was an Italian saint,
a student of John Bosco,
but died at the age of fifteen while in training for the priesthood. He is known as the patron of choir boys, and those falsely accused.
Join in and link up your stories this week. Thanks for stopping by!