Want to do a family Rosary, but are nervous about letting your toddler or preschooler around an heirloom rosary? We have these printable rosary cards that work perfectly!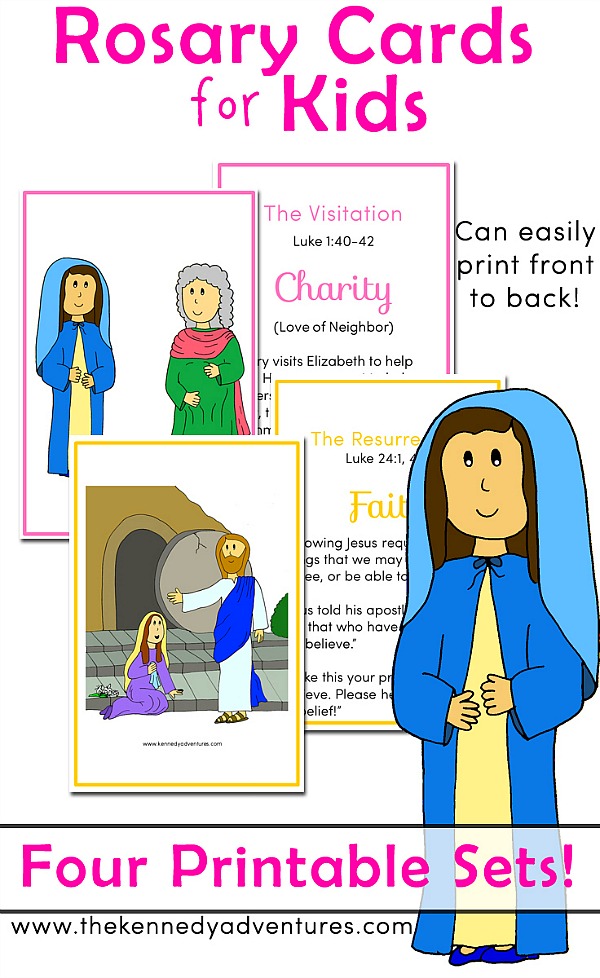 With the family Rosary prayer time, we follow some pretty simple rules. I'm ok with little ones who wiggle and move around, or play with LEGOs and play dough to keep their hands busy. As long as they're reasonably quiet, they get to stay and help lead prayers.
To help them follow along and learn the virtues of the Rosary, I started brainstorming. I wanted something visual to go along with the prayers, to help form a picture in our minds.
I created these printable Rosary cards – perfect for using during family Rosary time or packing into a bag to keep babies and toddlers occupied during Mass.
You'll find cards for all 20 Mysteries here, in one easy download. They're designed to print front to back, with a Mystery on one side, along with a child friendly reflection and Bible verses on the back. Artwork provided by our friends at Drawn 2B Creative.
Mysteries Included
The Joyful Mysteries
The Annunciation
The Visitation
The Nativity
The Presentation of Our Lord
The Finding of Lord Jesus in the Temple
The Luminous Mysteries
The Baptism in the Jordan
The Wedding at Cana
Proclaiming the Kingdom
The Transfiguration
Institution of the Eucharist
The Sorrowful Mysteries
The Agony in the Garden
The Scourging at the Pillar
The Crowning of Thorns
The Carrying of the Cross
The Crucifixion
The Glorious Mysteries
The Resurrection
The Ascension into Heaven
The Descent of the Holy Spirit (Pentecost)
The Assumption of Our Blessed Virgin Mary
The Coronation of Our Blessed Virgin Mary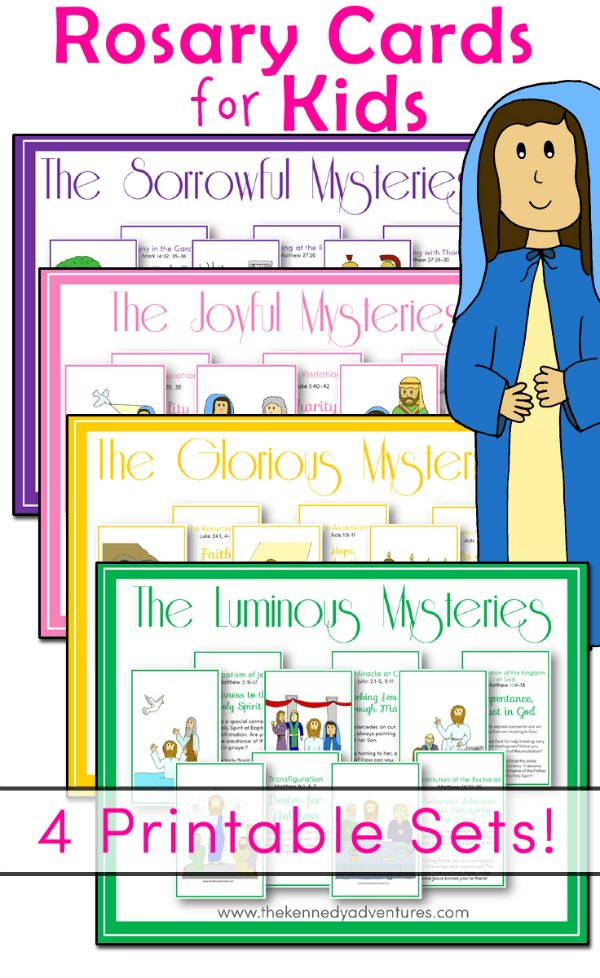 I recommend printing these on cardstock and laminating them for durability. We punch a hole in the upper corner and keep them on a ring, but you could also leave them loose. (you'll find instructions for printing with your cards.)